Newsletter Sign Up
Stay updated on news, articles and information for the rail industry
Rail News Home
People
July 2018
Rail News: People
Rising Stars: Clayton Johanson, BNSF Railway Co.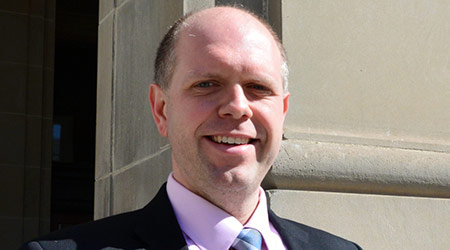 Clayton Johanson, 36
Terminal manager suburban operations
BNSF Railway Co.
Job description: Oversees the commuter-rail service BNSF operates on behalf of Metra. Also oversees customer-service training, schedule planning and performance measurement
Education: Bachelor of Science in transportation and logistics, Iowa State University
Career path: After college, Johanson worked at intermodal marketing company Hub Group. He later joined BNSF as a trainmaster in a Chicago-area intermodal facility. He spent two years in the Class I's Chicago Command Center working with other railroads to coordinate interchange traffic. He has served in his current role since 2009.
Nominator's quote: "Clayton brings a balanced experience of freight and passenger operations in the Chicago terminal. He has become a go-to person for others within BNSF for his knowledge of Chicago-area operations." — DJ Mitchell, BNSF Railway Co.
Why did you go into railroading? I have loved trains since I was a kid. It is such a fascinating industry with a great history. Whether freight or passenger, railroads get to make a positive contribution to the communities we serve.
What career accomplishment are you most proud of so far? Our special service for the 2016 Chicago Cubs World Series parade. I take the success of our service very seriously, and earlier in my career, I seriously underestimated the number of customers attending the Blackhawks parades. It felt like the whole world was on my shoulders and I needed a plan that would get people to Chicago. It took an incredible effort from people throughout BNSF and Metra, but we had enough trains to meet the demand.
What do you hope to be doing or learning in five years? I would like to be in a capacity planning or service design role. Technology is rapidly changing the world railroads operate in. The industry will need to find new ways to serve our customers. I want to help create and build those offerings.
Hobbies outside the office? Have I mentioned I like trains? I enjoy reading about the railroad industry and traveling to new places to see and photograph trains. I don't get to do it as much with my two young kids, but in a few years I'll get to bring them along.
---
Keywords
Browse articles on
Clayton Johanson
BNSF Railway Co.
BNSF
Metra
DJ Mitchell
commuter rail
Rising Stars
Contact Progressive Railroading editorial staff.