Newsletter Sign Up
Stay updated on news, articles and information for the rail industry
RAIL EMPLOYMENT
Rail News Home
People
August 2018
Rail News: People
Rising Stars: Darren Reynolds, CN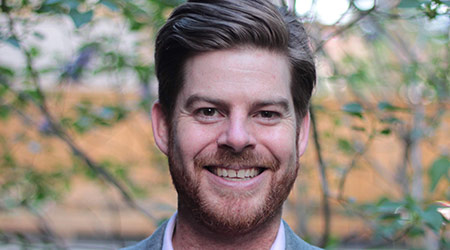 Darren Reynolds, 33
Director, corporate development
CN
Job description: Responsible for driving business development opportunities — including with ports, short lines and other project proponents — in addition to supporting opportunities for operating efficiency and optimizing CN's cohabitation with passenger railways. Currently the project manager for the Milton Logistics Hub, a new CA$250 million intermodal terminal being developed in the Toronto area.
Education: Degree in civil engineering, McGill University
Nominator's quote: "The Milton Logistics Hub project has clearly demonstrated Darren's collaborative leadership approach, his engagement of stakeholders and his capacity to influence without direct authority as he leads the team, which includes higher-ranking employees. The current project requires a lot of resilience and keeping the team members driven toward long-term goals." — CN
How has your career path unfolded so far? I started my career with what was at the time a small consulting firm, CANARAIL Consultants. In this role, I was able to participate in all aspects of large international projects and take on leadership roles early in my career. With this experience in hand, I took a position with CN, initially with the business transformation services group and then with the corporate development group. In both these positions, I was able to gain a broad perspective of roles and responsibilities within CN and across the logistics supply chains in general.
Why did you go into railroading? I took a real interest in the unique challenges faced in the railroading industry. It was not something that I had initially considered during university, but once I had the opportunity to work in the industry, there was no looking back.
Describe the accomplishment that you're most proud of at this point in your career. The foundation of all my accomplishments comes from the ability to collaborate and innovate as a team. The accomplishment I am most proud of is my ability to consistently bring great minds together and develop innovative solutions, which has led to my most recent promotion to director, corporate development.
Describe a fun fact about yourself. My first child was born on Jan. 30, 2018.
Do you have any hobbies? I am the captain of an ultimate Frisbee team which plays every week. I like the competitive aspect and the challenge of playing a sport with no referees.
Who has inspired you in your career? I have been fortunate to work for many great leaders throughout my career, each of whom have helped me grow in different ways. The true rock behind my career is my wife, who is always there to support me and continues to push me and inspire me to be better.
What do you hope to be doing or learning in five years? Growing and expanding my skill set. I have a tough time sitting still and am always looking for the next challenge, so it's hard to say exactly where or what to expect in five years.
---
Keywords
Browse articles on
Rising Stars 2018
Darren Reynolds
CN
director
corporate development
Contact Progressive Railroading editorial staff.