Newsletter Sign Up
Stay updated on news, articles and information for the rail industry
Rail News Home
People
July 2018
Rail News: People
Rising Stars: Jocelyn Hill, Conrail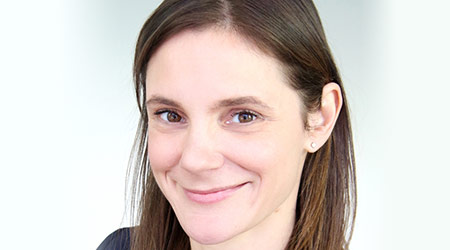 Jocelyn Hill, 39
Director of corporate affairs, deputy general counsel
Conrail
Job description: Acts as the public face of Conrail. In serving in this hybrid role, she is hands-on throughout projects, from providing the initial public outreach to lobbying for grant funding, to papering the transaction and handling media relations.
Education: International Baccalaureate at Escola Americana do Rio de Janeiro; Bachelor of Arts in English at Kenyon College; J.D. at Dickinson Law School, Penn State
Nomination quote: "She has earned the respect of our operating department, showing enthusiasm and love for the industry and a can-do attitude. She has rebuilt Conrail's relationship with the public, media and government entities with whom we deal." — Jonathan Broder, Conrail
Describe your career path. Early in my career, I served as an attorney for a number of firms in the areas of insurance coverage and energy transactions in New York and Philadelphia before working for the city of Philadelphia Law Department. I was responsible for counsel and representation of numerous city officials, including the deputy mayor for transportation and public utilities, which helped propel my interest in transportation and eventually led me to Conrail.
How did you end up in railroading? It was a very happy accident. I was working on Philadelphia's version of the High Line— the Reading Viaduct — and I called a friend from CSX to see if he could connect me to the attorney who worked on the New York High Line deal. He connected me with Jonathan Broder from Conrail. That same afternoon, Broder called me and said he'd be happy to talk to me about the High Line, could I come to the office the next day, and would I bring my resume. I said "yes" and "yes."
What career accomplishment are you most proud of so far? Working alongside the city of Philadelphia, state legislators, my congressmen, the press and the community organizations located along our Richmond Industrial Track to plan and carry out a cleanup and securement of one of our most critical rail lines in Philadelphia.
What is a fun fact about you? I was born in Holland in a little place called Den Helder, which translates roughly to "Hell's Door."
What do you enjoy doing when you're off the clock? I love making art. I'm a mixed-media contemporary artist, currently specializing in works made of neon plastic and plexiglass.
Who has been the biggest inspiration in your career? I've been fortunate to have mentors in every stage of my career. Each one has been critical to me. Right now, I count myself very lucky for the railroad rabbis in my life.
---
Keywords
Browse articles on
Rising Stars 2018
Jocelyn Hill
Conrail
director of corporate affairs
deputy general counsel
Contact Progressive Railroading editorial staff.