Newsletter Sign Up
Stay updated on news, articles and information for the rail industry
Rail News Home
People
August 2018
Rail News: People
Rising Stars: Becca Nagorsky, Metrolinx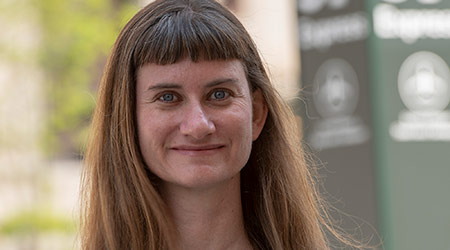 Becca Nagorsky, 37
Acting director, rapid transit project planning
Metrolinx
Job description: Leads the team that does early stage planning and preliminary design for new subway, light-rail and bus-rapid transit projects.
Education: Bachelor of Arts, McGill University; Master of Urban Planning, New York University
Nominator's quote: "Becca brings a passion for incisive and rigorous project evaluation to her work on rail projects in the region, ensuring that in comparing different options, there is consideration of regional travel patterns and connection to our broader vision of providing customers with a broader range of travel options." — Leslie Woo, chief planning and development officer, Metrolinx
Describe your career path. After finishing graduate school I moved to Jerusalem, Israel, where I joined a boutique public transportation planning and engineering consultancy that focused on developing light-rail projects. In that position, I worked on the detailed design and implementation of Jerusalem's first light-rail transit (LRT). In 2011, I moved to Toronto and started a position at Metrolinx, a provincial agency tasked with regional transportation planning for the greater Toronto and Hamilton area, as well as operating the GO regional rail and bus networks. At Metrolinx I have worked on a diverse set of projects, ranging from planning for new subway and LRT lines to rail and pedestrian capacity planning for Toronto's Union Station, to big-picture prioritization and project evaluation of new regional rail projects.
How did you get into railroading? At the root of it, my passion is for providing fast, convenient and easy transportation options, and rail transit is the backbone of most high-capacity transit networks in large cities. I have always thought that my railroading seed was planted early on, though. My father had a large model railroad in the basement of our house and we spent many afternoons running trains and adding new details to the scenery.
What career accomplishment are you most proud of so far? The role I had leading a team doing analysis on adding new urban rail stations to Toronto's regional rail network.
What is a fun fact about you? I am a trained birth doula and have supported two childhood friends during childbirth.
What do you enjoy doing when you're not at work? I love to read and volunteer for a children's literacy program at the Toronto Public Library.
Who has been the biggest inspiration to you in your career? My first boss, Marc Render, has been my most significant mentor and inspiration. Marc spent a number of years in the public sector and then founded his own transportation planning consultancy. His dedication to reaching the best outcomes for people and cities and his ability to keep focus on the larger purpose of the work without getting caught up in details are qualities that I strive to emulate every day.
What do you hope to be doing or learning in five years? I hope to be at the forefront of integrating rail with other modes, including autonomous vehicles, to create a seamless transportation network.
---
Keywords
Browse articles on
Rising Stars 2018
Becca Nagorsky
Metrolinx
acting director
rapid transit project planning
Contact Progressive Railroading editorial staff.