Newsletter Sign Up
Stay updated on news, articles and information for the rail industry
Rail News Home
PTC
January 2019
Rail News: PTC
Matt Rose has helped drive BNSF's technological changes, industry's policy changes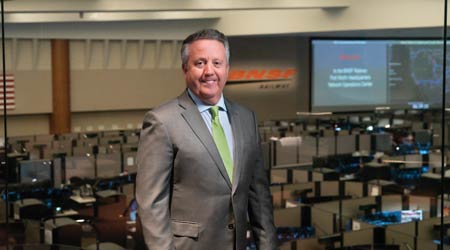 By Jeff Stagl, Managing Editor
While attending the University of Missouri in the late 1970s, Matt Rose worked as a brakeman and switchman for the Missouri Pacific Railroad (MP) over the course of three summers.
The Salina, Kansas, native didn't seek that summer employment because his father worked in the transportation industry or he had a passion for railroading. There was a much simpler reason.
"I needed a job," Rose says.
And it was a lucrative one — he earned a lot of money for tuition. So much so, he wanted to keep working for the railroad and not return to college. Rose shared that desire with Ed Handley, the general manager of MP's Kansas City service area.
Handley wasn't pleased. He pulled an envelope out of his desk that contained a resignation letter Rose had signed. It stipulated that he was only employed at the railroad through August.
"He said go back to college, then you can always come back here and be a brakeman," Rose says.
Rose heeded the advice, and gained a key learning experience as a result. He went on to earn a Bachelor of Science degree in marketing plus a minor in logistics, returned to MP as a management trainee, spent a short time in the trucking industry, worked his way up at Burlington Northern Railroad and eventually rose to BNSF Railway Co.'s top post by 2000 at the age of 41 — becoming the first baby boomer to head a major North American railroad.
Rose realized the importance of involving others to make thorough decisions. He understood there's a difference in being tough-minded, yet open to suggestions. And he recognized that to serve others — what became a lifelong goal — doing something self-serving wasn't prudent.
Rose then sought to dedicate himself to making a difference, not only for his chosen railroad employer, but for the rail industry. He ultimately focused on three C's: collaborate, coordinate and contribute. It was a mindset Rose believes served him well throughout his more than 30-year railroad career, which will draw to a close in April.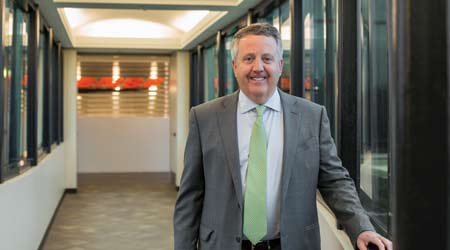 BNSF Railway Co.
Rose — who'll turn 60 April 2 — is retiring. He will step down as BNSF's executive chairman, a post he's held for six-plus years after serving as the Class I's chief executive officer for more than 13 years and chairman for 11.
Knowledge broker
While leading BNSF — first as a publicly traded, Fortune 100 company, and then from 2010 on as a privately held Berkshire Hathaway Inc. subsidiary — Rose strived to employ many of the skills and knowledge he had developed or learned.
For example, he relied on his marketing and operations experience, and his collaborative and collegial acumen to forge partnerships with truckers. He also worked with major retailers to grow intermodal business. And when the U.S. economy was soft at times — such as in 2006 — he led efforts to institute money-back service guarantees or rate discounts for shippers.
He also pushed for technological change to garner efficiencies and higher capital investments to expand the Class I's capacity. For Rose, the adoption of many emerging technologies is perhaps the prime example of major change in the rail industry that he had a hand in.
Such change helped prevent derailments and boost safety, he believes. Positive train control (PTC) implementation was a huge technological development, one that offers promise to expand automation in the future if more devices and systems are employed in the locomotive cab, says Rose.
"We were going to implement PTC regardless of the federal mandate. We already were on a path to do it," he says, referring to BNSF's work with Wabtec Corp. throughout the 2000s to install an electronic train management system that later morphed into I-ETMS. "We're really just starting to scratch the surface with what PTC can do."
Moreover, Rose helped address federal policies that impacted the rail industry, including measures that promoted automation, prevented heavier or longer trucks, and curtailed additional government oversight. He was an active board member of the Association of American Railroads (AAR), U.S. Chamber of Commerce, Business Roundtable, The Business Council and American Enterprise Institute for Public Policy Research, where he shared policy-shaping ideas and concerns.
'Never forget about D.C.'
Early in his career, Rose met Benjamin Biaggini, Southern Pacific Railroad's chairman from 1976 to 1982, who stressed the importance of lobbying.
"He was 94 years old at the time and he said: 'Never forget about D.C.,'" says Rose. "The industry had been deregulated by the Staggers Act in 1980, but politicians looked at the rail industry like utilities that they had oversight over and could manage."
Rose aimed to mold himself into a rail advocate who not only understood the issues well, but could articulate them.
BNSF learned the hard way what can happen in Washington, D.C., without a strong presence. In 2000, its planned merger with CN was dropped after the Surface Transportation Board instituted a merger freeze, then issued more stringent merger rules in large part because of the troublesome SP-Union Pacific marriage in 1996.
Minding D.C. in part meant Rose continued to push the AAR to advocate for better federal policies, says AAR President and CEO Ed Hamberger. [Editor's note: On Jan. 1, 2019, Ian Jefferies succeeded Hamberger as the AAR's president and CEO.]
"He has always challenged his railroad — as well as my team at the AAR — to lean forward and create a better future for this industry," Hamberger shared in an email. "His insights and wise counsel were invaluable as we navigated through a period of great change in the industry."
A matter of policy
Rose isn't afraid to speak strongly about what he and BNSF believe in, Canadian Pacific President and CEO Keith Creel says. Creel got to know Rose over the past decade through mutual close friend E. Hunter Harrison, as well CN-BNSF business dealings and time spent together on the AAR's board. Creel was EVP and COO at CN when Harrison was the CEO from 2003 to 2009.
"Matt invested a considerable amount of his time shaping policy in our industry based on those beliefs," Creel stated in an email. "He's a man of the highest integrity who if he says he will do something, does it. [And] he will always tell you the truth even when the truth is the hardest to hear."
Rose aimed to stress internal objectives with the same vigor. That filters down to managing the core of your railroad, molding a strong leadership model and developing partnerships, Rose says. The model stipulates that executive talent needs to be recruited, developed, retained and rewarded.
Rose prided himself on developing future leaders, realizing that when leadership is stronger, the company can get stronger, says Creel.
"He continually pushed BNSF to invest in leadership development," Creel added.
The shining beacon
Rose has no regrets as to how BNSF's core and senior leadership team evolved under his watch. In part, those efforts are why he received Progressive Railroading's "Railroad Innovator Award" in 2010.
"We have an industrial-type business and working with trucks is key, so we sharpened the focus on that. And it's important how you compensate and reward [those who contribute] for excellent performance," Rose says. "You essentially want unit growth, price growth, and efficiencies and cost reductions — that's the beacon of what our company has to do."
Long before he became what admirers consider a shining beacon both for BNSF and the entire industry, Rose worked his way through MP's management training program in the early 1980s and eventually became an assistant trainmaster. He worked for a time in Fort Worth, Texas.
He then embarked on an eight-year career in the trucking industry that included stops at International Utilities, Schneider National Inc. and intermodal services provider Triple Crown Services, where he eventually was appointed VP of transportation.
"Intermodal was just stacktrain business at the time for railroads. There wasn't really any domestic intermodal," says Rose. "Triple Crown was trying to do more with rail and truck, and I had seen what goes on at a railroad, so I thought I should see what goes on with trucking."
In 1993, he decided to explore an opportunity in Burlington Northern Railroad's merchandise business unit and automotive marketing department, especially since his father-in-law was ill at the time and his family could return to Fort Worth.
Rose became AVP of vehicles and machinery for BN, a railroad he expected to serve a long time, he says. But then BN and the Santa Fe Railway merged in 1995, and "people tend to leave after a merger," says Rose.
He quickly rose through the ranks at the combined Burlington Northern Santa Fe Railway, with stints as VP of chemicals, senior VP of the merchandise unit, and SVP and chief operations officer. He assumed responsibility for transportation, maintenance, quality control, purchasing, labor relations and information services.
Placed on CEO path
In 1998, then BNSF Chairman, President and CEO Robert Krebs approached Rose about being groomed to become the railroad's next leader. Rose would be appointed COO, then president and then CEO, a process expected to take about three years.
Krebs was intrigued by Rose's varied experience in marketing and operations in both the rail and trucking industries.
Plus, Rose was part of the computer generation and played a lead role in developing FreightWise, an online transportation exchange partly owned by BNSF, Krebs figured.
Moreover, Krebs believed Rose was tough-minded and an optimist, decisive and thorough, and open and supportive. And on top of all that, he was young.
"Krebs had confidence in me — here I was, 40 years old and about to become CEO, so why me? I didn't get the answer you'd think," says Rose. "He said I had deep roots in both the BN and Santa Fe, and that he wanted someone in the position for a long time, at least a decade."
CEOs used to remain in the top post 12 to 15 years, but now the average is about 5.5 years, says Rose.
"So, it's hard to put programs in place and get through [economic] cycles," he says.
Rose in part lasted long as CEO because he tried to recruit senior executive team members from outside the rail industry with different ideas.
His recruits included Gloria Zamora, BNSF's VP-human resources and medical from 2001 to 2004, who held executive posts at Coors Brewing Co. and Whirlpool Corp.; and John Lanigan, BNSF's EVP and chief marketing officer from 2002 to 2012, who held executive roles at Schneider National and transportation planning and execution software firm Logistics.com.
"We kept saying we wanted to be more truck-like. John put the focus on what that means," says Rose. "He repositioned us to sell freight … at a time that rail was out of favor."
Rose needed all the help he could get to weather the weak economy in 2006.
He and his team were able to continue growing traffic and revenue through the 2000s by investing capital in new facilities, acquiring more efficient rolling stock, winning back market share from trucks and using a new tool to better serve shippers: the internet.
Finding ways to better match supply and demand for BNSF's services helped generate more revenue.
Rose was an innovative leader who always strived to develop technological solutions for today's problems, says CP's Creel.
"The manner he led BNSF to lead in technology innovation to make our industry safer and more productive was second to none," Creel says.
Enter Buffett and Berkshire
Rose also helped the Class I weather another major event in 2009: Berkshire Hathaway's acquisition of BNSF.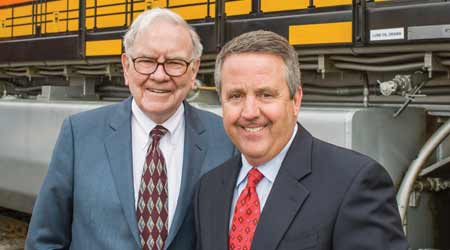 BNSF Railway Co.
Berkshire leader Warren Buffett, already a BNSF investor, helped forge a deal in November 2009 to buy the remaining 77.4 percent of BNSF shares Berkshire didn't already own for $100 per share in cash and stock, a deal valued at $44 billion. BNSF shareholders approved the deal in February 2010.
"That was the biggest historical change for us. And it changed Berkshire significantly since they then owned more broad-based assets than just insurance," says Rose. "I'll never forget a quote by Warren at the time that summed it up: 'It was a bet on America.' It was about manufacturing and supply chains at the time. People were saying railroads were old school. I think our growth over time surprised him."
Now that he's about to step down, Rose finds it a bit surprising when he surveys today's Class I leaders.
"It used to be mostly operating folks, but now they come from the financial side or operating side or sales and marketing," he says. "It's a great mix and allows them to see what works in the industry."
As for retirement, Rose has no plans to hit a golf course every day. He expects to take some time to think about his next moves and analyze his potential opportunities.
"I'll continue to be involved in the industry — I think I will continue to be part of the public policy debate," says Rose. "I will look at opportunities to be a private investor in the transportation/logistics space and I will stay involved at Berkshire, providing help if they ask."
Creel: Rose lives by a crucial creed
Whatever he can continue to contribute will be welcomed since Rose embodies the principle of giving back, Creel says.
"'To those much is given much is expected' — that's a creed he symbolizes in action in his life," says Creel. "It's a trait today's world can't get enough of."
Rose says he is content with what he's accomplished at the railroad. During his CEO tenure from 2000 to 2013, BNSF's annual revenue grew from $9.2 billion to $22 billion, and annual carloads ballooned from 2.5 million to 10 million.
If anything, the company's successes surpassed his expectations.
"I never dreamt when I became CEO that in 19 years, Warren Buffet would buy the railroad or that BNSF would become one of the largest companies in the U.S., and the largest Class I by volume," says Rose. "I'm very proud of what we have developed at BNSF."
Email questions or comments to jeff.stagl@tradepress.com.
---
Keywords
Browse articles on
BNSF Railway Co.
Matt Rose
Berkshire Hathaway Inc.
Association of American Railroads
Canadian Pacific
Keith Creel
positive train control
intermodal
Contact Progressive Railroading editorial staff.