Newsletter Sign Up
Stay updated on news, articles and information for the rail industry
Rail News Home
People
July 2015
Rail News: People
Rising Star: Todd Blaylock, HNTB Corp.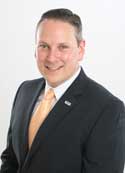 Todd Blaylock [AGE 35]
Senior Project Manager
HNTB Corp.
By Daniel Niepow, Associate Editor
Todd Blaylock got his start in rail in 2003, when his friend offered him a job as a field engineer at Union Switch and Signal. Prior to joining the company, he had been working as an aircraft electrician with the U.S. Air Force.
He helped oversee crucial rail safety projects during his time with Union Switch and Signal, which later was acquired by Ansaldo STS. Projects included the implementation of an advanced speed enforcement system (ASES) along New Jersey Transit's lines. The technology, which combined automatic train control and "positive train stop,"— a precursor to modern positive train control (PTC) — was the first of its kind to be utilized on a North American passenger railroad, Blaylock says.
He remained with Ansaldo until 2012, when he began a brief stint as deputy project engineer at Parsons Corp.
In 2013, Blaylock was appointed to his current role as a senior project manager at HNTB Corp.
"I moved my talents from aircrafts to the rail industry," says Blaylock, who earned master's degrees in business administration and project management from DeVry University.
Now, he's responsible for overseeing the scope, schedule, budget and quality of NJ Transit's PTC system, according to HNTB Associate Vice President Derick Hallahan, who submitted a Rising Stars nomination for Blaylock. He also manages technical support for the project's on-board, wayside, communications and back office components.
"Todd has made significant contributions to the rail industry and applied lessons learned to multiple rail agencies that go beyond his daily scope of work," wrote Hallahan in the nomination form. He added that Blaylock has demonstrated a passion for technology and safety.
Blaylock emphasizes the importance of putting forth his best efforts on all assignments, no matter how small they may seem. Doing so helped him build up a skillset for completing larger and more complex tasks, he says.
That attitude hasn't gone unnoticed. Blaylock's dedication and attention to detail have made him "instrumental" in other major transit projects, such as helping NJ Transit resume operations following Hurricane Sandy, Hallahan noted.
Blaylock continues to provide guidance and coordination for the company's Sandy rail recovery and resiliency projects, in addition to serving as a technology manager for other ongoing emergency management projects.
Outside his HNTB duties, Blaylock is an active member at the American Railway and Maintenance-of-Way Association, as well as a reservist for the Air Force. In January, he marked his 16th year with the service, where he's completed four years of active duty. His Air Force stint has taken him to all seven continents.
"The secret to a successful life and career is understanding the importance of teamwork," says Blaylock, adding that his family has played a role in the success of his endeavors.
Rising Stars 2015 Award Winners:
Jonathan Chastek, Wheeling & Lake Erie Railway Co.
Oliver Dolder, Railtech Welding & Equipment
John Riley Edwards, RailTEC, University of Illinois at Urbana-Champaign
Jessica Moore, Union Pacific Railroad
Amanda Nightingale, King County Metro Transit
Charles Rennick, Providence & Worcester Railroad Co.
Kaleigh Reyes, GE Transportation
Rebecca Reyes-Alicea, Federal Railroad Administration
Bruno Riendeau, VIA Rail Canada Inc.
Curtis Shogren, CSX Transportation
Keith Tarkalson, Stacy & Witbeck
Brett Urquhart, Rocla Concrete Tie Inc.
Tara Vesey, Dakota Gasification Co.
---
Keywords
Browse articles on
HNTB Corp.
Todd Blaylock
Rising Stars 2015
positive train control
New Jersey Transit
NJ Transit
Union Switch and Signal
Contact Progressive Railroading editorial staff.