Newsletter Sign Up
Stay updated on news, articles and information for the rail industry
Rail News Home
People
July 2015
Rail News: People
Rising Star: Curtis Shogren, CSX Transportation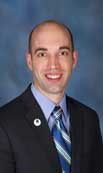 Curtis Shogren [AGE 32]
Plant superintendent
CSX Transportation
By Daniel Niepow, Associate Editor
Curtis Shogren found himself in the rail industry by chance — or, as he puts it, "a little bit of dumb luck." During his senior year at the University of Toledo in Ohio, he stopped at a CSX Transportation information session being held near his last class of the day.
The materials presented at the session intrigued Shogren, a mechanical engineering technology student at the time who didn't know much about railroading.
"It's a fascinating industry," he says now, almost 10 years later. "It's amazing how vital the railroad is to the global economy."
He decided to follow up at a career fair the Class I hosted the next day, which led to an interview and subsequent offer of employment as a management trainee. He earned his engineering degree in December 2005 and began working at CSX shortly thereafter.
Since then, he's held various roles of increasing responsibility, including training new hires at the Railroad Education and Development Institute in Atlanta and serving as assistant shift superintendent in Corbin, Ky. Currently, he's working as superintendent of CSX's plant in Cumberland, Md.
In Cumberland, Shogren has leveraged relationships with local labor leaders and bolstered safety practices in the facility, which boasts some of the railroad's best safety records among large-scale plants, wrote CSX Chief Mechanical Officer Charles King in Shogren's Rising Stars nomination form.
The Cumberland plant also "delivers more units with fewer defects than any other facility on the CSXT System," added King.
Shogren focuses on continuous improvement at the shop, and one way he does that is by embracing technology, such as bringing in Snap-on Inc.'s new line of toolboxes, which automatically record any time an employee takes out a piece of equipment.
He also attributes his success in the plants to actively listening to craftspeople and others working on the shop floor.
Shogren, who hopes to earn a master's degree in transportation management, has attained the "greenbelt" level of certification in CSX's Six-Sigma process improvement program, which aims to eliminate waste and defects through better procedural knowledge.
Throughout his time at the railroad, Shogren has demonstrated a talent for understanding "the complex engineering of locomotives," along with a "tireless work ethic," says King.
Integrity and credibility are two characteristics Shogren values most, whether in a personal or professional capacity. His commitments outside work are a testament to that.
Each year, Shogren uses his vacation time to work as a facilitator with the Hugh O'Brian Youth Leadership program, which provides service-learning and leadership training for high school students locally and internationally. Last year, he spoke with a group of sophomores about careers in the rail industry.
"It's really rewarding to see some of the changes," Shogren says of the students' progress in the program.
For any others curious about careers in the industry, Shogren emphasizes that railroading holds opportunities for people from a variety of specialties and areas of study.
Rising Stars 2015 Award Winners:
Jonathan Chastek, Wheeling & Lake Erie Railway Co.
Oliver Dolder, Railtech Welding & Equipment
John Riley Edwards, RailTEC, University of Illinois at Urbana-Champaign
Jessica Moore, Union Pacific Railroad
Amanda Nightingale, King County Metro Transit
Charles Rennick, Providence & Worcester Railroad Co.
Kaleigh Reyes, GE Transportation
Rebecca Reyes-Alicea, Federal Railroad Administration
Bruno Riendeau, VIA Rail Canada Inc.
Curtis Shogren, CSX Transportation
Keith Tarkalson, Stacy & Witbeck
Brett Urquhart, Rocla Concrete Tie Inc.
Tara Vesey, Dakota Gasification Co.
---
Keywords
Browse articles on
CSX Transportation
Curtis Shogren
plant superintendent
CSX Six-Sigma
University of Toledo
Hugh O'Brian Youth Leadership program
railcar maintenance
Contact Progressive Railroading editorial staff.