Newsletter Sign Up
Stay updated on news, articles and information for the rail industry
RAIL EMPLOYMENT
Rail News Home
Norfolk Southern Railway
February 2019
Rail News: Norfolk Southern Railway
Class Is continue to gain traffic boost from logistics units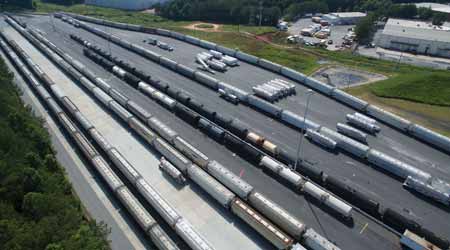 By Jeff Stagl, Managing Editor
Class Is grew their carloads and intermodal loads in 2018 on a year-over-year basis. Their traffic-building efforts helped U.S. intermodal volume set an annual record for the fifth time in the past six years.
The large roads marked a key volume assist from their logistics services, which run the gamut from transloading to warehousing to freight forwarding. Each Class I operates a logistics subsidiary or ancillary services unit, or is affiliated with a logistics service provider.
BNSF Logistics LLC registered significant growth in both rail and highway volume in 2018, primarily driven by opportunities to help customers convert freight to rail, says Robert Sutton, the company's senior vice president of projects and rail. A subsidiary of Burlington Northern Santa Fe LLC — which also owns BNSF Railway Co. — BNSF Logistics provides transportation management, special cargo, transloading, intermodal, reverse logistics and other services.
The logistics market might soften a bit in 2019, but there will be more opportunities to divert freight to rail given the trucking industry's tight capacity and other limitations, Sutton believes.
"We expect to place more focus on drayage, such as to ports, so it'll involve both truck and rail," he says. "We see more demand for turnkey solutions and providing all logistics, like ordering the car, getting rail clearance if it's a dimensional load and handling the offload to a truck or pad."
BNSF Logistics is trying to expand its services, such as by providing a modular rail-car fixture so a wind turbine blade can be moved from a factory to the field using the same fixture; offering a specialized rail car to transport 320- to 480-foot ribbon rail from a mill; and conducting more rigging business, says Sutton.
The company aims to acquire more equipment, too. BNSF Logistics last year added a 20-axle TEXX 900 rail car to its specialized fleet. The depressed-deck flat car is designed to move heavy haul and over-dimensional loads weighing more than 900,000 pounds.
BNSF Logistics also has a 20-axle Schnabel car — which suspends a dimensional load between the car's two ends via lifting arms — a 12-axle car and other flat cars. The TEXX 900 provides flexibility by handling freight that isn't set up for a Schnabel car, says Sutton.
Norfolk Southern Corp.'s Thoroughbred Bulk Terminals (TBT) unit also recently obtained a new piece of equipment. TBT provides transloading and a variety of services for dry and liquid bulk products, ethanol, frac sand and other freight at 43 terminals.
Portability a new ability
Late last year, TBT converted a former Triple Crown trailer into a portable box-car transfer facility. More conversions — which cost much less than a portable box-car ramp — are planned, says Senior Manager of Distribution Services Baird Spicuzza.
The portable transfer facility service recently was offered to a major appliance manufacturer and a large paper company, he says.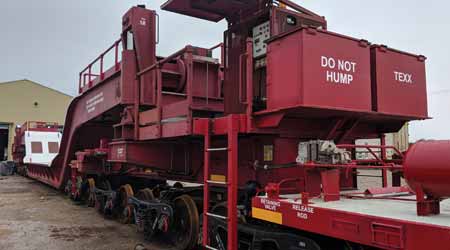 BNSF Logistics LLC
TBT also is evaluating spill-containment additions at several terminals and acquiring more handling equipment, such as portable conveyors and pumps. To better serve ethanol markets, TBT is working with partners in several locations to install manifold systems and temporary tanks to feed automated truck loading racks. Ethanol ranks as the most transferred commodity at the unit's terminals.
"At our existing locations, we implemented a major, well-received upgrade of our ethanol inventory management system," says Spicuzza.
Last year, TBT added capacity and equipment, or reconfigured infrastructure at five terminals in Georgia, North Carolina, New York and Pennsylvania. This year, it's planning similar work at three terminals in Florida, and North and South Carolina, as well as the construction of a major new facility in the Southeast, says Spicuzza.
"We plan to add network locations where we have specific opportunities, and add features and capabilities to increase our offerings on our existing footprint," he says. "We also plan to evaluate leveraging sites for dry and temperature-controlled warehousing."
Although final 2018 figures weren't available at press time, TBT likely registered record volume last year, with frac sand and anthracite coal posting the largest gains, he says.
"We anticipate further growth in 2019, with some uncertainty around the energy sector and frac sand volumes," says Spicuzza.
Business demand also has been strong — especially over the past two years — for CN's CargoFlo service, which offers a range of transloading and distribution solutions at 31 terminals. The logistics unit's facilities handle transfers of dry and liquid bulk products between truck and rail cars, and provide such ancillary services as rail-car storage.
With demand at high ebb, ensuring there's enough capacity is key, CargoFlo officials say. To that end, the unit has implemented a terminal pipeline allocation (TPA) program to ensure existing capacity is used wisely and all freight is handled at maximum throughput. Since terminal space is limited, TPA distributes and reserves space based on historic product velocity.
In addition, the Hamilton, Ontario, terminal — which handles plastics and food-grade products — nearly doubled capacity in late 2018. CargoFlo now is determining whether to further expand throughout Canada and the United States, more specifically for liquid products.
Last year, CargoFlo upgraded 11 terminals and acquired new equipment to replace aging assets. In 2019, it plans to upgrade 17 terminals to ensure there are enough reliable assets to meet current and future demands, CargoFlo officials say.
CN also manages 19 autoport facilities for warehousing, distributing and detailing vehicles — such as painting and body shop work — and 80 warehouses totaling 1.3 million square feet.
Staying in the Loup
Union Pacific Railroad aims to provide a host of logistics services, as well. In November 2017, the Class I formed Loup Logistics by merging its four logistics-related subsidiaries: Union Pacific Distribution Services, Streamline, ShipCarsNow and Insight Network Logistics.
The name Loup (pronounced "loop") reflects UP's ability to provide transportation and logistics services along every point of the logistics chain, while also keeping customers "in the loop" through shipment and inventory tracking, technologies and proactive communications, according to the Class I. Loup Logistics provides door-to-door shipping services for various freight, such as bulk products, intermodal containers, liquids, oversized objects, produce, frozen foods or time-sensitive items.
Loup Logistics also offers cross-border shipping and logistics management services, as well as such specialized services as warehousing, packaging, transloading, distributing and palletizing. Products handled include food, beverages, liquids, vehicles, and oversized and small freight, such as transformers, military vehicles, plastic pellets and sand.
Loup Logistics manages and/or serves a number of food-grade refrigerated warehouses and intermodal ramps; hundreds of transload facilities; and 11 railports in California, Colorado, Louisiana, Nevada, Oklahoma, Oregon, Texas and Washington.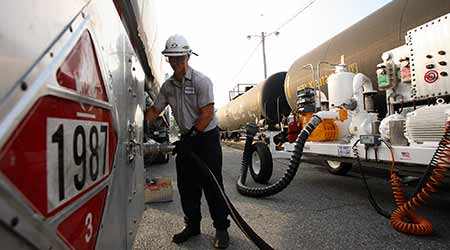 TRANSFLO
In December 2018, Loup Logistics announced it chose 25 "Select Connect" facilities for 2019. The designation is provided to a handful of terminals in its more than 700-facility transload network. The 25 facilities in 12 U.S. and two Mexican states were chosen based on their previous track record with Loup Logistics, and such key metrics as service and facility capabilities, safety record and standard rate structure.
Meanwhile, CSX provides transloading services through subsidiary TRANSFLO, which strives to help shippers exploit rail's advantages even if they're not directly rail served. TRANSLFO operates 46 terminals in 19 states and the province of Quebec that connect to CSX's network.
"Because we are motor-carrier neutral, customers have the freedom to choose the trucker that will handle last-mile delivery," TRANSLO officials say.
From three to 300
The company handles more than 300 products, including chemicals, crude oil, plastics, food-grade products, waste materials and dry bulk freight. TRANSFLO offers three service levels: premium, value and self-service. The company's online inventory tool is designed to provide customers real-time visibility to their products and shipments at TRANSFLO terminals 24/7. Customers can use it to schedule product transfers, review scheduled orders and view various inventory reports.
To enhance safety, TRANSFLO employs a pre-startup safety review for each product in coordination with a customer. The review helps to identify a product's primary hazards; develop safe transfer procedures based on special handling characteristics, environmental interactions and required equipment; and collect customer feedback to ensure satisfaction.
At Canadian Pacific, various logistics services are offered through subsidiary Canadian Pacific Logistics (CPL). The company's operations team strives to manage shipments from origin to destination, deal with all service suppliers, measure and report performance metrics, and provide consolidated invoicing.
CPL handles intermodal and consumer packaged goods, industrial products, bulk commodities, oversized freight, machinery and alternative energy components. The company can customize solutions to a customer's needs, CP says.
To that end, CPL aims to contain shipping costs; develop a best-fit logistics plan; make orders and shipments more visible; provide a single point of contact; resolve any shipment or information management problems; manage trade documents for import/export, customs and cross-border shipments; and secure appropriate railway clearances and routing.
CP also offers trucking and transload services at more than 100 transload facilities across North America to reach both rail- and non-rail-served customers. The facilities handle forest products, pulp and paper, general merchandise, liquids, steel, plastics and grain products.
"Our transload network is operated by key business partners who are committed to exceptional customer service and … have moved virtually every commercial product that can be shipped by rail and truck," CP officials say.
Email questions or comments to jeff.stagl@tradepress.com.
---
Keywords
Browse articles on
BNSF Logistics LLC
BNSF Railway Co.
Norfolk Southern Corp.
Thoroughbred Bulk Terminals
CN
CargoFlo
Union Pacific Railroad
Loup Logistics
CSX
TRANSLFO
Canadian Pacific Logistics
intermodal
transload
Contact Progressive Railroading editorial staff.