Newsletter Sign Up
Stay updated on news, articles and information for the rail industry
Rail News Home
Intermodal
September 2019
Rail News: Intermodal
UPS: Weather's been severe, but Class Is are missing the on-time mark regardless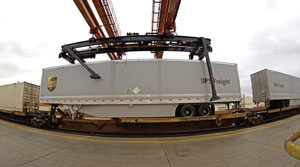 By Jeff Stagl, Managing Editor
The head of transportation for United Parcel Service (UPS) can sum up Class Is' service performance for much of this year in one word: underwhelming. Although they got off to a good start in 2019's first three weeks, the large railroads didn't meet stringent on-time performance and availability requirements in the first half, says UPS Vice President of Corporate Transportation Ken Buenker.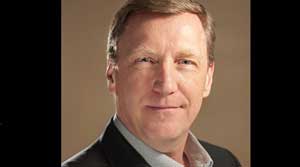 — Ken Buenker, UPS
The world's biggest parcel delivery company, UPS is one of the largest users of intermodal rail services in North America. For each Class I, the company assigns a minimal acceptable result (MAR) of 95 percent reliability for on-time deliveries or outbound departures.
Since UPS' package and freight forwarding business hinges on the delivery times promised to customers, its operations need to be carried out like clockwork, including the timely transportation of parcels by rail, truck or air.
But Class Is many times didn't meet the MAR in the year's first two quarters, says Buenker. For example, a load that was scheduled to reach a sorting hub at 2:30 a.m. at times arrived at about 3 a.m., delaying a sort and potentially causing a service failure for UPS.
Promised times of arrival are critical since one miss by a transportation provider can impact the flow of parcel movements in the company's network. UPS each day handles more than 20 million packages worldwide and operates 1,056 small package facilities in the United States and Canada.
"It's all about the MAR to us. As we make our deliveries, rail is just a small piece of it," says Buenker. "Railroads have got to be reliable."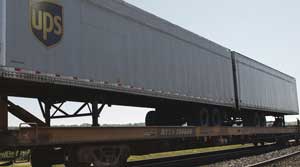 CN
Yet, a major reason why the Class Is struggled with on-time and availability performance was out of their control. Severe weather significantly impacted their operations, beginning with major snowstorms and bitter cold in late January and February, followed by heavy rains, tropical storms, mudslides and floods through spring. Mother Nature's fury caused track outages, train reroutings and traffic congestion.
"I'm in my 36th year at UPS and I've never seen so many weather impacts," says Buenker. "There would be storms in the East and then points in the West would get behind because of flooding."
BNSF's 'challenging year'
Class I officials concur about the extreme weather and the headaches caused by it. So far, 2019 has proven to be a challenging year for BNSF Railway Co. as severe winter conditions in the north and record flooding in the Midwest significantly impacted velocity and fluidity across the railroad's network, said BNSF spokeswoman Amy Casas in an email.
Due in part to weather impacts, BNSF's second-quarter revenue and volume from consumer products business — which includes intermodal — dropped 4 percent to $1.9 billion and 6 percent to 1.3 million units, respectively, compared with figures from the same 2018 period.
The railroad is notching service improvements in the second half and additional performance gains are expected "as our operating environment returns to normal," said Casas.
"We continue to make the necessary investments in our railroad while remaining focused on our commitment to safety and maximizing efficiency to meet our customers' expectations," she said.
For Union Pacific Railroad, prolonged flooding in its Mid-America Corridor between northern Minnesota and southern Texas necessitated traffic reroutes and numerous additional resources — including workers and equipment — to restore track and operations. Average train speed in Q2 dipped 6 percent year over year to 23.1 mph in part because flooding reduced fluidity.
In the "premium" category — which includes UP's intermodal and automotive business — volume fell 5 percent to 1 million units while domestic intermodal revenue dropped 11 percent to $498 million in Q2.
UP continues to seek enhanced network efficiency and higher service reliability through Unified Plan 2020, a new operating plan launched in October 2018 that incorporates precision scheduled railroading (PSR). However, intermodal service improvements prompted by Unified Plan 2020 and other efforts were offset earlier this year by the severe flooding, said UP Vice President of Premium Jason Hess in an email.
"Customers [now] are back to experiencing more predictable service, and we will continue streamlining operations to improve service reliability for the remainder of 2019," he said.
Norfolk Southern Railway also faced severe weather in late spring while it began to implement a new TOP21 operating plan that incorporates PSR principles. Floodwaters from the Missouri River severed the Class I's line to Kansas City, Missouri, for more than a month.
Yet, TOP21 and other service-improvement measures helped reduce circuity and increase velocity. Train speed in Q2 climbed 19 percent year over year to about 22 mph.
However, intermodal volume and revenue in the quarter declined 4 percent and 2 percent, respectively, due to reduced domestic traffic.
CSX seeks to speed up
CSX also is striving to boost operational performance through PSR, which the Class I already has implemented. Train velocity in Q2 averaged 20 mph, down a bit from the Q1 average of 20.5 mph, but up from the 17.6 mph average attained in the same 2018 period.
Nonetheless, quarterly intermodal revenue plunged 10 percent to $658 million and volume decreased 8 percent to 1.3 million units on a year-over-year basis, attributed in part to severe weather impacts.
Conversely, CN was able to maintain service and improve finances during the quarter in the wake of Mother Nature's wrath. The Class I's through-network train speed increased 4 percent to 19 mph compared with Q2 2018's mark, while intermodal volume climbed 10 percent to 663,000 units and revenue jumped 15 percent to CA$992 million.
The railroad is delivering truck-like transit times in the domestic intermodal sector supported by recent capital investments, CN leaders said during a Q2 earnings conference held July 23.
"We've been working very closely with our operating team to continue to build on the service improvements that we have been seen [in domestic intermodal]," said CN Senior VP of Consumer Product Supply Chain Keith Reardon. "These improvements have enabled us to regain more share of business back from our existing customers and it has led to new business wins."
Gotta earn it
There is a "fair amount of opportunity" for the Class Is to both regain UPS' confidence and earn more of its volume if service consistency returns to prior levels — in the low to mid-90 percent range according to a transportation plan, says UPS' Buenker.
"If railroads meet the MAR, there are tremendous opportunities. Consistency breeds opportunity," he says.
PSR — which now is embraced by each Class I except BNSF — could benefit service-improvement efforts as the railroads learn to manage the operational strategy with efficacy, Buenker believes. Fewer cars on line would help the Class Is boost velocity.
But contingency plans are necessary with PSR to better deal with the unexpected, like severe weather, says Buenker.
"We want the cadence to stay constant," he says. "The exceptions are the problems. There are so many ripples in the pond [to manage]."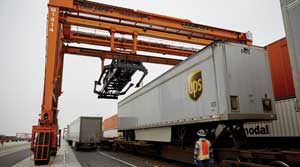 United Parcel Service
For now, UPS is working with the Class Is to ensure weather issues aren't too impactful on service requirements. Developing alternate plans for when those issues arise have shown promise, says Buenker. For example, if loads can't get to a Chicago hub because of severe weather, they will go to a Kansas City facility instead for sorting.
"We try to stay ahead of what's coming," says Buenker. "Five to six years ago, it would have been more challenging."
Each Class I also has a few poor-performing lanes that UPS aims to address with them, he says. Congestion typically is the culprit.
One option is to establish a different routing. Another is to divert the loads from rail to truck if a Class I lane remains problematic for a period of time and shows no signs of recovering, says Buenker. Trucking is used to stabilize UPS' network while a railroad works to address a lane.
UPS has an agreement with the International Brotherhood of Teamsters to switch traffic to two-person truck teams if needed, says Buenker. The "sleeper" teams — through which each member takes turns driving or resting — can cover 4,000 to 5,000 miles per week.
Breakdowns and bad breaks
In addition to bad weather and congestion, railroads are dealing with other issues that impact UPS. One thing that stands out is mechanical issues, such as locomotive breakdowns, says Buenker.
"They are happening less frequently, but are more impactful now when they happen," he says.
"And the issues don't always happen with trains carrying UPS packages — it could be a different intermodal train, but it affects us."
Class Is of late also are encountering a lot of grade crossing accidents, which are negatively impactful but aren't necessarily the railroads' fault, says Buenker.
To better react to transportation issues in its transportation network as well as boost sorting speed, UPS continues to enhance technology at its hubs. Advanced scanning and sortation technologies integrate with data-driven tools to increase efficiency and service reliability.
UPS late last year opened a new regional "super hub" in Atlanta that primarily serves the Southeast. The high-speed processing facility can reduce in-transit time and enhance flexibility within the company's hub-and-spoke network. UPS has opened or plans to soon open similar super hubs in Dallas, Phoenix, Salt Lake City and Indianapolis.
The regional hubs provide more options for how packages are transported along the way to their final destinations, says Buenker.
If a surge in package volume might overload one sorting facility, UPS can redirect volume to other transportation modes and sortation facilities to avoid delays.
Sorting out hub work
The company also retrofitted hubs or opened other new facilities in 2018, such as those in Denver, Miami, Montreal, Houston and San Antonio, Texas.
This year, UPS plans to open supersized facilities in Columbus, Ohio, Louisville, Kentucky, and Ontario, California; complete a new regional hub in Tacoma, Washington; expand a hub in the Nashville, Tennesee, area; and upgrade or expand several facilities in Southern California to address package volume growth.
In May, the shipper tripled the size of the Louisville Centennial ground package sortation and distribution facility through a multiphase expansion.
And last month, UPS opened a new high-speed package sortation center in New Castle, Delaware, that features automated technology designed to rapidly move packages through the scanning and sorting process while capturing data to increase delivery accuracy.
Even with all the facility work and contingency measures, UPS' transportation network optimally hums when each participant performs as needed, including the Class Is, says Buenker. So getting the railroads back to or near the MAR is critical.
"We operate best when loads are available at the planned network cadence," says Buenker.
Email comments or questions to jeff.stagl@tradepress.com.
---
Keywords
Browse articles on
United Parcel Service
UPS
intermodal
BNSF Railway Co.
Union Pacific Railroad
CSX
Norfolk Southern Railway
CN
International Brotherhood of Teamsters
Contact Progressive Railroading editorial staff.