Newsletter Sign Up
Stay updated on news, articles and information for the rail industry
Rail News Home
BNSF Railway
May 2016
Rail News: BNSF Railway
BNSF Railway's domestic intermodal push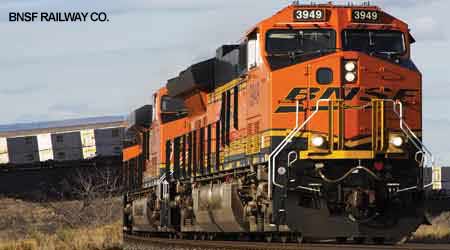 At nearly 37 mph, BNSF's intermodal train velocity of late is about 17 percent higher than the U.S. Class I average.
By Jeff Stagl, Managing Editor
Last month, the two largest container ships calling on North America returned to the Port of Los Angeles. The CMA CGM Benjamin Franklin and the Maersk Edmonton first visited the port from Asia late last year. Referred to as megaships, the vessels can carry 18,000 containers and are about one-third larger than what previously were considered the biggest container ships calling on Southern California ports.
BNSF Railway Co. moved thousands of the containers unloaded from the CMA CGM Benjamin Franklin during its two L.A. stops. The megaships' emergence at West Coast ports will help the railroad build international container volume, says Fred Malesa, BNSF's vice president of international intermodal.
The Class I is the only U.S. railroad with an office in China, and the vessels factor into an attractive value proposition the railroad has developed for international shippers, he says.
"I like to say big ships, big railroad, big opportunities," says Malesa.
BNSF intermodal executives also are convinced that huge opportunities abound to build domestic volume. There are about 8 million truckloads in the West that could be converted from highway to rail, according to BNSF estimates. With a more fluid network and more dependable estimated times of arrival (ETAs) of late, the railroad is poised to capture some of it, the execs say.
They also believe BNSF is better positioned to win back more of the domestic traffic lost to competitors and trucks the past two years due to clogged operations. A severe winter and capacity constraints in portions of the network, especially in the north, slowed velocity and created traffic congestion that impacted BNSF's system through 2014 and much of 2015.
The Class I since has made strides to accelerate transit speed, boost on-time performance, expand capacity and bolster infrastructure, in part by spending about $11 billion combined the past two years on various network improvements, equipment and technologies. In the first quarter, BNSF's average system dwell time decreased 20 percent year over year and on-time performance reached nearly 90 percent versus 77 percent in first-quarter 2015.
The railroad's service now can be characterized as "very good," especially in terms of speed, says Katie Farmer, BNSF's group VP of consumer products. As of mid-April, the railroad's weekly intermodal train velocity averaged 36.7 mph versus the U.S. Class I average of 31.4 mph, according to the Association of American Railroads (AAR).
"Our velocity is 17 percent faster than the Class I average," says Farmer.
Some thorny issues in the trucking industry also bode well for BNSF's efforts to boost domestic volume. Although lower fuel prices have helped make their rates more competitive, truckers are confronting a lingering driver shortage, poor driver retention rates and excess capacity. Plus, come 2017, a new electronic logging device regulation will tighten the federal oversight of service hours reported by smaller trucking firms.
If the Class I can exploit those variables while demonstrating service consistency — albeit amidst sloth-like gains in consumer spending, which primarily drives domestic freight — intermodal will keep propelling business growth, BNSF execs believe.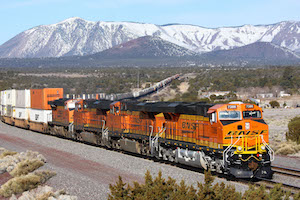 BNSF's intermodal volume grew 6 percent in the first quarter versus the industry average of 1 percent, according to Robert W. Baird & Co. Inc.
Photo: BNSF Railway Co.
The consumer products business group, which includes intermodal and automotive, accounts for about half of yearly volume and nearly one-third of annual revenue. BNSF's intermodal statistics show it currently handles about 1 million more units annually than any other Class I, serves more than 8,000 shippers and offers connections to 18 of North America's 19 major population centers.
Helped by a more than 2 percent increase in domestic intermodal traffic, BNSF's consumer products volume in 2015 ratcheted up 1 percent to 5.07 million units compared with 2014's total. However, consumer products revenue declined 6 percent to $6.6 billion, while total revenue fell 5 percent to $22 billion and annual volume was flat at 10.3 million units.
Far better than average
In an encouraging sign for BNSF's 2016 ledger, consumer products traffic made hay in the first quarter. Volume climbed 7 percent to 1.27 million units compared with first-quarter 2015's total, according to AAR data. [Editor's note: Consumer products volume rose 9 percent in 1Q to 1.23 million units, according to BNSF's first-quarter performance summary released May 6.] BNSF's intermodal volume rose 6 percent in the quarter versus the industry average of 1 percent, says Ben Hartford, a Robert W. Baird & Co. Inc. analyst who follows Class Is.
An easier year-over-year comparison was a major factor, but the significant quarterly gain in part was the result of BNSF restoring its service performance "after suffering in 2014 and 2015," he says.
"There's no doubt they were better than the industry average. They have made progress," says Hartford.
Now, the consumer products team is targeting additional freight that moves solely by truck to keep the big traffic gains coming. Capturing it will require heightened efforts to enhance service performance, expand additional capacity, and forge more collaborations with beneficial cargo owners (BCOs) and trucking/drayage partners.
In terms of operational performance, BNSF is working on its reliability and speed to be just as good as what long-haul trucks offer, says VP of Domestic Intermodal Todd Carter. The railroad can cover 600 miles per day for standard container services, and 800 miles per day for expedited container and trailer services, he says.
"The goal is to have virtually undetectable service from trucks. We're looking to get consistency and transparency," says Carter. "Service takes a decade to build and a day to lose."
When a retailer such as Walmart Stores Inc. is trying to execute a Black Friday sale on flat-screen TVs, it's crucial that the products arrive in time.
"We want to eliminate variations," says Farmer. "If we arrive three days early, a customer has to carry the inventory, and if we come three days late, they miss a sale."
The challenge: to convince more shippers the railroad can meet their speed and reliability needs. A shipper in North Dakota contacted by email — who asked to remain anonymous — said the use of domestic intermodal "never presented a compelling case" from either a service timeliness or cost standpoint compared with direct trucks. Those are precisely the shippers the consumer products team needs to sway, either via sales calls or transportation usage analyses.
BNSF employs 80 consumer products marketing team members who are focused on building relationships with customers and BCOs, and promoting the railroad's intermodal and automotive services. That marketing group includes a 12-member Intermodal Solutions Team that's charged with growing volume by finding new business or converting traffic from other modes. In place for about two years, the team tries to educate a customer about the Class I's services and build a relationship with shippers, says Todd Strever, BNSF's general director of intermodal solutions.
"We want to get them to know who we are, to have a good dialogue," he says. "It's about how we permeate in the market."
Landing business with a smaller shipper — such as a dry soda manufacturer in Washington state — can begin with as tiny a carload volume as "onesies and twosies," says Strever.
"But as they grow, we'll grow," he says.
On the flip side, the sales team's efforts could help land a big fish, as well. A cold call late last year led to the establishment of BNSF's first temperature-controlled intermodal service offering between Chicago and Silao, Mexico.
The Class I worked with Prime Inc. — which plans, books, monitors and controls the flow of loads, including refrigerated and intermodal freight — to develop the service for Pinnacle Foods Inc. The foodmaker produces, markets and distributes various branded products, including Duncan Hines baking mixes and frostings, Wish-Bone and Western salad dressings, and Mrs. Butterworth's and Log Cabin syrups.
From cold call to frozen broccoli
Last fall, a BNSF sales team member approached a Pinnacle Foods official, which prompted a discussion about moving frozen broccoli 2,100 miles from Silao, Guanajuato, to Chicago via intermodal instead of by truck. The foodmaker was familiar with intermodal, but was apprehensive about the inspection process for trains crossing the border between Ciudad Juarez, Mexico, and El Paso, Texas, says Ryan Harrington, Prime Inc.'s director of intermodal.
"The major hurdle was how the reefers could cross the border and not get held up in inspections," he says. "Now, they can do the inspections without [the trailers] coming off the rails."
Two test loads run in October helped smooth out the inspection process, and the service began in December. Prime owns 1,200 temperature-controlled trailers, about three dozen of which are used for the service each week.
Frio Express S.A. de C.V. provides drayage services in Mexico, while Ferrocarril Mexicano S.A. de C.V. moves trains from Silao to a BNSF interchange at the border. Trains then head to Chicago, where the frozen broccoli is combined with other products. Afterward, the products are transported by BNSF to points on the West Coast, by Norfolk Southern Railway to Atlanta and points in Pennsylvania, or by truck to Pinnacle Foods' distribution center in Darien, Wis., and other local destinations.
The Silao-to-Chicago move takes six days by rail versus five days by truck. But the rail advantages to Pinnacle Foods are a lower rate and consistent capacity, says Harrington.
"It's hard to get a lot of temperature-controlled equipment in central Mexico," he says. "Now, they get year-round capacity."
BNSF has proven that rail can get consolidated produce products to market quickly, says BNSF's Carter.
"It opens up markets and makes the pie bigger for us," he says.
Since late 2015, the number of trailers moved each week from Mexico has increased from 20 to more than 30, and additional volume growth is anticipated, says Harrington. In addition, Pinnacle Foods is exploring opportunities for moving its other temperature-controlled food products in the service lane, including potential southbound moves.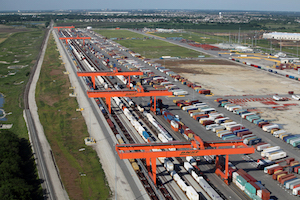 In March, Amazon.com Inc. announced plans to build an 800,000-square-foot fulfillment center adjacent to BNSF's Logistics Park Kansas City intermodal terminal in Edgerton, Kan. (shown).
Photo: BNSF Railway Co.
Perhaps an analysis performed by the BNSF Intermodal Advisor will help influence the foodmaker's decision. Available the past several years, the online tool can identify the best BNSF intermodal shipping options for any freight and create a custom report based on a shipper's transportation needs. Report results detail how using intermodal service can save time and money, as well as reduce fuel usage and air emissions.
"Being greener matters more and more to shippers. It's not the No. 1 buying point, but it bubbles up," says Carter.
Converting truck shipments to rail
It takes seven days to perform an analysis of a shipper's transportation usage and determine what jibes with BNSF's service offerings. Through October, the tool had analyzed 7 million shipments, from which 600,000 were deemed to be "good fits" for BNSF, says Strever. The Class I converted 170,000 of the shipments to rail, he says.
"We give raw data to the customer, which is a touchdown for us," says Strever. "Some customers ask us to do an analysis each year."
Other potential and existing customers wonder about intermodal capacity. The sales force can say BNSF has much more of it these days.
Capital investments made over the past two years have helped greatly enhance the intermodal network, BNSF execs say. The allocations included $3.5 billion for various improvements along the northern corridor between Illinois and Washington state. In addition, hundreds of millions of dollars have been devoted to a project well underway but not yet completed — a new bridge and secondary track to cross the Pecos River in New Mexico on the Southern Transcon route between Los Angeles and Chicago.
The work that was accomplished in 2014 and 2015 involved about 190 miles of new double track, 1,000 miles of centralized traffic control installations, 16 new sidings, 24 siding extensions and hundreds of bridge projects.
Billions in the 2016 capital budget
This year, BNSF is budgeting $2.8 billion to replace, upgrade and maintain portions of the core network and related assets. Some of the dollars are pegged for completing work at the Pecos River bridge near Fort Sumner, N.M., later this year. At that point, there will be only four miles left on the Southern Transcon route that aren't double or triple tracked, says Farmer.
"We will need to address [another] bridge to finish it off," she says.
Meanwhile, the work previously performed on the northern corridor — which included the construction of 37 miles of double track between Minot and Williston, N.D. — was aimed at helping the railroad better serve customers across the board.
But as an offshoot of the improvements, BNSF now can offer fast and consistent intermodal service on the route, says Farmer.
"We have the only expedited intermodal service from Chicago to Seattle," she says, adding that the service was reintroduced on Sept. 14, 2015. "We can be extremely consistent now."
That consistency has helped the Class I win back some major customers along the corridor who had temporarily switched to Union Pacific Railroad or trucks in 2014 and 2015, says Allison Landry, a Credit Suisse Group AG analyst who's followed BNSF for 10 years.
"But they still have ground to regain," she says.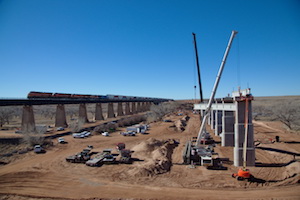 BNSF is constructing a bridge and secondary track to cross the Pecos River in New Mexico on the Southern Transcon route between Los Angeles and Chicago.
Photo: BNSF Railway Co.
BNSF also still needs to post additional progress with the expansions and improvements planned for some of its 25 intermodal terminals. The goal: to gain the necessary physical capacity well ahead of demand, says Brant Ring, BNSF's assistant VP of intermodal hub operations.
At Logistics Park Chicago, the Class I plans to install six wide-span cranes by late 2016. The project will help increase annual lift capacity from about 1 million to 1.5 million units, says Ring.
At Logistics Park Kansas City (LPKC), which opened in late 2013 in Edgerton, Kan., BNSF recently added production track and three cranes that are set to enter service next month. LPKC's centralized location and the railroad's improved service performance is attracting shippers to the logistics park, BNSF execs say. For example, Amazon.com Inc. in late March announced plans to build a 800,000-square-foot fulfillment center adjacent to LPKC.
More development in site
Also in March, BNSF introduced a new Site Certification Program designed to identify optimal rail-served acreage to trigger industrial development at other areas along its network. The program could help build domestic volume by enticing intermodal shippers to establish facilities at sites certified in California, Kansas, Montana and Texas.
There's other intermodal terminal work planned by BNSF, as well, including an expansion of a facility in Stockton, Calif. To be completed over the next two years, the work calls for building 7,000 feet of additional loading and unloading track, and adding about 300 truck/container parking stalls. After the project is finished, the terminal will feature 28,000 feet of track and more than 2,100 parking spaces.
A terminal in Alliance, Texas — which gained a fifth production track last year — is pegged to receive more attention this year, too. Production track lengths need to be extended from 6,000 to 8,000 feet so the facility can serve longer trains and gain more production capacity, says Ring.
The Alliance terminal garnered attention of a different sort earlier this year. In February, it became the first intermodal facility to implement BNSF's new RailPASS mobile application for truck drivers. All other terminals will roll out the app by mid-year, says Ring.
Available for free through Google Play or the Apple Store, RailPASS is designed to expedite in- and out-gate processes for drivers who drop off, pick up or need to locate a trailer or container at a BNSF intermodal facility.
Drivers can use it to input shipment data, receive status information and update an assigned parking location on their smartphone or tablet. (To learn more about the app, read this article posted on ProgressiveRailroading.com).
Terminals — or network end points — are vital to ensuring the railroad's system is as fluid as possible, says Ring.
"We need to have velocity, scale, precision, service and efficiency. And to do that, you have to make sure the end points are functioning well," he says. "It's like a pipeline, if it backs up, it's not flowing."
BNSF has forged a good reputation for intermodal performance and the Class I appears to be doing all the right things to retain that standing, says Credit Suisse Group's Landry.
"But it comes down to execution," she says.
Farmer concurs. Since customers will continue to rely heavily on intermodal as a viable option and domestic demand likely will keep growing over the next five to 10 years, service performance will be paramount if the Class I expects to carve out a bigger piece of the traffic pie, she says.
"There are more growth opportunities for the railroad," says Farmer. "So, we're on the hook for fast and consistent service, and good ETAs."
---
Keywords
Browse articles on
BNSF
intermodal
Robert W. Baird & Co. Inc.
Pinnacle Foods
Prime Inc.
Logistics Park Kansas City
Contact Progressive Railroading editorial staff.