Newsletter Sign Up
Stay updated on news, articles and information for the rail industry
Rail News Home
Amtrak
11/17/2017
Rail News: Amtrak
Amtrak broke ridership, financial records in FY2017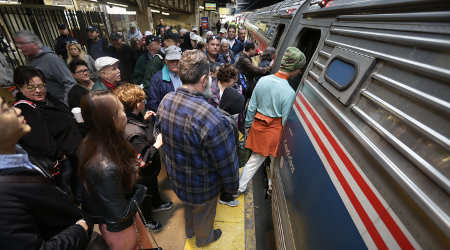 Amtrak posted record ridership, revenue and earnings in fiscal-year 2017, which ended Sept. 30, railroad officials announced yesterday.

In FY2017, Amtrak's ridership increased 1.5 percent to 31.7 million passenger trips and total revenue rose 1.1 percent to $3.2 billion compared with figures in FY2016, according to an Amtrak press release.

The railroad's unaudited, adjusted operating loss of $194 million was 15.7 percent less than its operating loss in FY2016. Amtrak recovered 94.7 percent of its operating costs — a new record — with ticket sales and other revenue, railroad officials said.

Also in FY2017, Amtrak posted year-over-year ridership gains for all of its service lines. Ridership grew 1 percent to a record 12 million passengers on the Northeast Corridor; rose 2.1 percent to 15 million on state-supported services; and climbed 0.9 percent to 4.6 million riders on long-distance routes.

"We provided a vital transportation service to more customers and created strong value for the federal investment," said Amtrak Chairman Tony Coscia, adding that he expects the railroad to perform "even better" in the future.

"Over the next several years, we're aiming to cover total operating costs from ticket and other revenues by strengthening our services and continuing to drive efficiency," he said. "To do this, we are making investments in tracks and stations, on our trains, and in the delivery of customer service so that we can serve more customers with a better experience."

Among other achievements in FY2017, Amtrak:
• completed more than $420 million in state-of-good repair and renewal work on infrastructure;
• began a major renewal effort at Penn Station in New York City, where Amtrak installed 897 ties, 1,100 feet of rail, 1,000 tons of ballast, seven turnouts, four complex diamond crossings and 176 yards of concrete;
• deployed state-purchased Charger diesel locomotives on certain routes in coordination with state partners in Illinois, Wisconsin, Oregon and Washington;
• streamlined senior management;
• continued to chip away at total debt, which was $1.2 billion as of Sept. 30 — down 64 percent compared with 10 years ago;
• launched a new Winter Park Express in Colorado, serving more than 18,000 riders;
• invested in new Amfleet I car interiors and improved Wi-Fi service on Acela Express trains;
• launched a national partnership with the rideshare company Lyft; and
• completed Project unITy, a corporate-wide effort to integrate, simplify and centralize technology and data services.
Contact Progressive Railroading editorial staff.
More News from 11/17/2017