Newsletter Sign Up
Stay updated on news, articles and information for the rail industry
Rail News Home
Short Lines & Regionals
4/25/2019
Rail News: Short Lines & Regionals
CREATE partners plan groundbreaking, assign designer for projects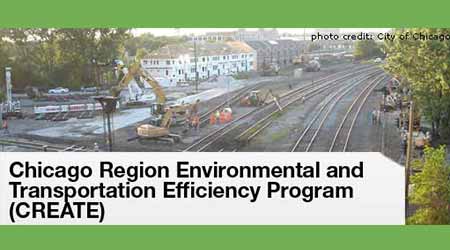 Chicago Region Environmental and Transportation Efficiency (CREATE) Program partners plan to hold a groundbreaking ceremony tomorrow for the Argo Connections portion of the ongoing public-private undertaking.

Dignitaries invited to the event include U.S. Rep. Dan Lipinski (D-Ill.), Illinois Department of Transportation Secretary Omer Osman, Cook County Board President Toni Preckwinkle, Association of American Railroads (AAR) President and Chief Executive Officer Ian Jefferies, and CSX General Manager-Midwest William Blanchetti.

The Argo Connections (CREATE Project B9) involve constructing a new double-track connection and crossovers between a Belt Railway Co. of Chicago (BRC) line and Indiana Harbor Belt Railroad Co. (IHB)-CSX line at Archer and 63rd streets in Summit, Illinois. The project also calls for upgrading mainline crossovers to accommodate higher train speeds — from 10 mph to 25 mph — and adding crossovers to the control point at 71st Street to allow access into and out of a signal-controlled siding.

In addition, B9 includes Argo Yard improvements necessary to create capacity lost as a result of installing the new mainline crossovers. Yard work will include realignment of switching lead tracks, installation of three new yard tracks, and creating a new industry lead track to avoid switching within the control point.

The project will improve fluidity on the IHB line and allow trains to clear the Canal interlocking more quickly, reducing the potential for conflicts with Amtrak and Metra trains to improve travel time, speed and reliability, CREATE officials said in a groundbreaking announcement.

Estimated to cost $4.4 billion, the CREATE program involves 70 rail and road improvement projects in the Chicagoland area, 29 of which had been completed. Program partners include the AAR, Illinois and Chicago departments of transportation, Cook County, Amtrak, Metra, BNSF Railway Co., Canadian Pacific, CN, CSX, Norfolk Southern Railway, Union Pacific Railroad, BRC and IHB.

Meanwhile, CREATE partners earlier this month announced CSX has selected Parsons Corp. to provide professional design services for two of the four projects within the 75th Street Corridor Improvement Project (CIP): the Forest Hill Junction Flyover (P3) and 71st Street grade separation (GS19). Since GS19 is an integral component of P3, there are efficiencies to design the projects together, CREATE officials said in a press release.

The Parsons team includes ABNA Engineering, TranSmart/EJM, Site Design Group, American Surveying & Engineering Inc., Trinal Inc., Wang Engineering, DB Sterlin and Atlas Engineering Group.

The CIP calls for separating freight- and passenger-rail lines in the West Englewood, Auburn Gresham, Ashburn and Chicago Lawn neighborhoods that currently intersect, causing significant delays, and train idling and congestion, CREATE officials said.

P3 involves the construction of a bridge that would significantly reduce conflicts between CSX, BRC, Metra and NS trains, while GS19 involves a new grade separation where 71st Street intersects a CSX line.

Design work on P3 and GS19 is anticipated to begin later this year, with the first stages of construction on the projects beginning in 2020. Completion is expected in 2025.
Contact Progressive Railroading editorial staff.
More News from 4/25/2019