Newsletter Sign Up
Stay updated on news, articles and information for the rail industry
Rail News Home
Short Lines & Regionals
June 2019
Rail News: Short Lines & Regionals
Montana Rail Link budgets record capex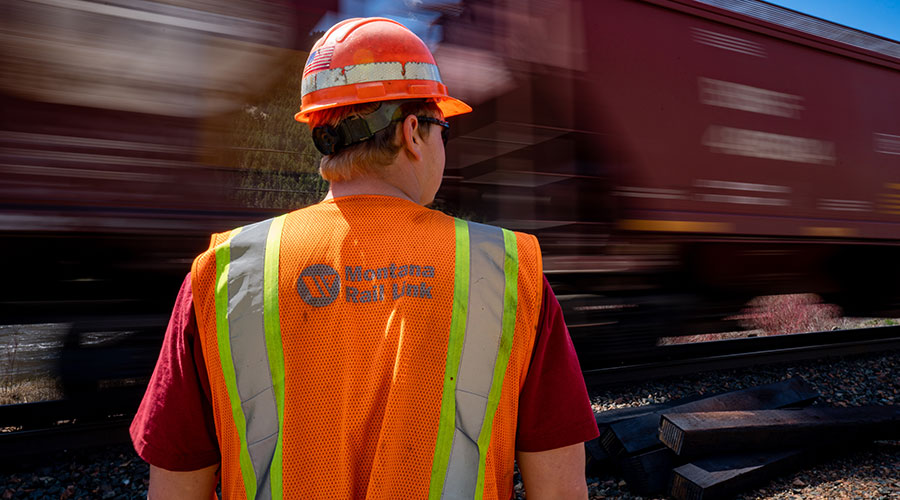 By Jeff Stagl, Editor
Capital spending for Montana Rail Link (MRL) is up in 2019 — way up. The large regional has budgeted a record $95 million, besting the previous high-water mark of $59 million set in 2018 by a wide margin.
Over the past five years, MRL has allocated about $250 million for capital expenditures, mostly to bolster its 937-mile network in Montana and Idaho.
The railroad needs to expand and maintain infrastructure because the volume of trains traversing its network is increasing, says Ross Lane, MRL's chief communications officer.
Daily train counts were averaging 23.69 in May compared with the 20.8 trains the regional averaged per day in 2018.
Train counts are climbing because of MRL's growing traffic and the number of trains run on its network by interchange partner BNSF Railway Co., says Lane, adding that carloads are not being driven by any particular commodity or carload group.
Last year, MRL registered 440,000 carloads — up from 420,000 in 2017 — led by higher shipments of coal, grain and industrial products.
So far in 2019, the regional has logged multiple days of 29 trains per day or higher, says Lane.
"Our goal is to average 30 trains per day by the end of 2019," he says.
Minding MOW needs
The infrastructure improvement work supported by this year's record capex budget calls for installing 25 miles of continuous-welded rail, replacing 160,000 wood ties and surfacing 225 miles of track.
MRL also plans to build a new siding in Bradley, Idaho; extend a siding in Dixon, Montana, and add centralized traffic control (CTC) there; install CTC in Phosphate, Montana; and install a new crossover in De Smet, Montana.
In addition, the railroad aims to install an automated blue flag protection system at its Laurel, Montana, terminal for train inspections. A blue flag protects employees from the inadvertent movement of equipment they're working on.
The automatic system will boost efficiency by reducing the miles of track a terminal worker needs to walk to trigger a blue flag for each train, says Lane.
Hazard identification and mitigation efforts are helping to boost safety at MRL, along with continued training, an updated safety briefing format and more clear communications with workers, says Lane. As of May 24, the regional's FRA reportable injury rate stood at 0.62 compared with 2.31 for all of 2018.
The safety rate for MRL — the eighth-largest railroad in North America after the Class Is — is the best in the industry, Lane says.
PTC is part of capex
Meanwhile, positive train control (PTC) work also is a small part of the 2019 capex budget. The railroad is voluntarily adopting PTC — which will cost tens of millions of dollars — because MRL leaders believe it's the right thing to do for employees and the company, says Lane. It also will add another layer of safety.
Regionals and short lines that aren't involved in passenger-rail operations are exempt from the federal law that mandates PTC.
MRL is in the initial planning stages of PTC and this year expects to complete some signal upgrades. The railroad is trying to determine which PTC system to implement — perhaps an Interoperable Electronic Train Management System that's used by partner BNSF and other Class Is — and if the back office portion of the project should be handled in house or by a vendor, says Lane.
The regional will need to equip 50 of its 71 locomotives with onboard devices to support the PTC system, he says.
---
Keywords
Browse articles on
Montana Rail Link
BNSF Railway Co.
positive train control
short line
maintenance of way
Contact Progressive Railroading editorial staff.