Newsletter Sign Up
Stay updated on news, articles and information for the rail industry
Rail News Home
Short Lines & Regionals
September 2017
Rail News: Short Lines & Regionals
Genesee & Wyoming has multiplied holdings a hundredfold since 1977 by employing a carefully crafted acquisition strategy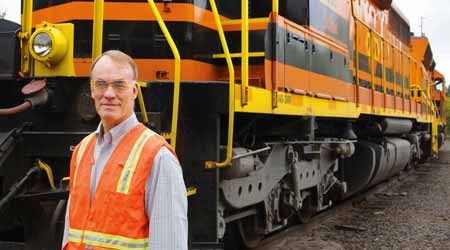 By Jeff Stagl, Managing Editor
Since Mortimer Fuller III bought a controlling interest in the Genesee and Wyoming Railroad Co. (GNWR) 40 years ago, the company he formed and molded has grown exponentially. Now named Genesee & Wyoming Inc. (G&W), its holdings have mushroomed from one small 14-mile railroad in upstate New York to well more than 100 railroads in North America, Europe and Australia controlling more than 15,000 miles of track.
Fuller retired from G&W May 24 after serving 30 years as chairman and chief executive officer, and 10 as chairman. But by the time he departed, he had helped guide the company through a long period of acquisitions and expansion. The great grandson of Edward Fuller, who founded GNWR in 1899, Mortimer Fuller also helped G&W adopt other businesses, such as intermodal operations and logistics services.
His efforts, plus countless contributions from several key executives over the years, have forged a short-line holding behemoth that now employs 8,000 people and serves 3,000 customers. On an annual basis, the company generates about $2 billion in operating revenue, earns nearly $300 million in operating income and registers close to 3 million carloads in total volume.
Essentially the size of a small Class I, G&W owns or leases 122 freight railroads. They are organized in 10 operating regions:
• eight North America regions that control 115 regionals and short lines operating in 41 states and four Canadian provinces;
• an Australia region that governs freight-rail services in New South Wales, the Northern Territory and South Australia, including the 1,400-mile Tarcoola-to-Darwin line; and
• a U.K./European region that manages heavy-haul services in Poland and Germany, intermodal services connecting northern European with Germany's industrial regions, and regional rail services in the Netherlands and Belgium.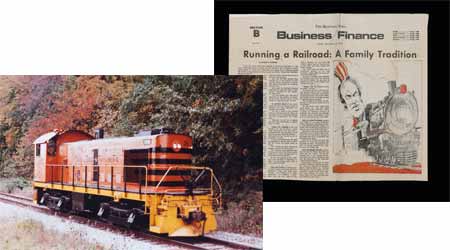 Source: Genesee & Wyoming Inc.
Some of G&W's seminal acquisitions over the years include industrial switching services provider Rail Link Inc. in 1996, Australian Rail Group in 2000, Rail Management Corp. (which owned 14 short lines) in 2005, Ohio Central System (which controlled 10 short lines) in 2008 and RailAmerica Inc. (which held 45 short lines) in 2012.
Among purchases of late: the Heart of Georgia Railroad Inc. and the United Kingdom's Pentalver Transport Ltd. this past spring; Australia's Glencore Rail (NSW) Pty Ltd. and Providence and Worcester Railroad Co. in fall 2016; and the U.K.'s Freightliner Group Ltd. in spring 2015. (Editor's note: On Sept. 5, G&W announced it formed a 50/50 joint venture (JV) with SEACOR Holdings Inc. to own and operate CG Railway LLC (CGR), a short line that provides rail ferry service between ports in Mobile, Alabama, and Coatzacoalcos, Mexico. The JV deal didn't increase the number of G&W's holdings.)
The company has grown successfully via acquisitions because the leadership team was always disciplined about making purchases, Fuller said in an employee newsletter published in late July.
Current Chairman, President and CEO Jack Hellmann — who joined G&W as chief financial officer in 2000 and since has overseen many major acquisitions — believes that discipline is evident in several ways.
"First, we are consistent in how we analyze and value railroads, and the most important transactions are probably those that we have chosen not to do," he said in an email. "Second, our team is self-aware about our organizational capabilities at any given moment in time, so we never pursue a major opportunity unless we are fully capable of effective management on Day 1."
Moreover, the leadership team adheres to this principle: Any acquired railroad must be a strong fit with existing operations, and offer optimal opportunities for efficiencies and growth, said Hellmann, who is the 2017 recipient of Progressive Railroading's and RailTrends' Railroad Innovator Award for helping to build upon the firm that Fuller forged.
"Our team [also] is effective at combining G&W best practices with those of acquired companies — we have found great people and ideas in every organization, and we are always open to learning new approaches," Hellmann said.
A rigorous exercise
When a property becomes available, the team determines its value based on an internal analysis and due diligence, as well as outside research, then sets a price that won't be exceeded under any circumstances, Fuller said in the newsletter.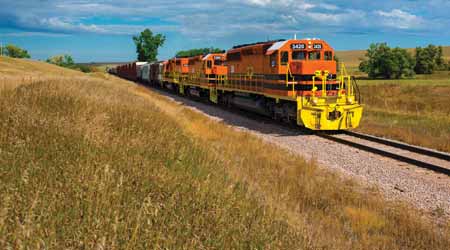 Genesee & Wyoming Inc.
"We would rather lose an acquisition than overpay," he said. "That rigor served the company well. Many of the acquisition targets that we bid on and lost ultimately became part of G&W one way or another."
Although acquisitions are what built G&W — to the point that each region now is larger than the company was in its entirety 20 years ago — the successful operation of each holding is the firm's most important aspect, Fuller believes.
"Operating results provide at least two-thirds the value of the company," he said.
As it grew, G&W added "world-class capabilities" that helped professionalize its railroads without the short lines losing touch with their roots as customer-focused entrepreneurs, said Hellmann. The company developed centralized support functions for acquired railroads, including safety and compliance; training centers and programs; customer service; in-house engineering; track construction and maintenance; fleet management; dispatching; purchasing; human resources; and government affairs.
But even though "growth is in our organizational DNA," it's often vital to remember that growth for its own sake can amount to an uncontrolled disaster, Hellmann said.
"We have a mindset that first seeks to operate our existing railroads and serve our customers at world-class levels in order to have the proper foundation for future growth," he said. "In essence, we have to earn the right to grow."
Other opportunities abound
While G&W leaders would be content with current holdings if no other properties were acquired, the natural progression of the short-line industry shows more railroads are being put up for sale as the people who formed or lead them continue to retire, says Michael Miller, the company's chief commercial officer for North America. And the natural progression of G&W is to continue growing, he adds.
Since the firm owns railroads in many geographic areas, it can take advantage of synergies that "a lot of our competitors don't have" when acquiring properties, says Miller. G&W also can leverage its size and financial wherewithal.
"We look at every opportunity in the market and our scale helps us — we can write the check," says Miller. "We also have a global footprint, so we could look to Australia, Europe and the U.K. for more opportunities."
Fuller didn't envision G&W growing into a multi-billion-dollar international corporation when he assumed control of the GNWR and renamed it Genesee & Wyoming Industries Inc. At the time, the railroad only hauled salt for one customer, the International Salt Co. Fuller was much more focused on short-term objectives, he said in the newsletter.
"My main goal was to diversify the business in order to reduce our dependence on the salt company and rock salt," Fuller said. "My first important step was to hire Mark Hastings as chief financial officer in 1978. We immediately focused on buying and leasing covered hopper cars because there was a shortage of cars due to the railroad bankruptcies of the 1970s."
Hastings oversaw finances and corporate development for many years, and continues to serve as vice president of corporate development.
Over the four decades that followed, there were several defining moments for the company. One occurred in the 1990s, when International Salt's mine flooded. Fuller believed G&W had met its demise since its largest customer was in dire straits.
"Fortunately, our contiguous acquisitions in New York and Pennsylvania and one in Louisiana were more than sufficient to carry the company," he said, referring to such key purchases from the mid-1980s to early 1990s as the Rochester & Southern, Buffalo & Pittsburgh, Allegheny & Eastern and Louisiana & Delta railroads.
In 1996, the decision to go public turned out to be pivotal, as well, helping to raise more capital for acquisitions.
"We not only received the resources needed to grow, but our visibility increased and brought sellers to us," said Fuller. "In 1997, that higher profile helped us make acquisitions in Canada and South Australia."
Due to the growing number and complexity of acquisitions, G&W needed to build a solid management team to better manage them. That effort began in the 2000s, beginning with Hellmann, said Fuller. The company later added Matt Walsh, now executive VP of global corporate development, in 2001; T.J. Gallagher, now CFO, and Tom Savage, now senior VP of corporate development and treasurer, in 2005; and Allison Fergus, now general counsel and secretary, in 2006.
Helping hands
They all brought backgrounds and experiences to the company "that we didn't have before," said Fuller. They also contributed heavily to the firm's growth.
Hellmann was appointed CFO when he was 29, "so I have literally grown up with G&W," he said.
"I joined the company because I loved railroads and geography, and I thought that Mort and Mark [Hastings] would be great to work with regardless of how G&W evolved as a business," Hellmann said.
But evolve it did, largely because of Fuller's foundational contributions. He instilled the core values — focus, integrity, respect and excellence — and the entrepreneurial spirit and ethical business practices in the company that have long distinguished its culture, Hellmann said.
Fuller also recognized that to manage an increasingly large organization, regions needed to be autonomous, well led and supported by corporate functions.
"Mort brought the long-term perspective of his family ownership of G&W to an industry that is intrinsically well suited to that perspective — we see ourselves as long-term stewards of vital infrastructure assets," said Hellmann.
A prime example of the long-term-stewards approach, and a recent acquisition that proved successful to boot, is the Rapid City, Pierre & Eastern Railroad (RCP&E). Now the company's largest U.S. railroad, G&W formed the 650-mile RCP&E in 2014 after acquiring lines from Canadian Pacific. The regional predominantly operates trackage in South Dakota, as well as some short line segments in Minnesota, Nebraska and Wyoming.
Since creating the RCP&E, G&W has spent $125 million on locomotives and infrastructure improvements. The company also garnered some federal and state grants for those pursuits, which have aided in generating industrial development along the regional's lines.
In for the long haul
Since rail is so heavily ingrained in South Dakota's agricultural economy, the large amount of dollars G&W has allocated for the RCP&E has helped convince shippers and politicians in the state that the company is a long-term, committed investor, says CCO Miller. Now, rail service is improved because operations are governed from a local standpoint instead of by a Class I that managed the trackage as branch lines that weren't a core part of its network, he says.
"There was pent-up demand on the railroad and the rail confidence level wasn't there [among shippers]," says Miller.
The CP deal enabled G&W to gain ownership of a railroad with connections to three Class Is: CP, BNSF Railway Co. and Union Pacific Railroad. The company also was able to establish operations in states it hadn't done business in before, says Jerry Vest, the company's SVP of government and industry affairs.
Moreover, South Dakota is a rail-friendly state, he says. G&W executives built supportive and open-door relationships with South Dakota leaders — including Gov. Dennis Daugaard — and federal politicians in the state, he says.
For example, U.S. Rep. John Thune (R-S.D.) set up a meeting with G&W officials soon after the company acquired the CP lines. "They beat us to the punch," says Vest.
The government ties helped G&W land several federal and state grants to partially fund infrastructure work. South Dakota dollars offset some of the cost to build sidings two years ago in Aurora and Huron, and federal and state monies will in part pay for $12.4 million worth of infrastructure improvements pegged to start soon in Huron and Philip.
The RCP&E needed the Aurora and Huron sidings to address capacity constraints, convince shippers to move more of their traffic by rail and help spur industrial development, says Vest.
The Huron siding enables eastbound trains to advance closer to the city even if the nearby yard is full of CP's westbound trains. It also better supports traffic with CP and UP over the Tracy, Minnesota, interchange, and better accommodates service needs for numerous grain shippers, G&W leaders say.
The Aurora siding helped Valero Energy — a major RCP&E customer — move traffic at its ethanol plant there. Switching cars to and from the facility previously blocked the mainline. Now, Valero plans to build an ethanol plant on RCP&E's line in Onida by 2019.
In addition, Novita Nutrition in June officially opened a $95 million agricultural processing plant in Aurora in part because of the upgraded infrastructure and improved rail service, says Miller.
Cementing some new business
The upcoming infrastructure improvements in Huron and Philip similarly are piquing some shippers' interest. The rail upgrades helped convince cement company GCC USA to spend $90 million to expand its Rapid City plant, says Miller.
A $6 million federal Transportation Investment Generating Economic Recovery grant will partially fund the work, while the RCP&E will provide $4.4 million and the state, $2 million. Crews will build a 7,000-foot siding in Philip and upgrade 10 miles of mainline track east of Huron, including the installation of 7,550 ties.
G&W obtained federal permission to purchase rail for the project, says Vest. Crews will replace 100-pound jointed rail produced between 1920 and 1930 with new 115-pound continuous-welded rail.
G&W plans to continue addressing the RCP&E's infrastructure needs.
The regional can accommodate 286,000-pound cars between Onida and Blunt, South Dakota, and between Tracy, Minnesota, and Fort Pierre, South Dakota, but the west side of its network can only handle 263,000-pound cars. So, more than 100 miles of track eventually will be upgraded with heavier rail for the higher-capacity cars, says Miller.
While various ongoing projects at the RCP&E will help G&W meet a primary objective — growing traffic — the company's main goal remains expanding its portfolio.
The right growth and investment opportunities will always come, CEO Hellmann believes. And there's no need to force it.
"Looking ahead, I see multiple sources of future growth from our current geographic footprint, such as continued bolt-on railroad acquisitions in North America, equipment investments in Australia and additional investments in our U.K. intermodal franchise," said Hellmann. "In addition, as we have grown increasingly large and global, we are seeing interesting opportunities to work with certain customers in multiple countries.
---
Keywords
Browse articles on
Genesee & Wyoming Inc.
short lines
Mortimer Fuller III
Jack Hellmann
Rapid City
Pierre & Eastern Railroad
Canadian pacific
BNSF Railway Co.
Union Pacific Railroad
Contact Progressive Railroading editorial staff.