Newsletter Sign Up
Stay updated on news, articles and information for the rail industry
Rail News Home
Security
March 2017
Rail News: Security
Railroads take steps to stop criminals from stealing guns, copper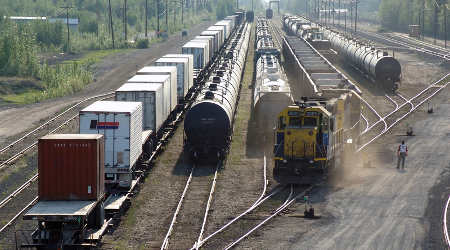 By Daniel Niepow, Associate Editor
Norfolk Southern Railway's Chicago-area yards have become popular spots for gun thieves over the past few years. In May 2014, criminals snatched 13 assault-style rifles from cars near the Class I's 63rd Street yard, according to a Chicago Tribune report.

A year later, two men were charged with federal gun crimes after they nabbed more than 100 firearms from parked trains on the city's South Side, the Chicago Sun-Times reported in June 2015.

There was yet another gun robbery from the 63rd Street yard in 2016.

This steady supply of guns has helped fuel violent crime in the Chicago area, local news media reported earlier this month. One stolen Ruger revolver was used in a January 2016 shooting.

Following news reports of the thefts, U.S. Sen. Dick Durbin (D-Ill.) pressed the railroad to explain how it plans to address the issue. In a March 14 letter to NS Chief Executive Officer James Squires, Durbin wrote that "it's clear that more needs to be done by Norfolk Southern to properly secure the 63rd Street rail yard and any potentially dangerous freight shipments stored there."

Although NS hasn't publicly laid out specific security strategies, spokeswoman Susan Terpay told media outlets that the Class I is increasing yard patrols with uniformed officers and K-9 units. NS also is performing undercover surveillance investigations, Fox News reported in early March.

Other industry-wide security measures include close collaboration with the FBI and local law enforcement agencies, as well as the the Bureau of Alcohol, Tobacco, Firearms and Explosives, the Association of American Railroads (AAR) said in a statement to WGN News earlier this year.

Railroads also have partnered with FBI rail liaison agents who specialize in investigations and information sharing with railroad police and local and state police, the AAR said.

While authorities have charged the two criminals involved in the 2015 heist, there have been no arrests for the 2014 or 2016 robberies, according to Associated Press reports.

Gun theft from rail yards isn't unique to the Windy City, though; in fall 2012, thieves stole more than 100 assault rifles from CSX's Tilford Yard near Atlanta.

And guns are, of course, just one target for rail-yard thieves, who could steal any number of goods from parked trains.

Copper theft also has been a longtime problem for some railroads. Stealing copper is appealing to thieves because the metal is used for many items, Morristown & Erie Railway Chief of Police Chip Greiner said at Progressive Railroading's 2016 Secure Rail Conference. In addition, reselling copper can generate big profits for some.

The impacts of metal theft are wide reaching. In addition to the monetary costs involved with replacing copper, railroads may face service disruptions, as was the case for MTA New York City Transit (NYCT) in spring 2015. After thieves stole copper cables along the agency's A rail line, NYCT was forced to temporarily suspend service along a portion of the route.

Railroads and transit agencies are continuing to take steps to curb thefts in yards and along key corridors. Sound Transit, for example, is installing new fencing, guard booths and surveillance systems at its commuter-rail layover facilities in Lakewood, Wash. That work is part of a $13.2 million expansion of the yard.

In addition, Chicago's Metra in September last year received $2.8 million from the Federal Emergency Management Agency to boost yard security.
---
Keywords
Browse articles on
rail yard thefts
rail thefts
gun thefts
Norfolk Southern Railway
NS
63rd Street Yard
rail security
James Squires
Dick Durbin
rail yard security
yard security
Chicago
Chicago rail yard thefts
Chicago gun thefts
Contact Progressive Railroading editorial staff.