Newsletter Sign Up
Stay updated on news, articles and information for the rail industry
Rail News Home
Safety
January 2020
Rail News: Safety
Rail regulators intensify push to advance grade crossing safety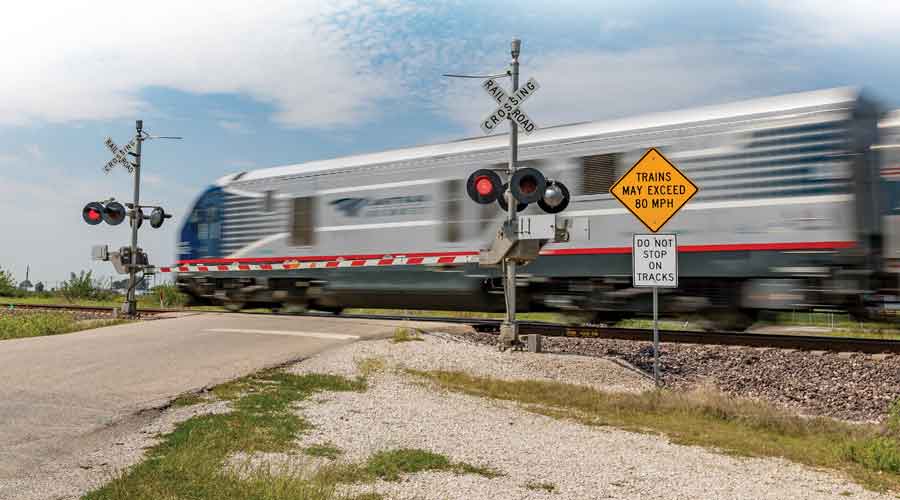 By Julie Sneider, Senior Associate Editor
Grade crossing incidents and illegal trespassing on rail property continue to account for about 95 percent of all U.S. rail-related fatalities each year, according to the Federal Railroad Administration (FRA). Sadly, most of those incidents are preventable.
The FRA's most recent data shows that in 2018, there were 2,217 collisions at public and private crossings in the United States, up from 2,123 in 2017, 2,049 in 2016 and 2,080 in 2015. While the number of fatalities resulting from collisions fell to 262 in 2018 from 271 in 2017, the deaths in 2018 outpaced the figures in 2016 (255) and 2015 (237) and tied 2014's total.
Rail safety experts cite two factors that they believe caused the 2018 increase in collisions: a higher volume of train traffic and a greater number of distracted drivers and pedestrians.
In an effort to further drive down crossing-related incidents and deaths, U.S. Transportation Secretary Elaine Chao last month announced the U.S. Department of Transportation (USDOT) has "significant plans" to advance grade crossing safety around the nation. The announcement followed steps the FRA has taken over the past several years to raise crossing safety awareness.
"The department is committed to supporting infrastructure improvements, new communications tools and working to change driver behavior so that highway-rail grade crossings are safe environments for all transportation users," Chao said in a press release.
Among the FRA's most recent actions is a proposed rulemaking, issued in November 2019, that calls on states and the District of Columbia to develop action plans or update existing ones to make crossings safer. The proposed rule would require 40 states and D.C. to develop crossing action plans, and 10 states to update plans they've already made and report steps they've taken to implement their plans.
The 10 states — Alabama, California, Florida, Georgia, Illinois, Indiana, Iowa, Louisiana, Ohio and Texas — were previously required under the Rail Safety Improvement Act of 2008 to develop crossing action plans, according to FRA officials. The agency proposed the rule in response to the Fixing America's Surface Transportation (FAST) Act mandate that the FRA promulgate a regulation requiring states to come up with ways to reduce the number of collisions, fatalities and injuries at crossings nationwide.
Comments on the proposed rulemaking were due early this month. The FRA will review and approve the states' plans, then publish them online. The action plans will help states prioritize infrastructure and equipment investments at crossings using a variety of resources, including federal funds and grants, FRA officials said in a press release announcing the proposed rulemaking.
Also in November 2019, the FRA hosted a "Highway-Rail Grade Crossing Technology Symposium" to highlight some of the new technology and other innovations that are being tested, piloted and/or implemented to eliminate incidents at crossings that end in tragedy.
The November symposium was organized in response to feedback from a series of listening sessions that the FRA held in 2019 with railroads, rail signal equipment manufacturers, trade groups, advocacy organizations, technology companies and law enforcement. Those listening sessions produced 16 "actionable" ideas for safety improvements, which the FRA is now exploring.
The symposium underscored the USDOT's interest in finding and sharing innovative and technological solutions to crossing safety improvements.
NS, Waze get out the message
Among those presenting at the summit was Will Miller, public safety director for Norfolk Southern Railway, who discussed the Class I's pilot project to integrate a crossing warning feature into Google's Waze mobile navigation app.
In March 2019, NS partnered with Waze to explore how many motorists could be reached with a rail safety message within a defined area. The Class I chose six areas in states where it registers the highest number of vehicle-rail incidents, according to Miller.
"We looked at areas that had crossings that were close together, that had been problematic for us over time," Miller says. "We worked with Waze to set up a parameter — which is 5 kilometers in radius — and anytime a Waze user is completely stopped within this targeted area, they will see a brief pop-up safety message."
The pop-up shares one of two messages with drivers: "The train you see is closer and moving faster than you think" or "Trains go faster than you think; be cautious when crossing." The message is brief so as not to distract drivers, but also raises awareness of risk in their immediate surroundings. Between March and mid-September 2019, NS reached over 1 million different Waze users with its safety pop-up messages, according to Miller.
"We have found that Waze is successful in providing motorist safety information within targeted areas to help motorists make good decisions at railroad crossings," he says. "We feel confident that the platform allows us to reach a lot of people that may not otherwise receive these important safety messages."
This year, NS plans to expand the safety message campaign via the Waze app.
"Right now, our plan is to use Waze in nine states to give us broader coverage and try to reach as many people as possible in 2020," Miller says.
The targeted areas for the expanded safety ad campaign will be in Alabama, Georgia, Indiana, North Carolina, Ohio, Pennsylvania, South Carolina, Tennessee and Virginia.
Additionally, NS is preparing an online and social media campaign of public service announcements about how to safely cross railroad tracks.
NS isn't the only railroad to use Waze to communicate crossing safety messages: MTA Long Island Railroad (LIRR) was recently commended by the FRA for "dramatically" improving crossing safety through the use of delineators and enhanced GPS alerts through Waze.
In June 2018, LIRR installed flexible, four-foot-high reflective delineators, extended roadway markings and added reflective devices to better alert drivers that they should not turn onto railroad tracks. The delineators are designed to help drivers who may become confused by GPS directions while driving in darkness or inclement weather. To advance those efforts, the railroad and Waze implemented the app feature to alert motorists that they were approaching a crossing.
The problem of motorists inadvertently turning onto tracks at a crossing was eliminated in the first year after the program was launched, LIRR officials say. Until 2018, the problem of drivers turning onto tracks had been happening with increased frequency.
LIRR representatives discussed their project's results at the FRA's November 2019 symposium.
Also presenting at the FRA symposium was Brian Vercruysse, rail safety program administrator for the Illinois Commerce Commission (ICC). The commission oversees the state's Grade Crossing Protection Fund (GCPF), which provides money to local public agencies in Illinois counties, townships and municipalities to make safety improvements involving public grade crossings on local — not state — roads.
A model for other states
Currently, $3.5 million in Illinois motor fuel tax receipts are transferred each month to the GCPF, which distributes about $39 million annually for highway-rail safety improvements.
Projects that the ICC has funded over the years include warning device upgrades, grade separations and vertical clearance improvements, pedestrian grade separations, traffic signals interconnected to railroad warning devices, highway approaches to crossings, connecting roads, voluntary crossing closures, crossing surface renewals and vehicle detection at four-quadrant gate locations.
Moreover, the ICC has used the GCPF to aid in the research and development of more innovative solutions to crossing safety problems. In the early 2000s, for instance, the GCPF helped support pilot projects that researched remote monitors and vehicle detection systems.
Currently, the ICC is interested in studying how positive train control (PTC) systems could be used to increase crossing safety measures, Vercruysse says.
"We know some railroads are looking into that possibility for the next round of PTC, and that's an area that we're really hoping to see for the future of grade-crossing safety," he says, adding that the ICC would be interested in participating in a related demonstration project.
Another rail safety area that the ICC hopes to address is the connection between rail trespassers and incidents at crossings. ICC representatives are talking with Illinois lawmakers about possibly expanding the state's definition of the types of safety projects that the ICC funds to include projects that implement safety treatments — such as fencing, landscaping and working with law enforcement — to deter trespassing.
Although legislation implemented in 2001 allowed the GCPF to pay for pedestrian bridge construction over railroad track, the law doesn't allow the fund to cover other types of projects designed to deter trespassing near crossings.
"An FRA study found that nearly 75 percent of all trespasser incidents [deaths and injuries] occurred within 1,000 feet of a grade crossing,"
Vercruysse says. "So, we want to be able to use the fund for projects that extend past the public highway-rail crossing to areas where we find hot spots."
At the symposium, FRA officials described the Illinois GCPF as a model for other states. Later this year, the administration expects to follow up the 2019 safety event by holding six grade-crossing summits to engage local stakeholders from the top 10 counties for fatalities caused by rail trespassing and crossing incidents.
Saving lives through education
The FRA also will continue to fund educational programs that help raise rail safety awareness, such as those promoted by Operation Lifesaver Inc. (OLI). The nonprofit organization receives federal funding to support public education across the nation to reduce collisions between trains and motor vehicles at crossings and discourage trespassing along railroad rights of way. Its annual Rail Safety Week held during the third week of September promotes rail safety messages and activities across the country to educate the public about safe behavior at crossings and near railroad property.
OLI Executive Director Rachel Maleh attributes the uptick in the national number of collisions and deaths at crossings to distracted motor vehicle drivers and pedestrians.
"People want to get to where they're going quickly and they're not paying attention," Maleh says. "They don't want to wait for a train at a crossing."
OLI in 2019 began expanding its outreach to various "nontraditional" partners.
"We're talking with other organizations that have a safety focus but may not be thinking specifically about rail safety," Maleh says.
For example, a video that OLI released during Rail Safety Week in 2019 featured a mother whose daughter was killed by a train while taking a "selfie" on railroad tracks. In the video, the mother talks about the safety advice she had given her daughter over the years, such as "Don't talk to strangers" and "Don't drink and drive."
"But she never thought to talk to her daughter about rail safety," Maleh says. "That's an awareness issue, and we hope to build on that."
Email comments or questions to julie.sneider@tradepress.com.
---
Keywords
Browse articles on
Grade crossing safety
Federal Railroad Administration
FRA
Fixing America's Surface Transportation (FAST) Act
innovations
technology
Norfolk Southern Railway
NS
Will Miller
Google
Waze
MTA Long Island Railroad
LIRR
Illinois Commerce Commission
Brian Vercruysse
Grade Crossing Protection Fund
Operation Lifesaver Inc.
OLI
Rachel Maleh
Contact Progressive Railroading editorial staff.