Newsletter Sign Up
Stay updated on news, articles and information for the rail industry
Rail News Home
Rail Industry Trends
11/20/2018
Rail News: Rail Industry Trends
Streetcar systems can impact economic development, study says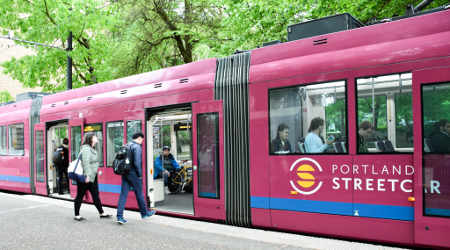 Streetcar systems in Seattle and Portland, Oregon, have helped attract new economic development to those cities, according to researchers at the Mineta Transportation Institute (MTI).

In a report titled "Examining the Development Effects of Modern-Era Streetcars: An assessment of Portland and Seattle," MTI researchers Jeffrey Brown and Joel Mendez examine the relationship between streetcar investment and development outcomes through a combination of statistical analysis of development activity and interviews with stakeholders.

Their study looked at various incentives aimed at prompting development activity within streetcar corridors in Seattle and Portland, and measured the frequency of issued permits between streetcar service areas and similar areas not served by the streetcar, MTI officials said in a press release.

Among the researchers' findings:
• The initial Portland streetcar (on the west side of the Willamette River) line showed development activity to be heightened within streetcar corridors;
• The Portland streetcar corridor was issued roughly 45 percent more residential and commercial permits compared with non-service areas that also received development incentives;
• Seattle streetcar corridors were issued an estimated 50 percent more commercial permits than non-service areas; and
• Non-serviced streetcar areas in Seattle were issued, at minimum, 59 percent more residential permits than areas serviced by the streetcar.

A key takeaway from the study is that the more widely used a streetcar system is, the more likely it is to have development effects, MTA officials said.

"A streetcar alone is not a guarantee of positive outcomes, as other factors such as a healthy real estate market, available land, and development-supportive zoning and other policies also need to be present," they said. " More cities that are operating streetcars or contemplating making a streetcar investment would be best served by keeping these issues in mind when making their own decisions.

To read more about U.S. streetcar projects underway, read this article in the September issue of Progressive Railroading.


Contact Progressive Railroading editorial staff.
More News from 11/20/2018