Newsletter Sign Up
Stay updated on news, articles and information for the rail industry
Rail News Home
Rail Industry Trends
3/22/2017
Rail News: Rail Industry Trends
OLI: Grade-crossing fatalities rose 13.7 percent in 2016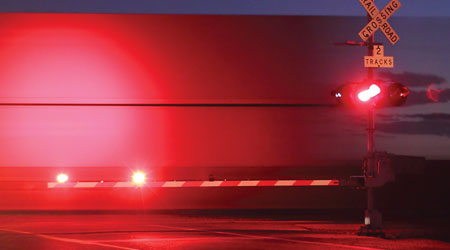 The number of vehicle-train collisions at U.S. railroad crossings fell 2.4 percent in 2016, but the number of fatalities increased 13.7 percent compared with 2015, Operation Lifesaver Inc. (OLI) announced yesterday.

Also, the number of deaths due to trespassing on train tracks rose 12.8 percent last year compared with 2015, OLI President and Chief Executive Officer Bonnie Murphy said, citing preliminary statistics from the Federal Railroad Administration (FRA) Office of Safety Analysis.

In 2016, U.S. crossing collisions fell to 2,025 from 2,075 in 2015; crossing-related fatalities rose to 265 from 233; and crossing injuries dropped 22.7 percent to 798 from 1,032, according to an OLI press release.

Trespass deaths and injuries climbed to 994 in 2016 from 868 in 2015; trespass deaths rose to 511 from 453; and trespass injuries grew to 483 from 415.

States with the most crossing collisions in 2016 were Texas, California, Illinois, Indiana and Georgia. States with the most trespasser casualties (deaths and injuries combined) in 2016 were California, Texas, Florida, New York and Pennsylvania.

"While we are encouraged to see highway-rail crossing collisions and injuries continuing their downward trend, we are very concerned about the increase in crossing deaths, trespass deaths and injuries," said Murphy.

OLI is working with the FRA, Federal Highway Administration and Federal Transit Administration — along with freight, passenger and commuter railroads and other community partners — "to give Americans important information on how to keep themselves, their friends and their families safe near tracks and trains," she added.

Those efforts will include the first U.S. Rail Safety Week, which will be Sept. 24-30.

"The Federal Railroad Administration shares a concern about increasing trespass deaths and injuries and crossing fatalities in 2016," said Karl Alexy, director of FRA's Office of Safety Analysis. "We will continue to address these safety challenges, working with Operation Lifesaver and all our partners and stakeholders, until we reach our ultimate goal of preventing these tragedies."
Contact Progressive Railroading editorial staff.
More News from 3/22/2017