Newsletter Sign Up
Stay updated on news, articles and information for the rail industry
Rail News Home
Rail Industry Trends
September 2016
Rail News: Rail Industry Trends
Drones, mobility and more: Supplier perspectives on next-level rail technology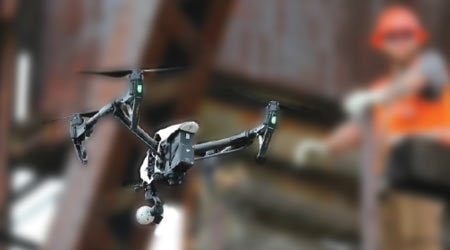 By Renee Bassett, Vice President – Content Development
When it comes to innovation, railroad product and services suppliers continue to nudge the industry forward. They'll take a chance on new technology, work up a prototype and look for beta testers to refine their designs. Click on the following company names to learn more about a new tank car design, short-line crew management software and other innovations.
New Tank Car Design
Honeycomb Cargo LLC is working on what CEO Joe Parrilli calls a revolutionary alternative to legacy tank car design that will mitigate the risk of transporting hazmat by rail.
"We have developed a compartmentalized architecture that segregates the hazardous material into subsections and protects them with a shock-absorbing material," says Parrilli. "The compartmentalization of cargo means a single puncture cannot impact the entire payload."
Vertical storage containers hold the material, and fortified intermodal containers bundle and protect those containers.
Roadway Worker Warning Systems
In the next five years, "we should expect all railroad and rail transit operators to voluntarily adopt suitable forms of electronic train approach warning protection for work crews and lone workers working on or fouling railroad tracks," says Kevin Smith, senior vice president of global sales and marketing for Miller Ingenuity. While the positive train control (PTC) mandate may address at least a part of this requirement, PTC will not be available on all track locations. Miller Ingenuity has developed a system using sensor and wireless communication technology to set up a bubble of protection that follows workers as they walk the track. Sensors detect trains entering the limits of the zone and immediately send a warning to all workers within the zone. This worker protection product is designed to be used as an overlay to a railroad's existing protection rules.
Drone Inspection Services
Unmanned Experts Inc. is leveraging state-of-the-art inspection techniques to gather data and create images that support improvements to infrastructure, including bridges. The company flies unmanned aerial systems and helps railroads with drone consultancy and training. For a lift bridge inspection project in Ottawa, Ill., pilots flew a fleet of unmanned aerial vehicles (UAVs) for two days in programmed patterns to capture ultra-high-resolution images. The images then were used to produce two- and three-dimensional renderings of the bridge, as viewed from the sides, top and bottom.
Short-Line Crew Management
Expected to be available in the fourth quarter is PS Technology's mobile crew management application for short-line railroads: CrewPro Lite. This Software-as-a-Service (SaaS) application is based on digital Class I crew management techniques. The mobile-friendly solution defines and maintains employee information; creates assignments, including seniority move-bumps; allows manual adding of trains; handles call process, including change of status; and includes tie-up and hours of service. PS Technology currently is seeking short-line beta-testers; visit pstechnology.com/shortline-beta.
Mobile Employee Collaboration
PS Technology's Innovation Station is a digital platform that "ensures innovation is part of the company success plan instead of simply hoping things get better." The company says Union Pacific Railroad has saved more than $10 million by using this mobile collaboration app, which lets users submit ideas anonymously and have their peers vote, comment on and share them.
Rail Analytics Platform for Condition-Based Maintenance
On the predictive analytics front, there's Progress Rail's EMD Uptime. In partnership with Uptake, a provider of predictive analytics and insight software, Progress Rail created a next-generation rail analytics platform for condition-based maintenance. EMD Uptime enables railroads to minimize unplanned downtime, and improve asset utilization and reliability. The cloud-based portal monitors locomotive faults and operating parameters in real time, providing diagnostics, prognostics and repair recommendations. Progress Rail will formally unveil EMD Uptime — the first of a suite of applications Progress Rail and Uptake are creating — at InnoTrans 2016, to be held Sept. 20-23 in Berlin.
Additional perspectives and product releases
Janam Technologies: Rail-specific rugged mobile computer
Janam Technologies: RFID's significance for U.S. rail safety and efficiency
Simmons Machine Tool Corp.: Wheel shop automation for improved maintenance operations
Phoenix Contact USA: Secure SCADA
CDM Electronics: Combat-rated cable assemblies
PS Technology: PTC training package
PS Technology/Valvora: Cloud-based project management
---
Keywords
Browse articles on
Honeycomb Cargo LLC
Joe Parrilli
Kevin Smith
Miller Ingenuity
Unmanned Experts Inc.
UAVs
drones
PS Technology
CrewPro Lite
Innovation Station
Progress Rail
EMD Uptime
EMD
Janam Technologies
Simmons
Simmons Machine Tool Corp.
Phoenix Contact USA
Valvora
CDM Electronics
rail suppliers
supplier perspectives
what's next in rail
Contact Progressive Railroading editorial staff.