Newsletter Sign Up
Stay updated on news, articles and information for the rail industry
Rail News Home
PTC
May 2018
Part 1 : C&S Spending Report 2018: Introduction
Part 2 : C&S Spending Report 2018: Freight Railroads
Part 3 : C&S Spending Report 2018: Passenger Railroads
Rail News: PTC
C&S Spending Report 2018: Introduction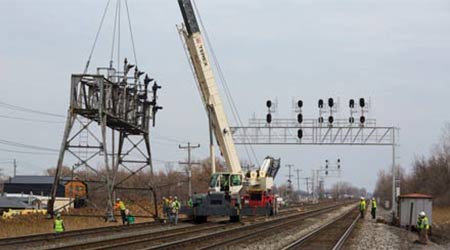 By Jeff Stagl, Managing Editor
There are a number of objectives freight and passenger railroads are trying to tackle in their communications and signals (C&S) departments this year. Among them: signal system upgrades, light and gate additions at grade crossings, centralized traffic control improvements, and supervisory control and data acquisition system adoptions.
Progressive Railroading's first-ever C&S Spending Report reflects those ambitions. To gather information for the inaugural edition, we sent a survey several months ago to more than 200 Class Is, regionals, short lines and passenger railroads, which netted 46 responses.
We wanted to know how much money railroads are allocating for C&S work this year. We also asked them what they plan to do to safety-enhancement-wise to reduce the risk of train accidents and crossing collisions caused by signal or traffic-control system problems.
The most-cited work priority cited by respondents? Ongoing positive train control (PTC) implementation, which is mentioned by 10 of the railroads as a major C&S project in 2018.
PTC is designed to prevent train-to-train collisions, derailments caused by excessive speed, unauthorized train movements onto sections of track that are undergoing maintenance activities and movements through a track switch set in the wrong position. Forty-one freight and passenger railroads are mandated by federal law to implement PTC, including seven Class Is and 29 commuter railroads.
Those railroads must install all hardware, acquire all radio spectrum, implement the technology on more than half of impacted PTC territories or route miles, and train all employees by Dec. 31, 2018. Railroads that meet the requirements and need more time for implementation can seek a two-year deadline extension from the federal government to test and ensure their system is fully interoperable.
By year's end, Class Is will install all necessary hardware, place all radio spectrum, train all affected employees and begin operating PTC along 80 percent of all required route miles, per Association of American Railroads (AAR) data. By the time PTC is fully operational nationwide, Class Is will have spent more than $10 billion on it, the AAR estimates.
However, perhaps as many as two-thirds of the 29 commuter railroads might not meet the Dec. 31 deadline or qualify for an extension, according to a U.S. Government Accountability Office report published March 1. Seven to 19 of the roads may not have allocated enough time to meet the deadline or complete the necessary milestones for an extension, the report states.
No matter if it's PTC or some other vital work, it's going to take a lot of effort to carry out this year's priorities, if our spending report is any indication. In separate freight and passenger railroad sections, the report includes the budgets and/or key projects 46 roads have pegged for C&S in 2018.
next page
---
Keywords
Browse articles on
communications and signals
positive train control
Association of American Railroads
U.S. Government Accountability Office
Contact Progressive Railroading editorial staff.