Newsletter Sign Up
Stay updated on news, articles and information for the rail industry
Rail News Home
PTC
January 2018
Rail News: PTC
BNSF forges ahead on the technology-adoption front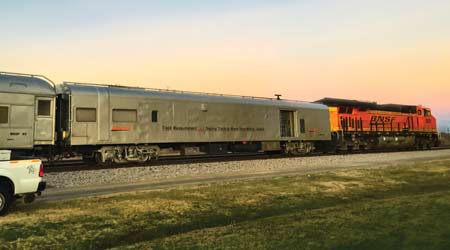 By Jeff Stagl, Managing Editor
BNSF Railway Co. is striving to incorporate a number of emerging technologies throughout the railroad to boost productivity, increase efficiencies and cut costs.
Among them: tablets for field workers. The handheld devices help speed up tasks and enhance information accuracy.
As of 2017's end, about 5,000 of the Class I's 20,000 train and engine-service workers had begun using iPads. In 2018, the company will issue those devices to the remainder as well as provide tablets to thousands of mechanical employees, says Jo-ann Olsovsky, BNSF's chief information officer and vice president of technology services.
About a year ago, 800 track inspectors began using tablets to obtain exact maps of assets and perform scheduled inspections, says John Cech, BNSF's assistant VP and chief engineer-system maintenance and planning.
"We can use data to drive track maintenance," he says.
BNSF also recently began using two autonomous cars to perform track geometry tests. The railroad expects to obtain two more in 2019.
The unmanned cars dramatically increase the mileage of track that's tested and help the railroad draft a "smarter" surfacing plan, says Olsovsky.
"It's another way to go from time-based to condition-based maintenance," she says.
The Class I previously used three manned cars pulled by a locomotive to conduct geometry tests and could cover about 90,000 miles of track annually. Now, the autonomous cars operate 24/7 and have more than tripled annual testing production to about 300,000 miles, says Cech.
"We think we can get to 450,000 miles," he adds.
A testing instrument might be developed in two to four years that could be employed as an end-of-train device, which would prompt an even higher frequency of testing, Cech believes.
For now, BNSF is piloting the use of drones in three subdivisions to analyze frogs — such as the conditions beneath them — to reduce 10 mph slow orders. In addition, camera systems installed on drones are helping to identify hard-to-find hairline fractures in concrete ties.
Meanwhile, the railroad continues to develop algorithms to improve inspections. For example, a new algorithm used for about a year in BNSF's curve relay program helps determine accurate wear limits. As a result, curve relays on an annual basis have been reduced from 360 miles to 220 miles and associated cost savings have reached about $60 million, Cech says.
The Class I is becoming more involved in "edge machine learning" through which algorithms help drones or servers both produce and process data in the field, says Muru Murugappan, BNSF's AVP of technology services.
"Then the data is transferred back to the house. It's a better way to deal with so much data," he says.
Managing a lot of data also is a concern once BNSF's positive train control (PTC) system is fully operational at 2018's end. So the next step is to leverage and operationalize PTC due to the high amount of GPS data that will pour into the transportation system, says Olsovsky.
"We could operate trains much closer together as determined by the braking distances," she says. "Then the question is: Would you need as much capital since you wouldn't need double or triple track in some cases? We think 2018 is the year to figure it out."
---
Keywords
Browse articles on
BNSF Railway Co.
rail technology
positive train control
Contact Progressive Railroading editorial staff.