Newsletter Sign Up
Stay updated on news, articles and information for the rail industry
Rail News Home
PTC
September 2019
Rail News: PTC
BNSF, NS advance more modern locomotives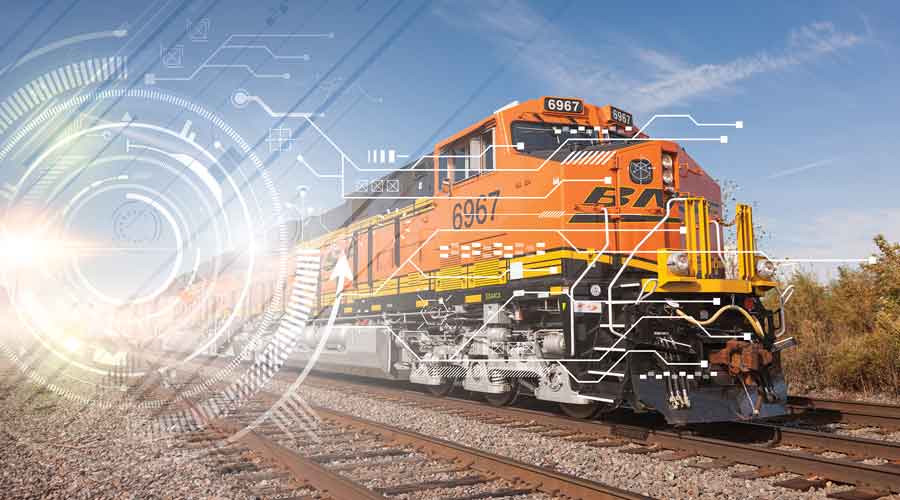 By Jeff Stagl, Managing Editor
Two Class Is are aiming to push the technological envelope to improve locomotive operations.
BNSF Railway Co. has teamed up with Wabtec Corp. to develop a battery-electric high-horsepower road locomotive. They plan to begin performance testing in late 2020.
Formerly only piloted in switching yards, a battery-electric locomotive now can be developed and tested as a road unit due to the availability of more powerful and reliable batteries, BNSF officials said in an online post.
Development efforts began last year on the unit, which would work with conventional diesel locomotives to create a battery-electric hybrid consist.
The battery-electric locomotive is designed to provide environmental benefits and fuel savings. While stationed in a yard, the consist would shut down or idle and use the battery-electric locomotive to reduce air emissions and noise.
The battery-electric unit also would feature an advanced version of train energy management software to determine optimal battery usage and fuel consumption. Regenerative power acquired through the locomotive's braking system would extend its range.
BNSF and Wabtec plan to soon design a battery charger and install it at the railroad's Mormon Yard in Stockton, California, later this year.
Over the next few years, the partners expect to learn more about building, configuring, operating and maintaining a battery-electric locomotive.
Meanwhile, Norfolk Southern Railway expects its engineers and others to learn more about operating motive power equipped with positive train control (PTC) by employing virtual locomotives in a simulation environment. The Class I has established virtual locomotives at its PTC lab in Atlanta.
Software imitates a diesel locomotive's onboard computer while the virtual unit performs like a road locomotive. The virtual system can simulate multiple locomotives at the same time.
The Class I needed hundreds of locomotive configurations to properly test its PTC systems, so the railroad bought the necessary hardware and software and developed its own configurations — at a cost less than the price of a 30-year-old diesel locomotive, NS officials said in an online post.
Virtually the best testing method
Virtual reality testing is less expensive — so far, the Class I has spent about $100,000 to build 720 PTC virtual locomotives. The virtual testing enables information technology workers to run hundreds of test scenarios against each hardware and software configuration. Software bugs and other issues then can be detected early, enabling the PTC virtual lab team to focus on further improvements and additional testing, NS officials said.
Automated lab testing helps prepare PTC systems for the field. Additional tests are performed on actual locomotives after lab testing is completed, but the virtual test locomotives have been vital in helping the railroad achieve its PTC implementation plan goals, NS officials said.
The PTC lab provides NS engineers a convenient and efficient way to test the extremely complex hardware and software installed on a locomotive, they said.
There currently are more than 700 versions and upgrades of onboard PTC systems — a figure NS officials expect to keep growing before implementation is completed late next year.
---
Keywords
Browse articles on
BNSF Railway Co.
Norfolk Southern Railway
Wabtec Corp.
positive train control
battery electric locomotive
Contact Progressive Railroading editorial staff.