Newsletter Sign Up
Stay updated on news, articles and information for the rail industry
Rail News Home
People
May 2019
Rail News: People
Metra CEO Jim Derwinski picks up where Don Orseno left off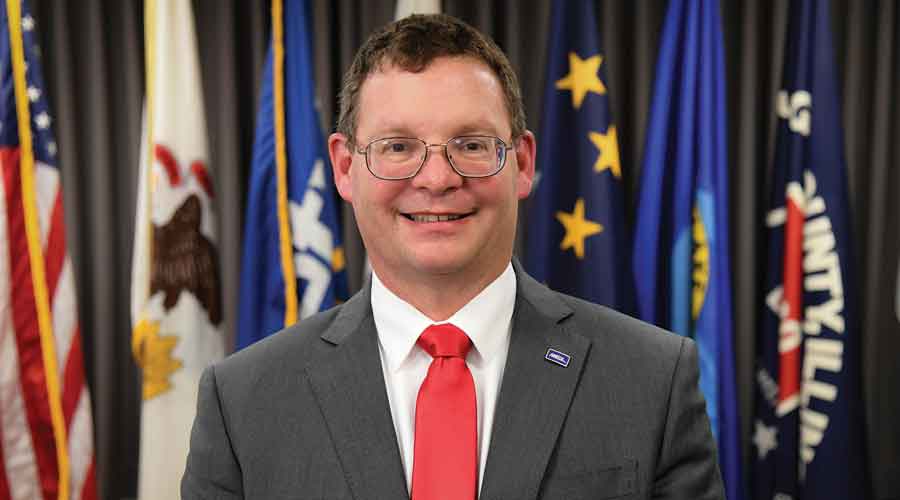 By Julie Sneider, Senior Associate Editor
Summer 2013 was a tumultuous period at Metra, when the Chicago commuter-rail system's board asked Don Orseno — a lifelong railroader and 30-year Metra veteran — to lead the agency out of a crisis.
Early that summer, the railroad's then-Chief Executive Officer Alex Clifford had stepped down amid pressure from Metra's board, after contending he had been asked to grant patronage requests from Illinois lawmakers and the board's then-chairman. At the time, the agency was on the brink of "administrative collapse," according to Metra Chairman Norman Carlson, who chaired the agency's audit and finance committee at the time.
In turning to Orseno, the board was getting someone who spent decades at the railroad, starting as a trainmaster in 1984 and then rising through the ranks to become chief operating officer before accepting the top job. Orseno knew Metra's employees and they knew him. And he well knew the vast operations of the nearly 500-mile commuter-rail system that serves the six-county Chicago area.
With Orseno at the helm, the board turned its focus to implementing new policies and procedures aimed at becoming a more accountable agency and restoring the public's trust in a railroad that relies on tax-dollar support to keep the trains running.
By the time he retired at the end of 2017, Orseno — under the board's leadership — had brought back stability and accountability and restored employee morale, Metra leaders say.
"At the time, the goal was to regain the public's trust in Metra," says Jim Derwinski, who succeeded Orseno as CEO and executive director in January 2018. "And that would be done by the hard work of the men and women operating the system, providing the service."
Orseno believed being as transparent as possible was key to restoring the public's trust in Metra, as well as restoring employee morale. Metra needed to continue to provide good service, get through the hard times and let all the inquiries, investigations and news coverage of the railroad's troubles play out, according to Derwinski, who served as Metra's chief mechanical officer until he took over the top job. "And when Don left, that was fully accomplished," Derwinski says.
If Orseno's tenure as CEO was Act 1 of Metra's recovery story, Derwinski's time as the railroad's leader can be described as Act 2. In promoting Derwinski, the board again turned to a veteran insider who the board believes will keep Metra moving along the right track.
Derwinski, 50, began his railroad career as a locomotive electrician with the Chicago & Northwestern Railroad, which later became part of Union Pacific Railroad. He joined Metra in 1997 as an electrician, and climbed the ranks through the mechanical department until he became CMO. Metra Chairman Carlson believes many of the skills Derwinski learned while serving in the U.S. military before going into railroading are serving him well as the public face of Metra. For one thing, he's "very analytical" before making key decisions; he gathers data, seeks others' opinions and performs a risk assessment, says Carlson.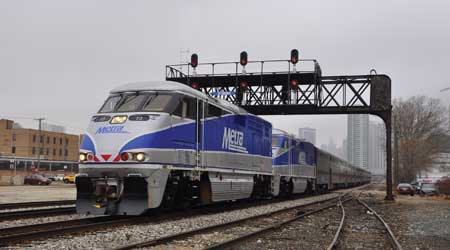 METRA
"I think where that comes from is Jim's experience in the Navy where he was an electrician on nuclear submarines," he says. "In that environment, he learned that you don't make mistakes. It's as simple as that."
Carlson also commended Derwinski's people skills, including his knack for communicating highly technical railroad issues in language that laypeople and the general public can understand.
As an example, Carlson cited Derwinski's public appearances on local news media and in public meetings in summer 2018, when an altered train schedule resulted in overcrowding on Metra's already busy BNSF line, prompting a flood of complaints from frustrated passengers. The situation worsened when air conditioning units broke down on some of those packed trains. The BNSF line — Metra's busiest — is operated on BNSF Railway Co. tracks by the Class I's crews.
"When [mechanical] things have happened on the railroad, Jim's had to go out to elected officials and community groups and explain what happened," says Carlson. "And he's very effective. He's not afraid to wade into a complicated or emotionally charged situation and is straightforward in his answers to questions. That has earned him a lot of respect among elected officials and community leaders."
While CMO, Derwinski oversaw Metra's in-house rail-car rehab program at the 49th Street shop, where crews rebuild and rehab coaches and locomotives to extend their use. The shop, now undergoing a $30 million expansion, was set up as a multi-station manufacturing assembly model, where Metra-employed carmen, electricians, machinists and sheet-metal workers strip a car to its shell and reassemble it with new or refurbished components.The in-house program is limited to 38 car rehabs a year and will accommodate up to 60 a year when the expansion project is completed.
"Right now we are saving about $400,000 per car with respect to outsourcing," says Derwinski. "The reason we're doing that is there's no money to replace the oldest cars. We've got some cars out there that have been operating for 25 years since their last rebuild, and that's really a factor of funding."
The program has overhauled more than 250 rail cars, according to Metra's 2019 proposed budget document. Additionally, Metra has been rehabbing dozens of its locomotives. As another cost saver, the railroad last year approved the purchase of 21 used EMD locomotives at the for $27 million. Those F59 units built by General Motors' Electro-Motive Division in 1998 had been used on Amtrak's West Coast lines.
"That [rehab] program was Jim's baby when he was chief mechanical officer, and it has continued since he became CEO," says Carlson, adding that he believes the program is another example of Metra regaining respect from political leaders.
Going as far as possible on limited capex
And public recognition of Metra's turnaround and improvement efforts is something that Carlson, fellow board members and Derwinski need as they seek the support of Illinois state lawmakers to grant Metra much needed capital funding for modernizing the railroad's fleet and infrastructure.
Today, Metra is a "point of inflection," Derwinski believes.
"What I mean by that is, day to day, we're providing service at the highest level compared with peers. We're doing it with the oldest equipment and with a lot of hurdles in front of us. However, the lack of sufficient capital funding over periods of time are really starting to catch up with us," he says.
The railroad's $822 million operating budget (FY2019) is covered half by fare revenue and half by a regional transportation sales tax. Following fare increases during the past four fiscal years, Metra did not raise fares in FY2019 — in part to determine if the recent annual fare increases have negatively affected ridership. In 2018, Metra provided 76.1 million passenger trips, down 3.2 percent compared with 2017's levels and comparable to passenger trips provided in 2005. Ridership has declined each year since 2014.
While the FY2019 no-fare-increase budget was good news for Metra riders, it came with a warning for the commuter railroad's future. Historically, the capital budget has been paid for with funds from federal, state and local sources. And in recent years the revenue from Metra fare increases have primarily gone toward capital expenses, such as the new locomotive acquisition.
But, the state of Illinois hasn't had a bond program to fund capital projects and infrastructure since 2009, which means Metra has struggled to scrape together the federal grants and local resources to cover capital costs. Metra's FY2019's capital budget of $185.6 million falls far short of meeting capital expenditure needs, according to Derwinski and Carlson. They estimate about 40 percent of the railroad's assets are in "marginal or worn" condition; about half of Metra's bridges are more than a century old; and its diesel cars — at an average age of 30 years — are the oldest in the nation.
Derwinski estimates Metra needs $1.2 billion a year over the next decade just to return the railroad to a state of good repair. Carlson and the board have been making the case that the state needs a large capital bill so that Metra can start replacing its deteriorating infrastructure.
Traveling with the Metra roadshow
Last year, Derwinski, other Metra execs and board members took Metra's story on the road to garner support among mayors and civic leaders across the six-county region. This year, Derwinski and Metra officials are meeting almost weekly with individual state legislators, especially those newly elected, to convince them of Metra's current and future needs.
Metra leadership has developed a capital expenditure wishlist for the railroad, which would cost about $5 billion over the next five to seven years. On that list? Updating safety and security at Metra stations; acquiring 400 new coaches to replace those in the fleet that were built pre-1980; converting locomotives to AC technology; and electrifying Metra's Rock Island Line.
Additionally, Metra officials hope to expand North Central service to and from O'Hare International Airport, connecting with Chicago central business district and outlying suburbs. Currently, 10 Metra trains travel into O'Hare and 10 out of the airport daily; Derwinski would like to see those operations beefed up to a more frequent express service. Doing so would require infrastructure investments, including a flyover and bridge construction.
Finally, Metra leaders hope to ease capacity issues by adding trains on the agency's four busiest lines: the BNSF, Milwaukee North, UP North and UP Northwest. All four run at or near capacity at peak times. Adding trains would also require additional infrastructure, including extra track, crossovers and yard space to accommodate more cars.
"It's really time to start building the railroad for the next 50 years," says Derwinski. "It's time to start investing — not just into the state-of-good repair, but to address growth opportunities. We know we're not giving the best experience to our customers when they get on our trains and they can't find a seat."
Searching for more revenue ideas
Besides talking to Metra's "funding partners," Derwinski also has been searching for new revenue sources. A few possibilities: performing rail-car rehab work for other railroads; selling more advertising on trains and in stations; and pursuing real estate development opportunities on Metra property.
Another new idea already is in play: providing new "reverse-commute service" to major employers located in Lake County, Illinois. Earlier this year, Metra began providing morning rail service from Chicago to a stop in Lake County, and then back again in the afternoon. The service was launched after Lake County Partners, a business group representing major employers looking to expand their workforce recruitment efforts, approached Metra about providing reverse commute service. Under their agreement for a two-year demonstration project, the businesses and Metra will evenly split the cost of operating one train in each rush period.
For its share of the operational cost, Metra secured a grant. So far, the service has been well-received by riders and their employers, and will be evaluated for success after a year. On its first day, the reverse-commute route attracted 162 riders.
"The idea is that if ridership grows to a certain value, the ridership would sustain the operation," says Derwinski. "I thought the service was an innovative way to get a deal done [with] the private sector."
If the numbers work out, Metra officials may explore expanding reverse-commuter routes to other locations.
Besides investing in Metra's service, infrastructure and equipment, Derwinsky wants to invest more in the railroad's employees. Since taking over as CEO, he has focused more resources on training and developing personnel as a retention and recruitment tactic. Although Derwinsky's been in charge for less than 18 months, Carlson says he's impressed with what's transpired so far.
"Frankly, I had high expectations when we selected Jim — we, as in the board of directors — and the vote was unanimous," Carlson says. "And he has exceeded those expectations, in my opinion."
Email comments or questions to julie.sneider@tradepress.com.
---
Keywords
Browse articles on
Metra
Jim Derwinski
Chicago commuter railroad
chief mechanical officer
Don Orseno
Norman Carlson
Rock Island Line
BNSF Line
BNSF Railway Co.
Amtrak
Contact Progressive Railroading editorial staff.