Newsletter Sign Up
Stay updated on news, articles and information for the rail industry
Rail News Home
Passenger Rail
October 2019
Part 1 : Progressive Railroading's Passenger Rail at a Glance 2019: Preface
Part 2 : Progressive Railroading's Passenger Rail at a Glance 2018: Amtrak, California, & Colorado
Part 3 : Progressive Railroading's Passenger Rail at a Glance 2019: District of Columbia, Florida, Georgia and Illinois
Part 4 : Progressive Railroading's Passenger Rail at a Glance 2019: New Jersey, New York, Oregon and Pennsylvania
Part 5 : Progressive Railroading's Passenger Rail at a Glance 2019: Texas, Virginia and Washington
Rail News: Passenger Rail
Progressive Railroading's Passenger Rail at a Glance 2019: District of Columbia, Florida, Georgia and Illinois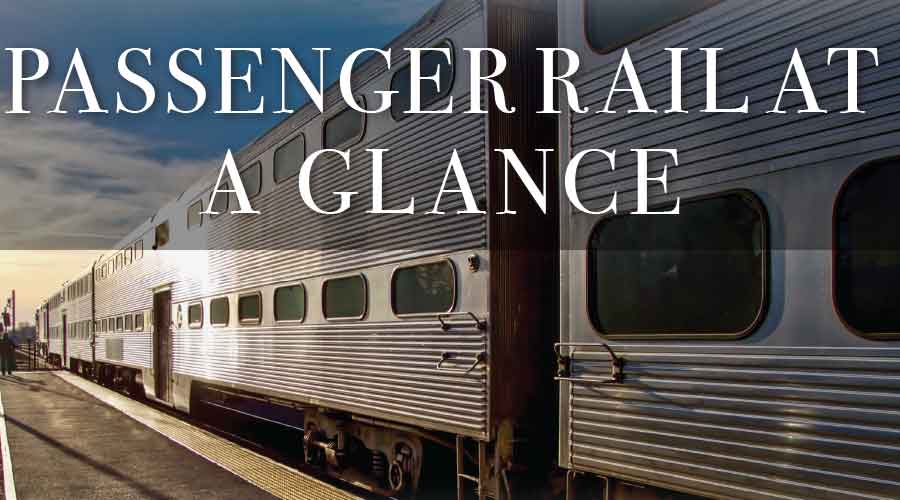 DISTRICT OF COLUMBIA

The Washington Metropolitan Area Transit Authority (WMATA) was created in 1967 for the purpose of creating and operating a public transit system serving the district of Columbia and areas in Virginia and Maryland. WMATA operates Metrorail.
Service launched: 1976 (Metrorail)
Miles: 118
Annual ridership: 174 million trips (2018)
Annual operating cost: $2.8 billion, systemwide (2018)
Annual capital cost: $8.5 billion (2019-2024 Capital Improvement Program)
Stations: 91
*Information source: cnn.com, wmata.com
FLORIDA
SunRail is a commuter-rail service for people throughout Central Florida, offering work and leisure travel opportunities. The system currently operates over 49 miles with 16 stations through Volusia, Seminole, Orange and Osceola counties.
Service launched: 2014 with 2018 expansion
Route miles: 61.5 miles total. Forty-nine miles jointly used by commuter and heavy rail. An additional 12 miles currently used by heavy rail and Amtrak, with plans to expand for SunRail use, and includes a future station location.
Rolling stock: 11 locomotives, 10 rebuilt in 2013 and one delivered in 2018; 20 rail cars, average age of 5.5 years; two coaches on order with expected delivery in late 2019 or early 2020.
Annual ridership: 1,469,654 (FY2019)
Annual operating cost: $38,180,354, including capital maintenance and support
Annual capital cost: $790,623
Stations: 16
Major capital improvement projects: NA
South Florida Regional Transportation Authority (SFRTA) operates Tri-Rail, South Florida's commuter-rail system, serving Miami-Dade, Broward and Palm Beach counties.
Service launched: 1989
Route miles: 142.24
Rolling stock: 16 locomotives, average age 19 years; 38 rail cars, average age 19 years
Annual ridership: 4 million
Annual operating cost: $122,958,758
Annual capital cost: $77,877,147
Stations: 18
Major capital projects: NA
GEORGIA
Metropolitan Atlanta Rapid Transit Authority is the principal rapid-transit system in the Atlanta area. It provides rail and bus service.
Service launched: Heavy rail, 1979
Route miles: 48 miles
Rolling stock: 338 rail cars
Annual ridership: 64.9 million trips (2018)
Net Operating expenses: $513,894,517 (FY2020 adopted)
Stations: 38
* Information source: itsmarta.com, ajc.com
Illinois
The Chicago Transit Authority (CTA) operates the nation's second largest public transportation system. On an average weekday, 1.6 million rides are taken on the CTA. The CTA is a regional transit system that serves 35 suburbs, in addition to the city of Chicago, and provides 81 percent of public transit trips in the six-county Chicago metropolitan area either with direct service or connecting service to Metra and the Pace bus system.
Service launched: 1947
Track miles: 224
Rolling stock: 1,472 rail cars
Rail cars on order: CTA in 2016 awarded a contract for the newest generation of CTA rail cars—the 7000-series. Manufactured by CRRC Sifang America JV. The first rail car prototypes are expected to be completed in 2019.
Annual ridership: 225.9 million (2018)
Annual Operating expenses: $1.58 billion (2019 estimated for the entire CTA system)
Annual capital costs: $591,803,000 (rail projects, 2018)
Stations: 145
* Information sources: transitchicago.com, rtams.org
Metra is the commuter-rail system serving Cook, DuPage, Will, Lake, Kane and McHenry counties in northeastern Illinois. The agency provides service to and from downtown Chicago with 242 stations over 11 routes totaling nearly 500 route miles and approximately 1,200 miles of track. Metra operates nearly 770 weekday trains, providing about 290,000 passenger trips each weekday.
Service launched: Commuter rail, 1984
Route miles: 487.5
Rolling stock: 168 locomotives, average age 27.3 years; rail cars, 854, average age 31.1 years; 186 EMUs, average age 6 years.
Annual ridership: 76.1 million (2018)
Annual operating cost: $822.2 million (2019 budget)
Annual capital cost: $185.6 million (2019 budget)
Stations: 242
Major capital projects:
• Replacement of A-32 bridge on Milwaukee District North Line on Chicago's northwest side. Estimated cost: $22 million. Construction start: Fall 2019.
• Peterson Ridge Station on the Union Pacific North Line, a $15 million state-funded project to add a new station. Construction expected to begin in early 2020.
• Auburn Park Station, a $20 million project to build a new station near 79th Street on the Rock Island Line. Construction to begin in 2020.
• Ongoing replacement of 11 bridges on the Union Pacific North Line on Chicago's north side. Estimated cost: $15.5 million.
• Second phase of the replacement of the Z-100 bridge on the Milwaukee District West Line. Metra is replacing a 135-year-old single track bridge over the Fox River in Elgin, Illinois, for $34 million with a double-track bridge and new signal system compatible with PTC.
previous page
next page
---
Keywords
Browse articles on
Washington Metropolitan Area Transit Authority
WMATA
SunRail
South Florida Regional Transportation Authority
SFRTA
Tri-Rail
Metropolitan Atlanta Rapid Transit Authority
MARTA
Chicago Transit Authority
CTA
Metra
Contact Progressive Railroading editorial staff.