Newsletter Sign Up
Stay updated on news, articles and information for the rail industry
Rail News Home
Passenger Rail
June 2017
Rail News: Passenger Rail
Casa Herradura, Ferromex partner to rebrand Tequila Express tourist train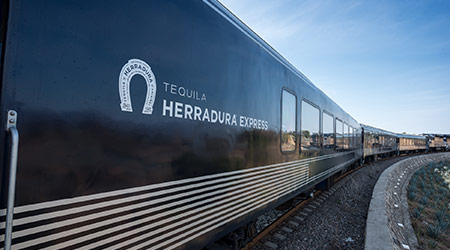 By Michael Popke

The oldest tequila producer in the world has teamed with the largest railroad in Mexico to relaunch a train tourism experience that emphasizes both education and entertainment.
A newly rebranded version of the Tequila Herradura Express, operated by Ferrocarril Mexicano S.A. de C.V. (Ferromex), debuted in late April and features eight recently refurbished passenger cars that transport visitors from Guadalajara in Jalisco, Mexico, to La Hacienda San José del Refugio at Casa Herradura in Jalisco's Amatitán — also known as the birthplace of tequila.
The journey, which takes place year-round every Saturday and lasts about 90 minutes each way, winds past scenic mountain landscapes and agave fields while passengers sip tequila en route to the historic Casa Herradura, which has produced tequila since 1870 and makes Tequila Herradura, an ultra-premium 100 percent agave tequila. The tequila is distilled twice and aged in American white oak barrels.
Once guests arrive, a guided tour takes them through Tequila Herradura's production facilities, which is followed by an authentic Mexican lunch in the heart of the distillery featuring dishes exclusive to the region, plus live Mariachi music and folk dancing. All told, the entire experience — rich in history, heritage and spirit — lasts 10.5 hours from check-in to return.
Since the April relaunch, runs are averaging about 200 passengers per trip, officials say.
"The new Tequila Herradura Express provides a unique opportunity to connect with consumers by not only sharing our great tequila and homeplace, but also to create memorable experiences," says Denisse Sánchez, Casa Herradura's homeplace manager, adding that Ferromex enjoys similar benefits. "Ferromex considers both the train and tourism efforts to be pillars of Mexico's national economic development, generating a successful formula that denotes economic growth and positions the state of Jalisco as a must-visit area."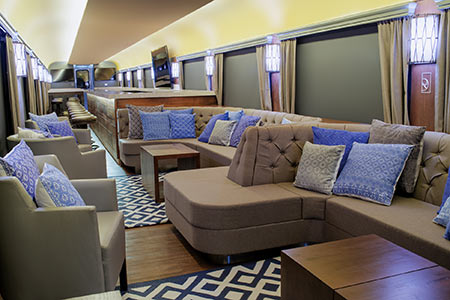 Photo – Tequila Herradura Express
The Tequila Herradura Express is an updated version of a tequila tourism train that Ferromex operated to Amatitán from 1997 to 2015 as part of an arrangement between the railroad, the tequila company and Guadalajara's chamber of commerce. When the arrangement with the chamber ended, Ferromex refurbished the cars to help Tequila Herradura with its rebrand.
"It was a great partnership for years, and we found a new opportunity to bring the branded experience to life," says John Tichenor, vice president and global brand director for Tequila Herradura. "There's a renaissance happening within the train industry right now, and it allows brands to connect with people in different ways."
He cites Napa Valley Wine Train in California and the Durango Blues Train in Colorado as two examples.
The Tequila Herradura Express can carry up to 400 visitors per run. Car options include two First-Class Cars that offer luxury cabins, comfortable lounge seating, flat-screen TVs and personalized service with specially selected food and beverage options both onboard and while visiting Casa Herradura. There also are two Club Cars that provide an adult-only lounge experience with comfortable seating, flat-screen TVs and a large bar featuring mixology entertainment. Four Premium Cars are designed for families and feature comfortable seating and wait service.
Enhancements in the refurbished cars include power outlets for personal electronic devices, high-end audio systems, and four bars, Sánchez says, adding that the interior of each car is based on modern and contemporary design concepts.
Prices range from $95 per seat in the Premium Car to $105 in the Club Car and $115 in the First-Class Car, and cars in two top-priced options are sold out for the summer, according to Sánchez.
So far, Tichenor says, the majority of passengers are tourists from Mexico, where the legal drinking age is 18. But word is spreading. The train no doubt received a boost when Tequila Herradura brought the "Speed and Efficiency" round of a national tequila cocktail-making competition onboard the Tequila Herradura Express in late March.
The finals of the inaugural "Road to the Hacienda" Challenge (presented by Tequila Herradura, Liquor.com and the United States Bartenders Guild) featured a contest in which 16 of the country's top bartenders were tasked with making three classic cocktails in five minutes. The overall winner — Egor Polonskiy of Chicago — was crowned on the grounds of Casa Herradura.
Other potential events involving the train could include sponsoring special music events at Casa Herradura, hosting nighttime tours and developing holiday themes, Tichenor says.
While the initial Tequila Express was part of an effort to tie the region's tequila legacy to its wider history, the rebranding allows Tequila Herradura to focus more directly on its own expanding consumer base and brand recognition, and it could provide a blueprint for future train tourism ventures.
"We're continuing to learn and find new ways to reach customers," Tichenor says.
Michael Popke is a Madison, Wis.-based freelancer. Email comments or questions to prograil@tradepress.com






---
Keywords
Browse articles on
Tequila Express
Ferromex
Casa Herradura
tourist train
Contact Progressive Railroading editorial staff.