Newsletter Sign Up
Stay updated on news, articles and information for the rail industry
Rail News Home
Norfolk Southern Railway
July 2016
Rail News: Norfolk Southern Railway
Fleet Stats 2016: Class I railroads not planning to add many cars, locomotives to their fleets this year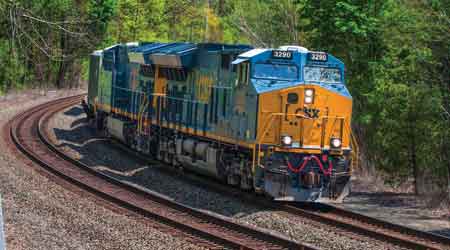 By Jeff Stagl, Managing Editor
The drop in North American rail traffic over the past year or so has curtailed freight-car orders. In the first quarter, orders were placed for 6,646 cars compared with 9,169 in fourth-quarter 2015 and 15,952 in first-quarter 2015, according to statistics compiled by the Railway Supply Institute's American Railway Car Institute Committee.
Most Class Is have greatly reduced the number of cars they expect to purchase in 2016. None more so than BNSF Railway Co., which plans to acquire no cars this year after purchasing 921 in 2015.
"We are confident that all rail fleets are adequate to support customer needs at this time," said BNSF spokeswoman Amy Casas in an email.
Among the other large-road car buyers, Union Pacific Railroad is targeting the purchase of 450 this year versus the 400 auto racks and 300 refrigerated box cars that were ordered last year. CN expects to obtain 150 bi-level auto racks for the TTX Co. flat-car pool and 239 covered hoppers compared with the 224 bi-level auto racks for the TTX pool, 802 centerbeams and 95 tank cars acquired in 2015.
For Kansas City Southern, this year's acquisition plan calls for obtaining 815 cars, including 465 that were previously leased or purchased, versus last year's 2,508 cars, including 2,208 that were leased or purchased.
In the East, CSX has committed to purchasing 200 auto racks and executing long-term leases for 500 auto racks to support continued growth in the automotive market, said spokeswoman Melanie Cost in an email.
"We will also purchase 300 hopper cars to offset the retirement of older cars to support the phosphate rock business," she said.
Last year, CSX purchased 350 auto racks and 100 cars for its metals business, and executed long-term leases for 400 small-cube covered hoppers.
Less motive power in the mix
For the most part, Class Is' locomotive acquisition plans for 2016 similarly target fewer units on a year-over-year basis. KCS' sure does. The Class I will purchase no locomotives this year after acquiring 50 units in 2015.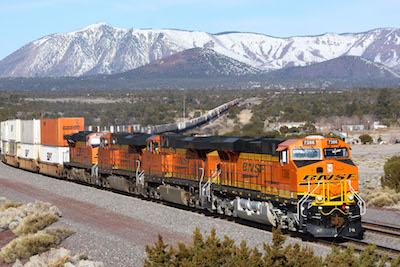 BNSF plans to purchase 150 locomotives this year — versus 326 last year — but acquire no rail cars in 2016.
Photo: BNSF Railway Co.
BNSF plans to acquire 150 locomotives under a minimum purchase agreement versus 326 units that were purchased last year, while CSX anticipates taking delivery of 100 locomotives in 2016, versus 200 last year, to complete a previous purchase agreement of 300 units.
"CSX continues to make resourcing decisions to efficiently support the current and future business growth we see," said Cost.
For UP, a few more units are included in the 2016 purchase order. The Class expects to acquire 230 new locomotives compared with 218 in 2015.
At Norfolk Southern Railway, which earlier this year returned 28 locomotives that had been leased, 50 new locomotives were expected to be delivered by the second quarter's end.
"[This] will allow us to remove less-efficient road locomotives from the fleet," said NS Executive Vice President and Chief Operating Officer Michael Wheeler during an April 21 earnings conference.
Trying to be more resourceful
Meanwhile, CN this year plans to acquire 90 high-horsepower Evolution Series locomotives from GE Transportation Systems, the same number the Class I obtained in 2015. The railroad is trying to better match resources to volumes, and since the carload projection for all of 2016 is about a 4 percent to 5 percent drop versus 2015, aligning resources is vital, said CN leader Luc Jobin at Citi's Industrials Conference held in Boston on June 15.
The Class I has plenty of motive power and is long on cars, said Jobin, who became CN's president and chief executive officer on July 1. The 2016 capital spending program allocated $500 million for equipment, with the lion's share devoted to the purchase of the 90 locomotives — "an order that's non-cancellable, unfortunately," he said, according to a webcast replay of his presentation.
With its rolling stock fleets now well stocked, CN has some leeway to reduce capex in the range of $300 million to $400 million going forward, said Jobin.
---
Keywords
Browse articles on
Railway Supply Institute
American Railway Car Institute Committee
BNSF Railway Co.
Union Pacific Railroad
CN
Kansas City Southern
CSX
Kansas City Southern
Norfolk Southern Corp.
GE Transportation Systems
Contact Progressive Railroading editorial staff.