Newsletter Sign Up
Stay updated on news, articles and information for the rail industry
Rail News Home
Norfolk Southern Railway
September 2015
Rail News: Norfolk Southern Railway
Class I railroads continue push to recruit military veterans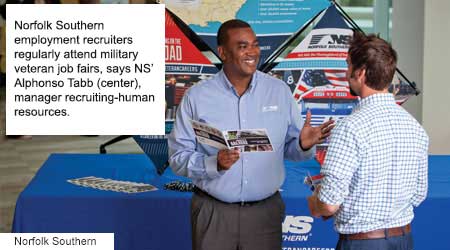 — by Julie Sneider, senior associate editor
Railroads' strong tradition of recruiting servicemen and women as they exit the U.S. Armed Forces dates back more than a century. Today, as the rail industry grapples with increasing numbers of worker retirements, hiring veterans is a high priority for railroads' recruiters.
That's because job candidates with military experience have the skills and personality traits that railroads are looking for in employees, rail industry executives say.
In recent years, as the wars in Iraq and Afghanistan wound down, the Association of American Railroads (AAR) — in collaboration with freight and passenger railroads and rail supply companies — has participated in veteran employment initiatives, such as the "Joining Forces" initiative that First Lady Michelle Obama unveiled in 2013. Nearly a quarter of freight railroads' current employees are veterans; one in five of the 15,000 new employees that freight railroads anticipate hiring in 2015 will have military experience, according to the AAR.
"We can't hire enough of them," says AAR President and Chief Executive Officer Ed Hamberger.
Why? Job candidates with military background typically understand the importance of safety, discipline and teamwork — all key priorities in railroad culture.
"I've heard it said many times that the railroad rulebook is written in blood," Hamberger says. "If you don't have discipline and follow the rules on the railroad, you can get hurt. Obviously, the same is true for the military, as well."
Other experiences that transfer well from military service to railroading: being familiar with large equipment, machinery and technology; performing duties in a security-sensitive environment; working shifts that cover any hour of the day or night, 365 days a year; relocating to accept new assignments; and working outdoors, sometimes under extreme weather conditions.
For the past several years, railroads have been recognized for their efforts to recruit and retain veterans for employment, Hamberger notes. G.I. Jobs magazine, for example, publishes an annual list of the top 100 military-friendly places to work; Class Is and Amtrak have made the list several times. The magazine ranks companies based on the strength of their military initiatives and events, the percentage of new hires with prior military service, and their policies regarding continued service in the military reserves and the National Guard.
More recently, railroads have honed their recruitment strategies to help ease veterans' transition from military service to the civilian workforce. One component of a veteran's successful job search is being able to transfer certain military job skills to railroad job skills. Earlier this year, Hamberger attended a meeting at the Pentagon to discuss how the rail industry can assist in that effort.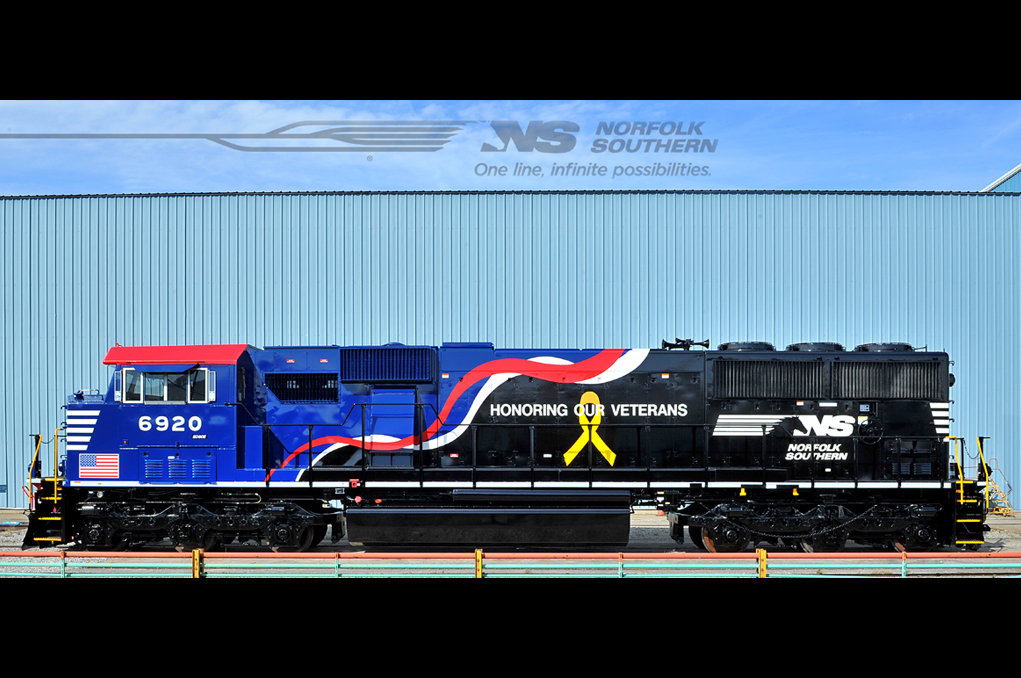 In 2012, Norfolk Southern unveiled its "Veterans Locomotive" — painted in red, white and blue by NS' Juniata Locomotive Shop employees — to honor veterans. The locomotive serves as a unique "recruitment tool" to attract people who have military experience.

Photo: Norfolk Southern
"The discussion was about pre-training, or how to make sure the person working on a diesel engine in the Navy can translate that experience into the skill set needed to work on a diesel locomotive at a railroad," he says. The military is exploring pre-training options for soon-to-be veterans so that they're certified in particular skills prior to entering the civilian workforce.
Smoothing the transition path
Some things Class Is already are doing to help smooth the transition is setting up websites and social media accounts specifically for veterans seeking employment, and training company human resource managers in military phrases and acronyms to better communicate with job applicants.
"In order to help [veterans] transition from military service to CSX, we created a 'Career Crosswalk' online, where prospective employees can identify where their experience and skills line up to applicable jobs in the freight-rail industry," said Diana Sorfleet, vice president, chief human resources officer and chief diversity officer at CSX Corp., in an email.
One in five CSX employees has served in the armed forces, and 27 percent of the employees hired in 2014 are veterans, she said. The company has a group of "talent advisers" who focus on recruiting military individuals, but also uses CSX employees with military backgrounds to help staff recruiting events at career fairs, on military bases and at VFW and American Legion halls.
Additionally, companies are organizing support groups and mentoring programs for veterans. CSX offers what it calls its Military Affinity Group, or MAG, one of several employee-driven groups aligned to a major demographic at the company. Veterans hired into CSX's operating divisions learn about the group as they go through their initial training at the company's Railroad Education and Development Institute (REDI) in Atlanta, where the majority of the Class I's new hires receive training.
At Norfolk Southern Railway, employees who are veterans can join "VeteraNS," an affinity group for employees to support one another as they advance in their careers at the company, says Alphonso Tabb, manager recruiting-human resources at NS.
A veteran at the top
As of May 2015, NS employed 4,055 people with military experience, or about 13.5 percent of the Class I's workforce. Among them is NS President and Chief Executive Officer Jim Squires, a U.S. Army veteran. In 2014, 17 percent of all new hires at NS were veterans.
Himself a veteran, Tabb says his military experience has paid off at NS, which he joined right after he completed his service in the U.S. Army.
"Just the experience of having traveled abroad was invaluable," he says. "I also worked various shifts and was used to following the chain of command. Along with the discipline and educational training, all of those skill sets were beneficial in my work at Norfolk Southern."
The company's strategies include an online NS job search site — launched in 2012 — that veterans can use to search by city, state, position and military title to match their experience and skills to jobs on the railroad.
NS recruiters also regularly attend career fairs for veterans on bases and off, use the military veteran employment site recruitmilitary.com, and participate in the U.S. Department of Labor's Transition Assistance Program and other national job-search initiatives. The company also employs two recruiters with military experience who focus much of their time on veteran recruitment, Tabb says.
NS' veteran recruitment brochure describes military job specialties that correspond with railroad jobs. For example, a veteran with experience in air traffic control, artillery, construction, infantry, security forces or transportation logistics could start his or her career in railroad operations as a conductor trainee, dispatcher, fireman and oiler, intermodal equipment operator, rail-car repair person or structural maintenance worker.
Most new NS hires coming out of the military enter structured training programs, such as conductor trainee — a position that "lots of military folks are hired into," Tabb says. The five- to six-month program combines three weeks of classroom work and then on-the-job training.
"So with that on-the job training, they are working with their peers, who are currently performing duties as conductors, and then with engineers, which is one of the jobs they can be promoted to," Tabb says. "And being in a structured program helps assist individuals become acclimated to the railroad culture."
For veterans who demonstrate leadership qualities — and many do — NS offers an operations supervisor trainee program, which typically takes a year of training, according to Tabb.
"We feel those military leadership abilities are readily transferable to our operations in the rail force," he says.
BNSF Railway Co. recruiters find job candidates with military experience have developed a variety of skills that adapt well to railroad work, says Caleb Roberson, manager of military recruiting.
"You'll find veterans working throughout our organization, which speaks to the breadth of their skills," he says.
Setting hiring goals
BNSF takes a "rather aggressive approach" to recruiting veterans, Roberson says. Since 2005, the company has set an annual veteran-hiring goal of 25 percent of all new hires. Last year, 22 percent of BNSF's 7,000 new employees were veterans; so far in 2015, 28 percent are vets, Roberson says.
The Class I employs two recruiters with a combined 32 years of military experience — Roberson, a Marine Corps veteran is one — who focus all their time on recruiting people who've had military careers.
"In 2014, we attended 160 related job fairs and events in all 50 states. We maintain close ties with the military transition assistants located on U.S. installations and around the world. And we make sure we're communicating the message that we are extremely military friendly," Roberson says.
Some job applicants are familiar with the rail industry. But, many others aren't certain how their military skills would apply to a railroad job. Either way, BNSF recruiters can help those individuals chart their path, Roberson says.
"We evaluate their skills and help pinpoint the right job," he says. "We also educate our human resource managers so that when they read a military person's application, they'll understand the lingo that might be on it."
In his conversations with servicemen and women, Roberson highlights the similarities between working for the military and a Class I.
"It's very career oriented, you can fill a variety of roles over 30 years, and we have a large impact on the economy as a whole," he says. "Then I also always emphasize the benefits of working here: the retirement, the health care benefits and the competitive wages. The overall package of railroad employment is an attractive thing. When I spell that out, and explain how military friendly we are, it's usually an easy sell."
Selling the benefits of railroad employment is key for Class I recruiters, who find themselves competing with other industries — such as trucking, aviation, maritime, infrastructure construction and technology — for future employees with leadership skills and other strengths gained through military service.
"We sell the fact that working for the railroad is a career, not a job," says the AAR's Hamberger. "We've been around for a long time. This is not a fly-by-night industry." n
Email comments or questions to julie.sneider@tradepress.com.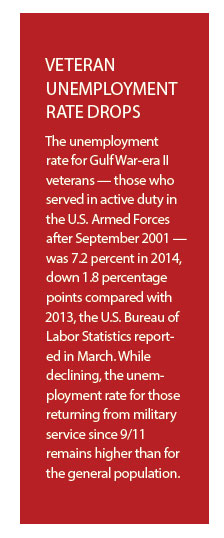 ---
Keywords
Browse articles on
Workforce development
military veterans
veterans
veteran recruitment
Association of American Railroads
AAR
Edward Hamberger
Diana Sorfleet
CSX Transportation
Alphonso Tabb
Norfolk Southern Railway
BNSF Railway Co.
Caleb Roberson
Contact Progressive Railroading editorial staff.