Newsletter Sign Up
Stay updated on news, articles and information for the rail industry
Rail News Home
MOW
July 2019
Rail News: MOW
Rail grinding technology update 2019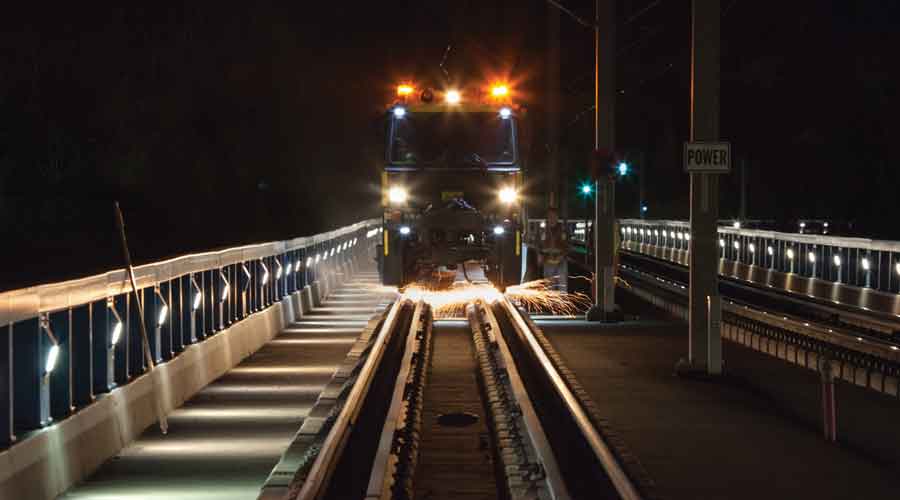 Compiled by Pat Foran, Editor
Rail grinding is an integral tool in a railroad's maintenance-of-way toolbox. It can help minimize potential for derailments and extend rail life. And freight railroads continue to set aside a lot of time and money to make sure that the rail grinding tool is put to good use.
Union Pacific Railroad's $1.88 billion MOW program this year includes out-of-face surfacing work on 4,000 miles of track, according to Progressive Railroading's 2019 MOW Spending Report, which was issued in April. CSX planned to grind 18,000 miles and surface 4,800 miles; Norfolk Southern Railway planned to grind 14,500 pass miles; and Canadian Pacific, 14,000 pass miles. Kansas City Southern expected to grind 3,000 miles in the United States and Canada. Meanwhile, many North American short lines and passenger railroads figured on doing a fair amount of their own rail grinding work this year.
As railroads aim to get the most bang for their rail grinding buck, they're seeking equipment and services to help cut costs and boost efficiencies. Who's offering what on the rail grinding front these days? For a toolbox update, we reached out to a cross-section of rail grinding equipment and service providers. Emailed responses from eight companies follow.
Advanced Rail Management Corp.
For decades, Advanced Rail Management Corp. (ARM) has led rail grinding programs to improve overall rail profile and surface conditions on freight railroads and transit systems. During the past year ARM has helped "push grinding regimes past corrective, to preventive and into acoustic grinding — programs that control not only rail damage and wear, but also mitigate noise and vibration," company officials said.
"With the introduction of a tighter European specification for acoustic grinding, we're entering into a new era of rail grinding in North America," said ARM President Gordon Bachinsky.
ARM works with transit agencies to identify the goals of the program and develops specifications for the rail shape, wheel/rail contact bands and the surface finish required to achieve them.
"If you've been in a preventive or transitional mode and miss a cycle, you may go back to corrective to remove defects and/or reshape the profile," said Mark Reimer, ARM's director of business development and projects.
ARM has worked with Sound Transit to implement a European specification for acoustic grinding that breaks rail grinding into two steps: grinding to remove surface defects and shape the rail to the desired profile; and finish grinding, or polishing, to ensure a smooth rail finish.
Measurement and data analysis also plays a critical role.
"With the technology available, we can measure profile shape, rail surface condition, corrugation and wheel/rail-related noise," Bachinsky said.
At Bay Area Rapid Transit, ARM measures rail profile, surface cracks with eddy current technology and corrugation with a Corrugation Analyzer Trolley to guide the agency's corrective grinding program. Corrugation removal, along with a change in wheel and rail profiles, last year led to a more than 10-decibel reduction in wheel/rail-generated noise (and a 73 percent reduction in customer noise complaints) on the system, ARM officials said.
Harsco Rail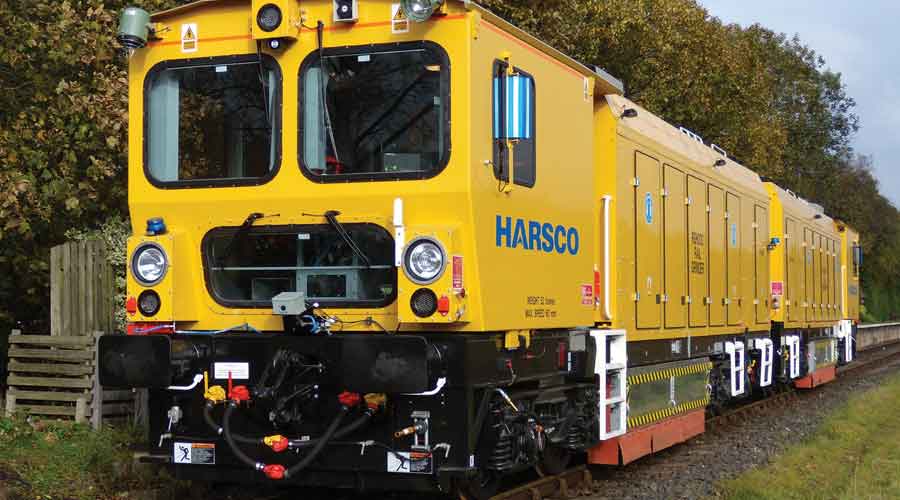 harsco rail
Harsco Rail's C Model rail grinders are designed to create optimal wheel/rail contact while prolonging the lifespan of the track. They can be used to grind switches, guarded curves and grade crossings, and are available in various gauges, including an adjustable gauge version.
Due to improvements the company has made, the service life of high wear parts, such as grinding motors, exceed five years; head actuator life exceeds 10 years, Harsco Rail officials said. And a new, higher horsepower grinding motor, which has increased metal removal rates at higher grinding speeds with the company's larger grinders, has three to five times longer life than previous grinding motors, company officials said.
Harsco Rail's rugged and scalable Jupiter Control System provides comprehensive diagnostics, data records and a simplified electrical system. The advanced control system on the company's newest grinders can better control stone positing and behavior to obtain a high metal removal rate from one type of grinding stone, and then use the same stone to meet a stringent surface finish requirement, company officials said. Slightly different head lateral shifts can be introduced independently to help control acoustic noise on light rail metros or transit systems. The C Model grinding equipment incorporates sealed cabins that control dust and hold noise levels to 68 dBa.
LINSINGER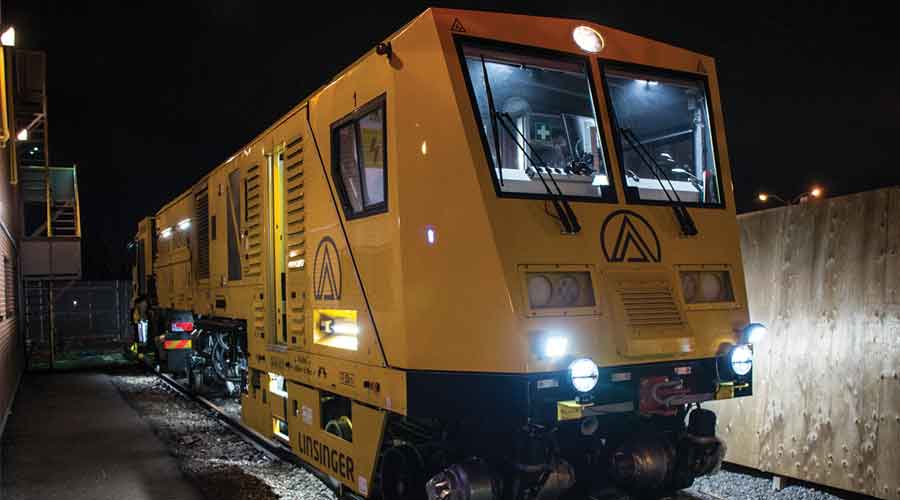 LINSINGER
Introduced about 25 years ago by Austrian company LINSINGER, high-performance rail milling is a spark- and dust-free rotational cutting process resulting in the formation of metal chips to be cut out of the rail surface, company officials said, adding that the chips are collected onboard the machine. Rail milling achieves low (as little as 0.1mm / 0.004in) to high (up to 5mm / 0.2 in, dependent on machine type) metal removal rates in one milling pass with up to 2 kph / 1.24 mph passing speed, company officials said.
"Where grinding would require many passes, rail milling can finish the job in only one pass," company officials said.
In order to produce a noise-optimized surface finish, the machine incorporates a polishing unit. The high-performance milling machines can be used to treat mainline track as well as switches (if equipped with the switch kit), crossings and level crossings. The machines also are equipped with state-of-the-art measurement technology to determine transversal/longitudinal profiles, metal removal rates and surface crack condition. The machines can be used for a variety of applications, from small tunnel clearance work for a transit system to heavy-haul mainline track projects, company officials said.
In early 2019, LINSINGER rail milling technology was used for the first time in North America in Toronto by Rhomberg Sersa North America.
Loram Maintenance of Way Inc.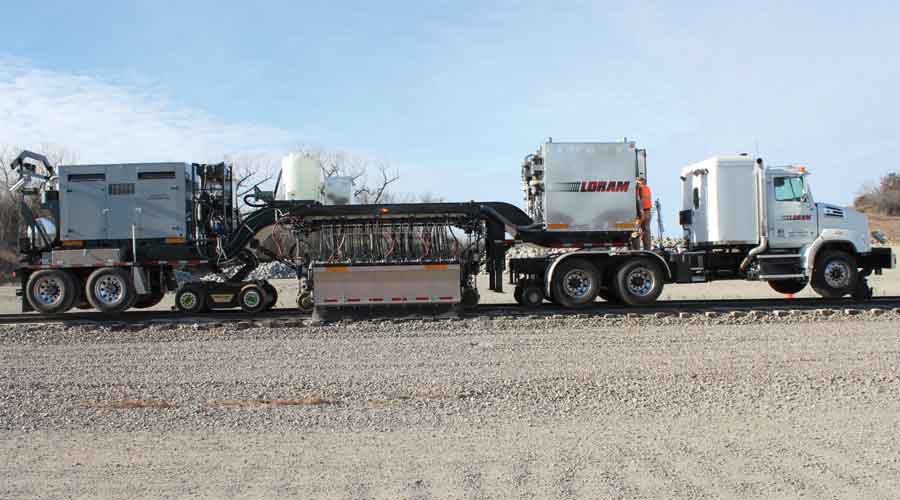 Loram Maintenance of Way Inc.
The Loram RGT is a hi-rail specialty rail grinder that can be used to maintain switches, crossings, transit track, open rail, areas of general service or remediate exceptions. Its fully flexible eight-stone rail grinding buggy — equipped with 30 horsepower motors turning Loram-formulated 6- and 10-inch grinding stones — delivers "the most finishing power and capabilities of any truck-mounted solution," company officials said. Other key features include:
• grind speeds up to 12 mph;
• deploy and recovery times of as few as 5 minutes, on crossings as small as 16 feet;
• an over-the-road tractor trailer that can travel at highway speeds without special permits in North America, and is equipped with hi-rail capability for on-track travel;
• a two-person crew requirement with cab seating for three;
• a high-capacity onboard water storage, pump, hose and tools for fire safety;
• an extensive remote monitoring technology from operator locations; and
• a grind control system based on Loram RGS software and hardware, optimized for the RGT operating methods.
Orgo-Thermit Inc.
Now in its seventh year performing rail grinding, Orgo-Thermit Inc. offers its fleet of two VM8000 on- and off-track two-way rail grinding vehicles. "We understand the importance of rail grinding for preventive rail maintenance increasing the life cycle of rails and lowering noise emissions from train operations," company officials said.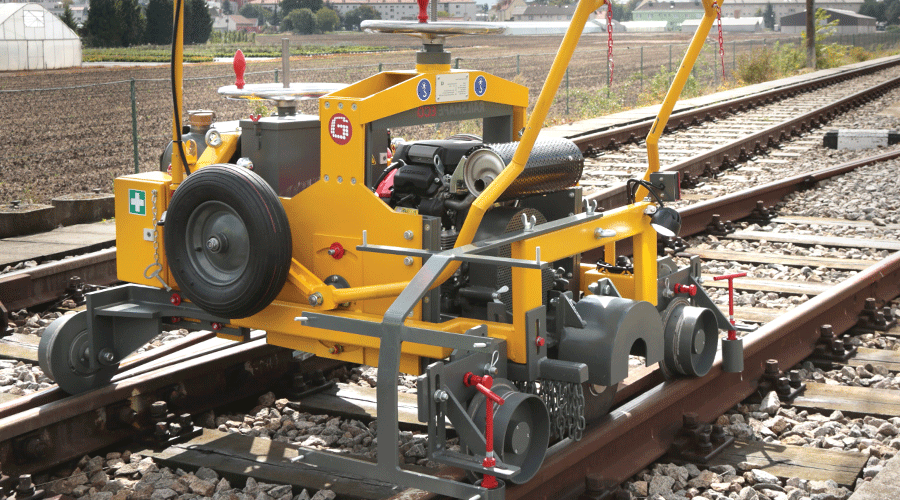 Orgo-Thermit Inc.
The VM8000 vehicles are capable of entering and exiting track within a minute. Also, the four-wheel steering enables users to set on at any crossing in the vicinity of the work to be done. Also, the need for track travel time to the grinding location is greatly reduced, and the grinding time is increased, company officials said.
Commissioned in September 2018, the company's newest VM8000 features a rail grinding monitoring system to verify the precision grinding to be performed. This system will "enhance" the company's pre- and post-grinding surveys and logs," officials said.
Orgo-Thermit also offers Goldschmidt RailShape Eco and the RailShape Pro grinding machines for reprofiling of the entire rail head, removal of corrugation and shallow rail defects — making the machines ideal for frog and switch grinding needs, company officials said.
Pandrol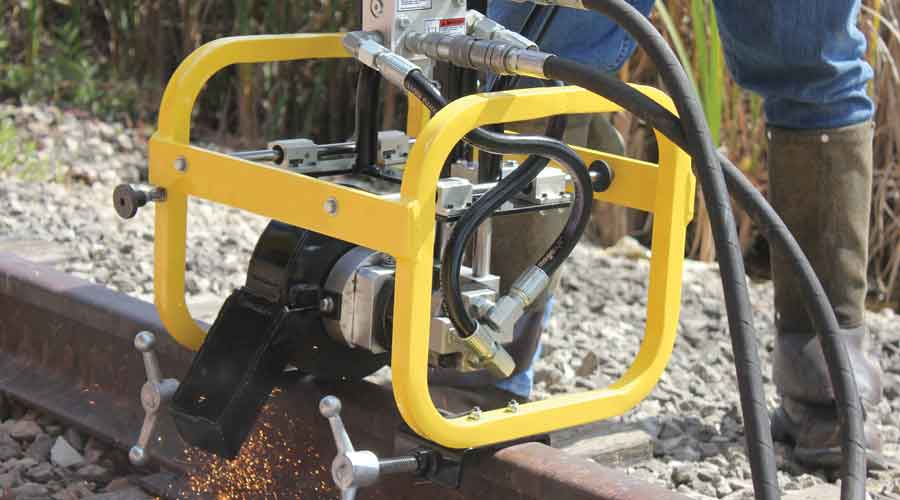 Pandrol
Pandrol's hydraulic-powered, track-mounted precision frog grinders enable operators to "make consistent refinishing grinds efficiently and safely," company officials said. The grinder provides a guide frame with multiple axis of adjustment, enabling "precision in all applications," they added. The hand wheel enables users to easily move the grinding stone up and down, and the crank handles allow the stone to be moved from side-to-side while rolling the grinder back and forth across the length of the base.
By combining Pandrol's grinding technology with Norton Saint-Gobain's Foundry-X portable stones, users can expect increased cut rates, material removal and wheel life in head wash and portable grinding applications, company officials said.
The Precision Frog Grinder is designed to operate both 1- by 8-inch and 4- by 3-inch stones. The 1- by 8-inch stone can be used for operations such as grinding out defects and grinding back the profile of the frog after rebuilding. The 4- by 3-inch cup stone is suited for finish grinding, radius profiling and grinding in the point slope. Pandrol grinders and hydraulic tools, Norton Saint-Gobain abrasives, and other maintenance-of-way and grinding technologies are distributed through Industry-Railway Suppliers Inc.
Rhomberg Sersa North America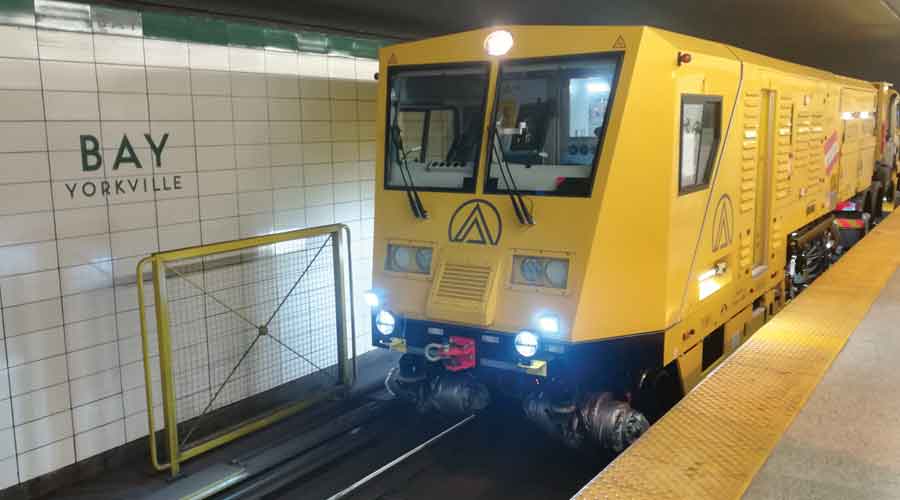 Pandrol
As part of a multi-year contract, Rhomberg Sersa North America recently began providing rail milling services to the Toronto Transit Commission's subway line. Rhomberg Sersa used a LINSINGER SF02W-FS truck milling machine to provide full profile restoration and damage removal with only one milling pass, company officials said. Milling is a dust- and spark-free process — no dedicated fire or cleaning crews and no specific fire prevention measures are required.
LINSINGER currently is constructing an adapted rail-bound SF02T-FS milling machine for Rhomberg Sersa. The rail-bound machine has been designed to fit within the majority of the North American tunnel clearances, company officials said. With its extended chip storage capacity, the machine can work continuously for up to 6 hours. The diesel-electric driven milling units (one per rail) can remove as little as 0.1mm and as much as 1.5mm of metal on top of the rail in one pass, creating rail profiles with highest accuracy with a high-quality, low-noise surface finish, company officials said. The milling machine also features state-of-the-art measurement technology to provide seamless electronic documentation with respect to rail profiles, metal removed as well as surface crack condition. The Rhomberg Sersa SF02T-FS will be available for contract work in North America by mid-2020, company officials said.
Vossloh North America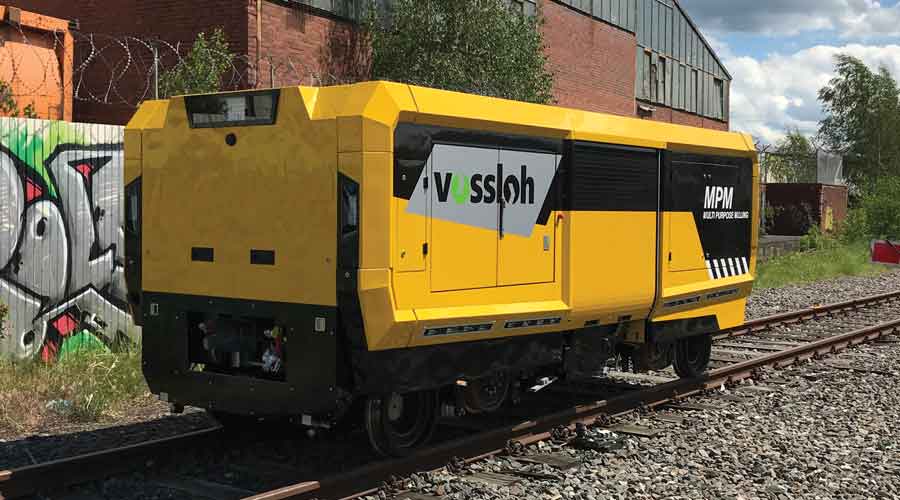 Vossloh North America
Over the past decade, the worldwide rail and turnout maintenance approach has changed in both form and strategy as a consequence of increasing problems with rolling contact fatigues in the railhead steel, Vossloh North America officials said.
Conventional grinding trains, primarily designed to re-profile the railhead, today work side by side with high-speed grinding trains optimized for preventive maintenance — and also with milling trains capable of a more cost-effective removal of deeper rail flaws. As a result, there are more tools in the rail service toolbox than ever before, and that's reflected in Vossloh´s service portfolio: The company offers a variety of machines, technologies and solutions, officials said.
'This is the market development we have seen around the world although the North American market still very much looks the same today as it always has," said Brett Urquhart, senior vice president of sales and marketing for Rocla Concrete Tie Inc., a subsidiary of Vossloh North America. "By introducing a smaller, versatile milling train tailored for shorter stretches and wooden structures to the market in 2019, Vossloh hopes to add a new tool to the toolbox."

Email comments or questions to pat.foran@tradepress.com.
---
Keywords
Browse articles on
rail grinding
rail milling
Advanced Rail Management
Harsco Rail
LINSINGER
Loram
Orgo-Thermit
Pandrol
Rhomberg Sersa
Vossloh
Contact Progressive Railroading editorial staff.