Newsletter Sign Up
Stay updated on news, articles and information for the rail industry
Rail News Home
MOW
September 2019
Rail News: MOW
Annual wood tie market update 2019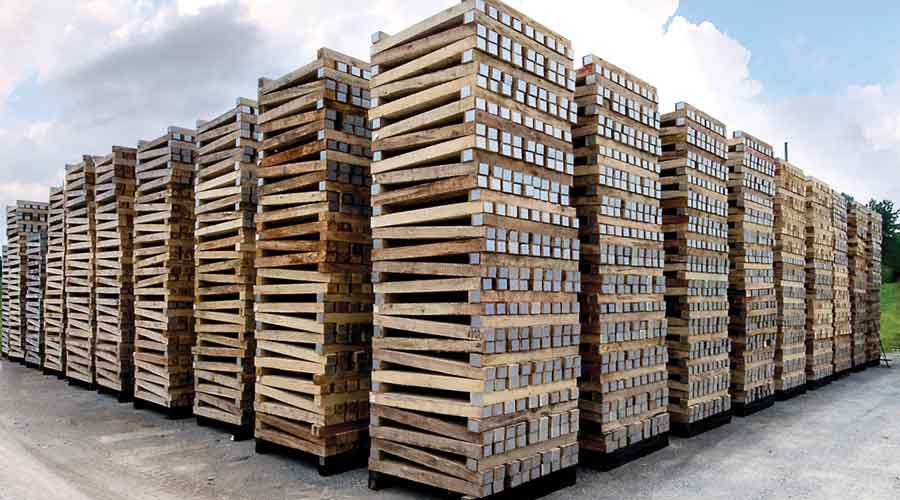 By Jeff Stagl, Managing Editor
A perfect storm has brewed this year in the North American wood crosstie industry that has rained down on sawmills and tie suppliers. Numerous factors have combined to tighten the availability of cut timber and significantly reduce tie inventories.
In 2019's first half, severe weather — ranging from record rainfalls to damaging floods — greatly impeded tree-cutting and drying operations. During the same time, U.S. tariffs placed on hardwoods and a weaker Chinese economy fizzled sawmills' export business, disincentivizing them to produce more cut timber.
In addition, precision scheduled railroading (PSR) adoptions and weak rail traffic in several sectors prompted some Class Is to install fewer ties, according to the Railway Tie Association (RTA). Crude-by-rail and coal traffic has been soft in 2019, while gross ton-miles are down in the intermodal sector, reducing wear and tear on heavily used track.
The end result: The industry's tie inventory and inventory-to-sales (ISR) ratio — a key measure of tie purchases and production — are "out of whack," says RTA President Jim Gauntt. A comfortable inventory level to meet tie demand generally is about 18 million units, but the current count is down nearly one-third from that figure.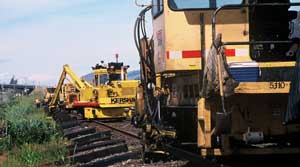 Railway Tie Association
Wood-tie suppliers also aim to have 80 percent of expected sales in inventory — meaning an ISR of 0.80 — yet the ratio now is hovering in the uncomfortably low 0.60s, and the short-term outlook doesn't suggest a significant rise anytime soon. Moreover, once the ISR falls to a critically low level, it's more difficult for suppliers to rebuild their inventories.
"How many punches can we take as an industry?" Gauntt asks.
Since the last recession in 2008 — which also caused a large downturn in the tie market — about 40 percent of North American sawmill capacity was lost due to mill closings and consolidations, and only a small portion of it has been regained through expansions.
"We could lose even more sawmill capacity before it's all over," says Gauntt.
Numbers not favorable
RTA data shows that in June, tie production totaled 1.44 million units, down 6.8 percent from May's 1.55 million units and 6.5 percent from June 2018's 1.54 million units. Tie purchases in June tumbled to 1.7 million units, down 4.9 percent on a month-over-month basis and 23.7 percent on a year-over-year basis.
As of June 30, the tie inventory had plunged to 12.4 million units versus 12.8 million units in May and 14.8 million units in June 2018 — a 19 percent year-over-year drop. The ISR in June stood at 0.64, equaling the ratio set in April, but trailing December 2018's 0.68 ratio and June 2018's 0.69 ratio.
Although the ISR is at a near-historic low, it isn't the worst ratio Gauntt has witnessed since he joined the RTA in 1995. From June 1997 to September 1998, the ISR remained in the 0.50s, mostly because of railroad mergers and consolidations.
"So, there were much different factors back then," says Gauntt.
Despite what's now been a long period of doom and gloom, the tie industry likely won't remain under a dark cloud for a lot longer. The industry will bounce back when everything normalizes, as it typically does after a downturn, Gauntt says.
The RTA currently is sorting out all the factors and recalibrating its forecast models. The association's best guess/best-case scenario projections show total tie purchases in 2019 ranging from about 21.7 million to 23 million units. Production figures to total in the neighborhood of 17 million units.
For now, it's safe to predict that the rebound will take time, says Gauntt.
"We expect 2020 to be flat-ish," he says. "If we can get logs fast enough, it might take through 2019 and 2020 to normalize. So, we're looking towards 2021."
In the meantime, what's promising for suppliers is that wood ties continue to dominate the overall tie market. Wood ties account for 94 percent to 95 percent of all new tie installations, with concrete, steel and composite ties covering the remainder.
"We see a few steel ties and composite ties that continue to get experimented with," says Gauntt.
Moreover, tie demand remains relatively steady among the Class Is.
Progressive Railroading's annual maintenance-of-way survey conducted earlier this year shows the following three large roads boosted their 2019 programs — which mostly involve wood ties — by about 100 million or more units compared with 2018: Union Pacific Railroad, to 3.7 million; CSX, to 3 million; and Norfolk Southern Railway, to 2.5 million.
Canadian Pacific's and Kansas City Southern's 2019 programs are relatively flat at 1.1 million and 600,000 units, respectively, while CN's is down about 100 million ties to 2 million. BNSF Railway Co. expects to install 2.1 million ties this year versus 2.9 million in 2018.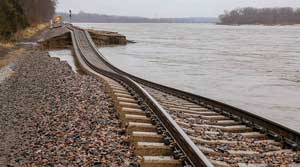 BNSF Railway Co.
"Every year, we do an assessment of our network to determine the overall scope of our tie replacement program, so figures are going to vary depending on what our replacement needs may be for that given year," said BNSF spokeswoman Amy Casas in an email.
The new normal?
Demand in the first half wasn't an issue for wood-tie suppliers. Koppers Inc. registered strong tie orders, and its financial results were solid, too, says Vice President of Sales and Marketing John Giallonardo.
But severe weather — particularly in such key hardwood-producing regions as Arkansas and Missouri — impeded the company from building up its tie supply, especially for railroads in the West. Inventory was off 20 percent to 30 percent for Koppers in the first half, says Giallonardo. Supply remains tight in pockets of the nation, he adds.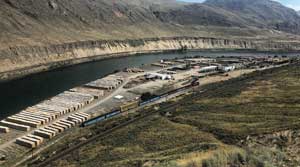 Koppers Inc.
"This is two years in a row now with bad weather and raw material supply issues," says Giallonardo. "So is this the new normal or an aberration?"
It takes up to a year for a tie to be processed, sold and put in place, from initial cut to air drying to treating to transportation to a customer to installation. Usually, tie production takes off in summer after wood has dried out, but that hasn't happened because of the unusually wet weather, says Giallonardo. So, Koppers' inventory replenishment will take a long time, he believes.
The company has nine tie processing facilities in the United States and Canada, some of which are tapped out with production while some aren't near as active.
"Overall, it balances out," says Giallonardo.
PSR has impacted Koppers' business slightly since some Class Is reduced track time for tie installations in an effort to cut their operating ratios, he believes. Eventually, track time increases as rail operations normalize, then tie gangs become more active.
Since customer demand is healthy, Giallonardo is optimistic about tie business in the second half and into next year.
"The weather will be key again. If weather improves, the market is set up to do well," says Giallonardo.
Hoping for dry conditions
Supplier Stella-Jones Corp. also anticipates improvements to business conditions, weather permitting. The market could struggle into 2020 unless there's dry weather in fall, says VP of Marketing George Caric.
Stella-Jones has registered robust demand this year from Class Is and commercial customers, which include short lines, transit agencies and industrial plants. Its wood-tie business split is 60 percent for Class I orders and 40 percent for commercial market orders.
Stella-Jones already has noticed a slight uptick in business from some Class Is that employ PSR. Those railroads are getting better at performing under the operating strategy, and realizing it's important to continue fixing track and employing tie gangs, says Caric. Under E. Hunter Harrison's leadership reign, CSX practically halted all track maintenance while adopting PSR, which was "a shock to the system" that now is being rectified, he says.
Stella-Jones also has noted Class Is' recent emphasis on higher tie quality and efforts to use science for better tie-defect detection. Traditional visual inspections of ties aren't as accurate as technology-driven inspection methods, says Caric.
"So, we're seeing ties get changed out that actually need changing, which is helping to increase the volume of tie changeouts a bit," he says. "We expect to see more of this."
What Caric doesn't expect to see in the near term is a big jump in supplies. The company's inventory was down about 20 percent in the first half, "and the year's not even over yet," he says.
Some providers in the East are generating good raw material supplies, such as sawmills in the Northeast, but the worst weather-impacted areas for purchases are in Arkansas, Louisiana, Tennessee and other neighboring areas, says Caric.
"We don't see it drying up there anytime soon," he says. "I've never seen supply as bad as it is now. It's curtailing production."
To counter the low inventory and steady demand, Stella-Jones isn't stacking ties as usual and instead is trying to immediately provide ties for consumption. Although a dry tie can be treated in about nine hours, the wet ties the company is receiving because of heavy rains need about 48 hours in a cylinder to boil out the water. Stella-Jones operates 11 tie processing/treating plants in the United States and Canada.
Of biblical proportions
Supplier Gross & Janes Co. encountered serious tie inventory challenges in the first half, as well. Storms and floods in the six states where it purchases cut ties from sawmills — Arkansas, Missouri, Louisiana, Mississippi, Oklahoma and Texas — resembled "Old Testament stuff," says Gross & Janes President Bill Behan.
The ramifications from severe weather are startling, he says. For example, Behan spoke to a Louisiana sawmill executive on Aug. 2 who said his company had finally just completed its first full week of production in all of 2019 after months of rainy weather.
Because of the ongoing supply issues, Gross & Janes' inventory was down about 20 percent through June.
"We were off our targets in the first quarter, but then in the second quarter, it really flatlined," says Behan. "We weren't able to provide the ties we needed to fulfill orders. Since the sawmills have finite production, it will take a very long time to catch up."
The good news for Gross & Janes? As of mid-August, sawmills in the six states were encountering good weather and producing at capacity. In turn, Gross & Janes' processing plants in Williamsville, Missouri, and Camden, Arkansas, were getting busier.
"We are gobbling up whatever we can get our hands on. Hopefully, the second half will be more like the first quarter," says Behan.
Gross & Janes expects tie demand to remain steady going forward.
"I think railroads won't overreact and will keep 2020 MOW programs similar to 2019," says Behan.
A turn in the third quarter
Wood-tie treaters anticipate similar stable demand for their services in the near term. Treating business was solid for Nisus Corp. in the first half even though there was a shortage of wood, especially cut ties in the South. The company provides wood preservation treatments for ties, poles and pilings, and other lumber.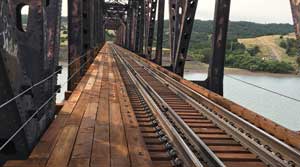 Nisus Corp.
"We see this starting to turn in the third quarter," Nisus officials said in an email.
Class Is and industrial plants continue to move to a borate two-step system designed to make ties stronger. The system virtually eliminates stack burn, and dries faster and more evenly, giving railroads an extended life expectancy of ties in track, Nisus officials said.
"The need for restricted use pesticide licensing required with other products and easier end-of-life planning also facilitates [this] switch," they said.
Another trend noted by Nisus: Railroads converting from other traditional treatments to QNAP® copper napthenate for bridges over waterways and roads. QNAP copper napthenate addresses the bleeding problems that have cost railroads hundreds of thousands of dollars in repairs, Nisus officials said.
There also are many railroads installing QNAP copper napthenate ties in general or in environmentally sensitive areas. Quality control for QNAP is "easy and instant," guaranteeing tie longevity, Nisus officials said.
All things large and small
To respond to the demand for better efficacy and effectiveness, ties are being pre-dipped at sawmills, reducing the amount of downgrade when ties are graded at treatment plants.
"This can be accomplished easily by the smallest sawmills, as well as the very large mills," Nisus officials said.
Meanwhile, Lonza Wood Protection officials say a drop in U.S. tie purchases has prompted customers to move from providing ties for treatment to treating their other infrastructure products, such as piling and poles.
"So, while [these customers] are doing well, it is not in the railroad area," said Lonza Industrial Product Specialist Tim Carey in an email.
Lonza has just introduced a new oil-based wood treatment in Europe that's being offered as an alternative to traditional creosote-based treatments. Called Tanasote, the treatment targets high-performance applications for ties, poles and agricultural timbers. Lonza has established a new pilot Tanasote treatment facility at its Castleford headquarters in West Yorkshire, United Kingdom.
For many years, creosote has proven to be an effective, long-term protection treatment for high-performance timber applications, but there are growing regulatory pressures on its future use, Lonza officials said on the company's website.
Although the company currently has no plans to market Tanasote in North America, it might eventually be offered domestically, said Carey.
The word "eventually" is what sawmills and wood-tie suppliers are clinging to, hoping business conditions at some point soon turn in their favor. Mother nature and the U.S. government need to pitch in so an upturn occurs sooner rather than later, says RTA's Gauntt.
"It will take time to regain inventory. We need the weather to cooperate," he says. "And we gotta fix the relationship with China."
Email questions or comments to jeff.stagl@tradepress.com.
---
Keywords
Browse articles on
wood ties
Railway Tie Association
Koppers Inc.
Stella-Jones Corp.
Gross & Janes Co.
Nisus Corp.
Lonza Wood Protection
BNSF Railway Co.
CSX
Union Pacific Railroad
maintenance of way
Contact Progressive Railroading editorial staff.