Newsletter Sign Up
Stay updated on news, articles and information for the rail industry
Rail News Home
Intermodal
August 2019
Rail News: Intermodal
For Norfolk Southern, growth is predicated on a new TOP21 operating plan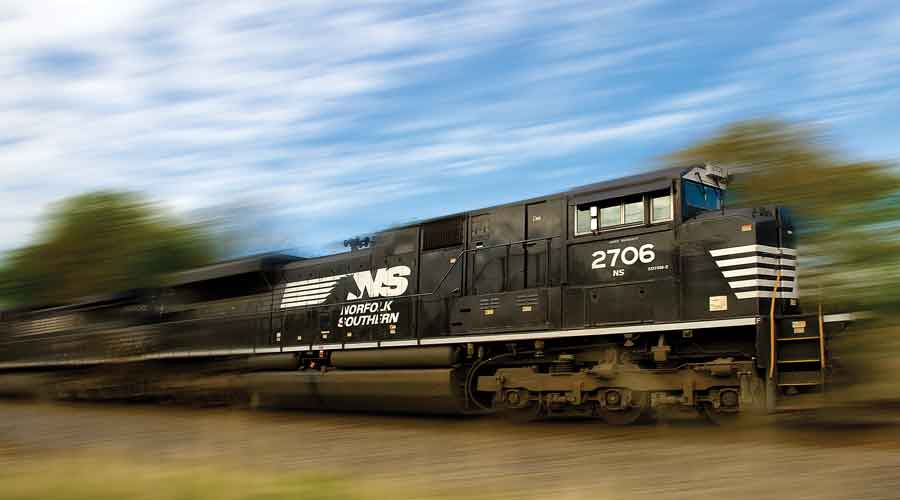 By Jeff Stagl, Managing Editor
In February, a polar vortex and severe winter weather wreaked havoc for Norfolk Southern Railway. Frigid temperatures and heavy snows caused operational disruptions that prompted shipment delays or re-routes.
The issues occurred shortly after a challenging 2018, when congestion in certain areas frequently slowed network performance.
But NS' operations recovered quickly in February because the network was more resilient — an advantage the Class I didn't have for much of last year — and non-intermodal train speeds on primary routes were increased from 50 mph to 60 mph. The faster bounce-back in part was driven by a "clean sheeting" initiative that was completed several months ago, involving dozens of facilities in NS' entire nine-division network.
Launched in October 2017, clean sheeting refers to developing new operating plans for terminals and other facilities from a "clean sheet." The employees who are involved in the operation of a terminal or facility — from trainmasters to superintendents to conductors — meet to hash out and forge a new executable operating plan, taking into account local jobs, available horsepower, trackage and other factors.
The initiative targeted the following objectives: optimize local operations, boost efficiency, create more capacity and increase fluidity. Clean sheeting has helped NS reduce re-handlings in yards by 80 percent, improve train performance about 90 percent and decrease average car dwell time by three to four hours.
Coupled with additional operational measures adopted earlier this year, clean sheeting laid the foundation for a new major undertaking NS leaders hope will be a much more far-reaching and fruit-bearing enterprise: a TOP21 plan. Implemented last month, the operating plan for the first time includes precision scheduled railroading (PSR) principles.
TOP21 aligns with the Class I's three-year strategic plan, which focuses NSers on a continuous-improvement mission to develop superior service that can help the company continue to grow its volume and finances.
PSR calls for shifting the operational focus from moving trains to moving cars. The strategy helps improve asset utilization and spur fluidity by minimizing car handlings, balancing train movements and reducing the volume of rolling stock in a network.
"Our goal with PSR is service consistency and reliability, which creates capacity for growth," said NS Chairman, President and Chief Executive Officer James Squires July 16 during a presentation at the Midwest Association of Rail Shippers' summer meeting in Lake Geneva, Wisconsin.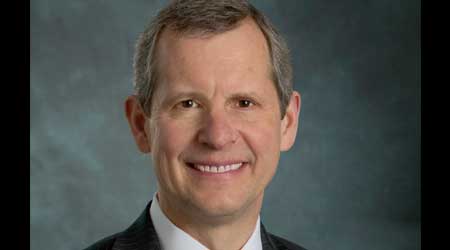 — James Squires, NS President and CEO
TOP21 supports five key "NS Way" principles: to serve customers, manage assets, control costs, work safely and develop employees. The operating plan's four major objectives call for optimizing a single network, balancing train plans between terminals, serving customers frequently and reducing dependence on major terminals. Projected benefits include increased fluidity, fewer cars on line, better blocking from an origin or short line and the integration of other segments into the merchandise network.
For now, TOP21 is focused on general merchandise, bulk and automotive business. Future iterations will concentrate on the intermodal franchise and other network aspects.
A team effort
The network planning and optimization group began developing TOP21 last year using computer modeling and simulation tools to analyze data and train flows, and to determine optimum network fluidity and velocity. The marketing department helped develop and communicate the plan to customers and employees, and the transportation department is charged with executing it.
The operating plan went through more than 180 iterations before it was rolled out July 1. The initiative changed trip plans for 87 percent of merchandise and automotive traffic, which were concentrated primarily around the edges of NS' network.
TOP21 focuses on reducing the circuity of car movements to and from customers and balancing network flows so the railroad can operate fewer trains, use assets more efficiently and boost capacity. The plan will more than double the use of distributed power for merchandise and automotive trains; reduce circuitous car miles at least 20 percent by utilizing regional yard capacity; cut miles for manifest, automotive and local trains by 15 percent; and decrease train starts by 10 percent, senior executives estimate.
"TOP21 is a complete rethinking of how we run trains across our network," said Squires. "We want to reduce car miles and improve velocity to position us to meet new demand and new opportunities. It's all about serving the customer."
However, the emergence of TOP21 isn't an event upon itself, it's an ongoing process, says NS Vice President of Network Planning and Optimization John Friedmann. The railroad will build off of clean sheeting by continuing to work on and tweak operating plans at terminals, and focus on executing and adjusting TOP21, he says.
"The plan is built on growth. It won't spur growth if there is a lot of disruption in the network," says Friedmann. "It's like air conditioning — we'll notice it quickly if the plan isn't working."
By design, TOP21 is being adopted cautiously and methodically.
"We're not doing the 'chainsaw method,' to have at it and just make it work. That can be disruptive for customers," said Squires. "We're taking time to improve service."
TOP21 is the single-largest operating plan change at NS since the original Thoroughbred Operating Plan was created in 2001, says Friedmann.
"We have already seen a reduced number of trains on the network, from 5 to 10 percent depending on the day," he says. "That shows us we're reaching our objective."
NS benefited by observing PSR from the sidelines before starting to implement it, said Squires. That helped prompt the following approach: make sure operational changes are executable, customers collaborate on new processes and schedules, and service is improved before resources are removed.
"For NS, PSR is something we do with our customers and not to our customers," said Squires.
Customer relations
Many efforts to collaborate with customers were employed prior to implementation. The Class I conducted 19 town hall meetings with customers and employees, sent 12,000 emails to shippers and held face-to-face meetings with representatives from its top 275 customers to explain TOP21 and elicit feedback.
When it comes to PSR — which now is employed at every Class I except BNSF Railway Co. — some shippers have expressed concerns about service variability, overcharges, first- and last-mile inconsistencies, shrinking ranks of railroad customer service representatives and a lack of unit-train availability.
NS also held a conference with short lines to make them aware of the change to TOP21. The meeting drew 193 attendees representing 97 short lines.
When asked at the town hall meetings if TOP21 is a good plan, NS representatives told attendees the company would do its best to ensure TOP21 is solid, says Friedmann.
"It gave us credibility since we said the same thing to employees and customers," he says. "It's easy to keep your story straight when you only have one story."
The town halls were "information-rich" meetings that provided customers with hard data on such factors as their new trip plan versus their current one, says NS VP of Industrial Products Ed Elkins.
"They appreciated our effort to be proactive and to bring data to the table," he says.
Customers also were included in clean sheeting. For example, NS invited shippers to a clean sheeting process at a yard in Decatur, Illinois. They attended the first-day introduction to the process and the last day to learn the effects on their service, says Elkins.
"It was an opportunity for them to give feedback," he says.
TOP21 now affords NS a work space to develop new service products for shippers beyond the traditional movement of freight, such as supply chain or inventory-in-transit management, says Elkins.
There are high-level opportunities to pursue as service performance continues to improve, says NS Executive VP and Chief Strategy Officer John Scheib.
"There were areas where trains weren't running that well, but it's better now," he says. "We try to make sure the right car is on the right block on the right train, and trains run on time."
Service shift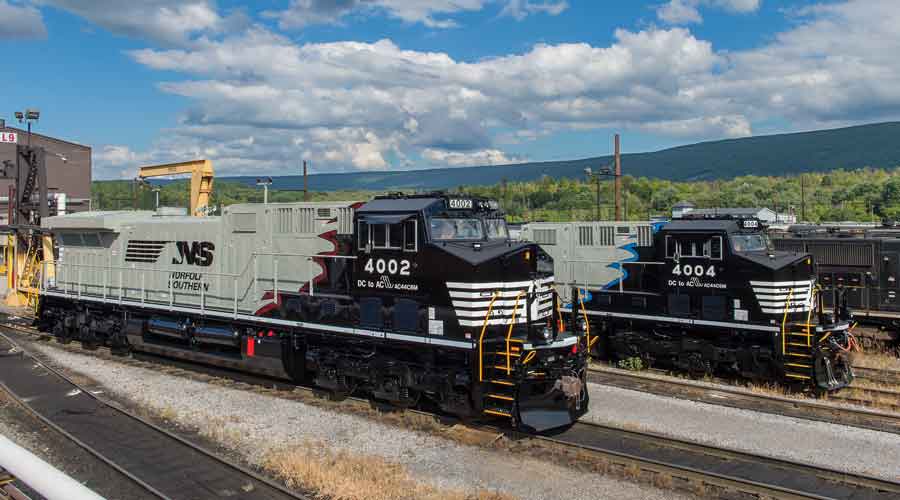 Norfolk Southern Railway
NS previously was a heavy two- to three-day per week service provider for carload merchandise, which created congestion and limited capacity, says NS Senior VP of Transportation Mike Farrell. Now, the railroad has transitioned service to six-plus days per week, with cars going where they need to flow instead of where people want them to go, he says. About 88 percent of carload volume is covered six-plus days per week.
Instead of going from Point A to Point B to Point C, a car now heads straight from point A to point C. The idea: to provide shippers more flexibility and service options.
"We're adjusting the first- and last-mile windows by a few hours," says Farrell. "A customer might get cars at a different hour of a day than before, but we communicated that upfront with customers. We live and die by the plan."
NS so far has stored about 550 locomotives and 15,000 cars. In addition, the Class I has reduced headcount, which in Q2 dropped by more than 1,200 compared with the Q1 count. Additional workforce declines are anticipated as TOP21 enables NS to trim more resources.
Moreover, the railroad is operating bigger and heavier trains. Average train weight rose from 6,380 tons at 2018's end to 6,550 tons on July 1, and is projected to reach 7,130 tons by 2021.
Other operating metrics show improvements in the shadow of clean sheeting and midst of TOP21. As of June 30, average train speed climbed 19 percent to 22 mph; average terminal dwell time fell 37 percent to about 28 hours; and the service delivery index or SDI (which measures on-time delivery of scheduled shipments) continued to improve compared with first-half 2018 data.
NS is on track to exceed its SDI goal for 2019 because of first-half service performance and the smooth implementation of TOP21, senior execs say, adding that a record number of shipments are being delivered on time. Despite sweeping changes since TOP21 was launched, train speeds, terminal dwell time, cars on line and corresponding customer service metrics have held steady near record levels, they say.
During the week of July 19, cars on line totaled 170,939, average train speed stood at 22.7 mph and terminal dwell time averaged 17.8 hours. Cars on line continue to decline and the current goal is to ratchet the metric down to 143,000 over the next several years.
However, a few weeks into implementation, about 41 percent of cars were arriving to their destination a day early — an issue for many shippers who don't want to receive cars either a day early or late. The railroad plans to "dive into" that issue, Farrell says.
Second-quarter financial results also show NS is posting progress with its growth, return-on-investment and cost-containment goals. The Class I reported four Q2 records: $1.06 billion in income from operations (up 4 percent year over year); $722 million in net income (up 2 percent); $2.70 in earnings per share (up 8 percent); and a 63.6 operating ratio (a 1.0 point improvement). NS expects to register a 60 operating ratio by 2021.
Although rail operating expenses were relatively flat at $1.86 billion and revenue per unit climbed 5 percent to $1,504, volume dipped 4 percent to 1.94 million units and operating revenue rose only 1 percent to $2.9 billion.
The long and short of it
Overall, core Q2 operating results were weaker than expected, but full-year and longer-term outlooks remain a bit brighter as TOP21 gains momentum, said Baird Equity Research analysts in a July 25 report. Lingering headwinds and uncertainty around volume growth in the second half — and the extent to which volume declines can be offset by TOP21 operational improvements — remain the dominant focus going forward, they said.
A demonstrated level of drive and commitment from upper management, bold operational and financial targets, simplified service offerings, large reductions of excess assets and still-healthy capital expenditures are several reasons why NS is better positioned for the short and long terms, independent rail industry analyst Tony Hatch believes. NS plans to invest 16 percent to 18 percent of annual revenue — or around $2 billion — in capex over the next several years.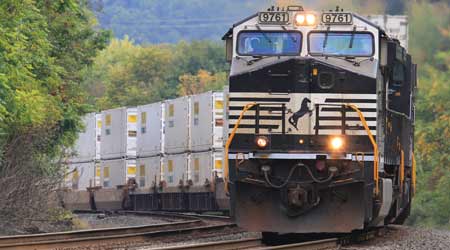 Norfolk Southern Railway
NS' planned large boost in its service delivery index by 2021 is a surge capacity dividend coming from TOP21 that should be reassuring for shippers, said Hatch — a Progressive Railroading columnist — in an online report issued in March.
In addition to TOP21 and clean sheeting, NS is pursuing two other initiatives that hold better-performance promise. The Class I continues to employ a Cars On Line Team (COLT) that for the past year has been charged with continually finding ways to reduce the number of cars in the network, and advance a motive-power modernization plan that calls for converting hundreds of direct-current locomotives to more reliable alternating-current (AC) units by 2021.
As of late July, about 190 locomotives had been converted to AC. The by-end-of-2021 goal is to complete 527 conversions.
COLT is a 'conduit'
As for COLT, the team is charged in part with analyzing the underlying causes of cars on line. COLT has about a dozen core members from the network performance and optimization, transportation, marketing and customer operations groups.
The team helps manage cars in the pipeline so they don't sit for 24 hours — increasing dwell time — and customers can get them faster, says EVP Scheib.
COLT is the conduit between the transportation group and customer base, helping to ensure "the customer's voice is in the room" as trip plan changes are implemented, says VP Elkins. Team members go out into the field to meet with and help customers.
"They work with customers to understand the changes that are made," says Elkins.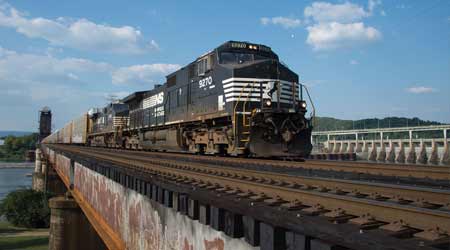 Norfolk Southern Railway
There also is something NSers need to understand so the company can continue to evolve: the role they play in executing and refining TOP21, senior execs say. The railroad is striving to re-imagine its culture to ensure everyone is open to new ideas and collaboration. By working together, NS can devise more ways to improve service, control costs and operate safely, they say.
TOP21 and clean sheeting have exposed numerous cost-saving and operational improvement opportunities that can be pursued in the second half, they believe. CEO Squires expects a return to volume growth in 2019's latter half.
Just a short time into implementation, TOP21 already was proving its worth. Despite Missouri River flooding in May and June that severed NS' line to Kansas City for more than a month, the route was quickly restored and service performance didn't miss a beat while engineering forces fixed track and the plan rolled out, said Squires July 24 at the Class I's Q2 earnings conference.
"Since launching TOP21, we have seen no adverse effects on network performance or the quality of our customer service," he said.
Email questions or comments to jeff.stagl@tradepress.com.
---
Keywords
Browse articles on
Norfolk Southern Railway
precision scheduled railroading
TOP21
intermodal
operating ratio
terminal dwell
velocity
cars on line
rail shippers
locomotives
Contact Progressive Railroading editorial staff.