Newsletter Sign Up
Stay updated on news, articles and information for the rail industry
RAIL EMPLOYMENT
Rail News Home
Intermodal
January 2020
Rail News: Intermodal
BNSF in solid position as silver anniversary nears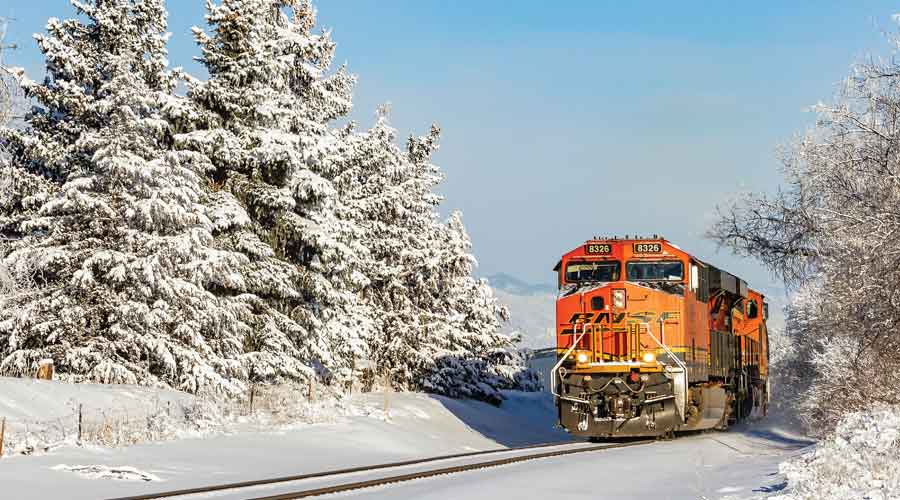 By Jeff Stagl, Managing Editor
On the day summer turns to fall later this year, BNSF Railway Co. will mark its 25th anniversary.
The Burlington Northern Railroad Co. (BN) and Atchison, Topeka and Santa Fe Railway Co. (SF) merged on Sept. 22, 1995, forming the Burlington Northern and Santa Fe Railway, a new Class I with the largest North American rail network at the time.
Primarily a coal, grain and merchandise railroad, BN didn't reach the Southwest; mainly an intermodal and automotive freight carrier, SF didn't serve the Pacific Northwest or Southeast. The combination created a Class I stretching from the West Coast to Great Lakes and Gulf Coast, and from Canada to Mexico.
Despite being a major milestone, the silver anniversary — which will be celebrated throughout 2020 at a host of events — is only a small portion of BNSF's long, rich history. The Class I is the amalgamation of 390 railroads that were absorbed by the BN or SF over time, one of which dates back more than 170 years.
The predecessors and the year they were founded include the Aurora Branch Railroad (1849); Minnesota & Pacific Railroad Co. (1857); Atchison & Topeka Railroad (1859); Burlington & Missouri River Rail Road (1869); Fort Worth & Denver City Railway Co. (1873); and Spokane, Portland and Seattle Railway Co. (1905).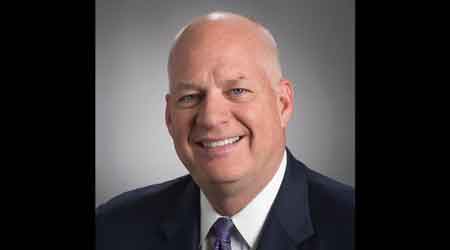 Carl Ice, President and CEO
When BN and SF merged, the aim was to blend the attributes of two formidable railroads — including strong networks and desirable markets — to unlock additional business growth opportunities, says President and Chief Executive Officer Carl Ice, BNSF's leader since January 2014.
"Like they said at the time, they were two great railroads that came together to become one even greater railroad," says Ice, who joined SF's industrial engineering department in 1979 and became BNSF's first-ever president and chief operating officer in November 2010.
That "greater railroad" of today has exceeded expectations by continually growing to become the largest North American Class I as measured by annual volume and profitability. In 2018, BNSF's volume reached 10.7 million units and operating income rang up at $7.8 billion, while late last year volume and operating income were tracking to reach north of 10 million units and $8 billion, respectively, in 2019.
BNSF now operates a 32,500-mile network in 28 states and three Canadian provinces, employs 44,000, logs about 1,500 trains per day and moves nearly 11 million carloads annually.
Since the merger, the Class I's operating ratio has dropped from more than 80 percent to the mid-60s, volume has ballooned by nearly 50 percent and annual revenue has doubled to a Fortune 150-company level.
BNSFers have toiled to achieve those measures by sticking to what's generally been successful for nearly a quarter century: keeping the network in tip-top shape, stressing safety and technological advances, forging capacity for all types of commodities, remaining nimble to adjust to changing market conditions, and providing new and innovative services, says Ice.
Such sweat equity helps attract more customers and generate additional business, he maintains — and there's more work to be done to keep netting positive results.
"We always want to grow, and we do things around that," Ice says. "We think 'potential' all the time, and to think that way after all these years is pretty cool."
Ninety percent of employees and the vast majority of management personnel joined BNSF after the merger.
Yet, with different backgrounds and perspectives, today's workers are part of an evolving culture of continuous improvement that's vital to the future, says Roger Nober, the Class I's executive vice president of law and corporate affairs, and chief legal officer.
"We are primarily optimists and problem solvers, and are team minded. We want to gain opportunities to do more," says Nober, who joined BNSF in January 2007 after chairing the Surface Transportation Board for four years and serving as a partner at Washington, D.C., law firm Steptoe & Johnson LLP.
'Vision and values'
To work toward shared objectives and navigate periods of change, BNSF early on developed "vision and values" principles. The vision calls for providing transportation services that consistently meet customers' expectations, which can be fulfilled if employees embrace a number of long-established shared values.
The values call on workers to be tough-minded, thorough and decisive, yet supportive; understand one's role and strive to fulfill it; respect, trust and openly communicate with others; continuously try to do the right thing safely and efficiently; and listen to customers and do what it takes to meet their expectations.
Employees also should embrace BNSF's history and help shape its future by building on successes.
"We mean all those things in our vision and values. We do what we say, and we're not thinking differently than in the past," Ice says. "To grow, you need the service, to be competitive, to change as customers' expectations change, and then be able to handle growth by using assets well and get returns."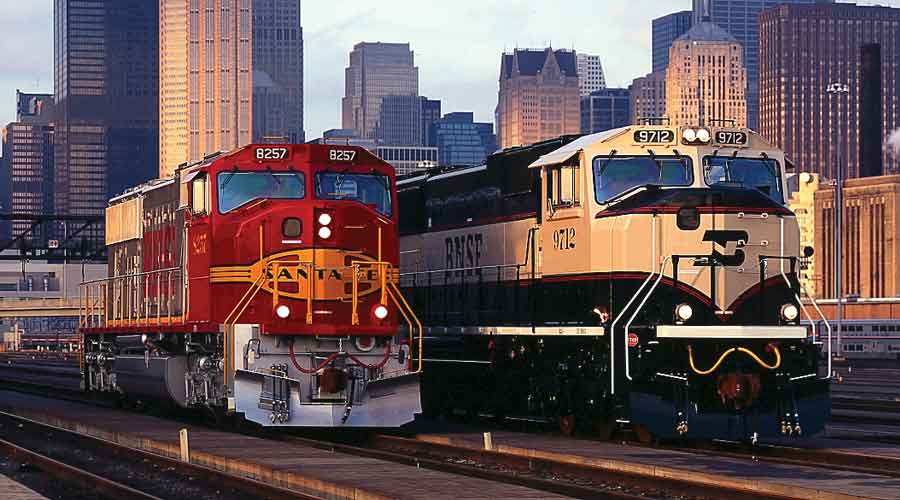 BNSF Railway Co.
A number of key developments have occurred over the past 25 years that helped position the railroad and BNSFers for more growth-pursuing and culture-shaping to come. Following are some of them:
1996 — Union Pacific Railroad merged with Southern Pacific Railroad, a combination that provided BNSF access to nearly 3,500 miles of trackage rights on the merged UP and ownership of another 350 miles via a purchase, broadening BNSF's network and market reach.
1999 — CEO Rob Krebs announced plans to retire and named Chief Operating Officer Matt Rose as his successor. Rose — who ultimately guided the Class I through a long period of growth and prosperity — became president in June 1999, CEO in December 2000 and chairman in 2002. He turned the reins over to Ice in 2014 and retired in 2019.
2002 — BNSF opened Logistics Park Chicago, expanding on a logistics park concept the Class I refined at its intermodal facility in Alliance, Texas. The Alliance Logistics Parks development has become one of the most important economic- and job-growth engines in the Dallas-Fort Worth market, according to BNSF.
2005 — The year the Class I marked its 10th anniversary, the company's name was changed to BNSF Railway Co. to symbolize the unified culture built at the railroad over the preceding 10 years.
2009 (and into 2010) — BNSF furloughed more than 3,300 employees after volumes fell dramatically during the recession that started in 2008.
2010 — Warren Buffett made his self-described "an all-in wager on the economic future of the United States" by acquiring BNSF for $44 billion through his Berkshire Hathaway Inc. The deal provided an infusion of private capital for long-term investments that strengthened and expanded the railroad's network.
2017 — The Class I unveiled a modernized network operations center in Fort Worth featuring the most sophisticated transportation planning technology and communication systems available at the time.
2019 — BNSF spent about $3.67 billion on capital expenditures, including funds to build a logistics center near Denver.
A watershed moment
The 2010 Berkshire acquisition was a positive reflection on what BNSF had been accomplishing to that point and brought national attention to the railroad, says Nober.
"It was a big vote of confidence in us," he says. "They are one of the iconic companies and brands of the world."
It also proved the value of the Class I's leadership and values, says Steve Bobb, BNSF's EVP and chief marketing officer, who joined BN in 1987 and has served the company for 33 years.
"We could focus on the long-term vision for the railroad," he says.
BNSF also continues to be fixated on safety. Looking back over the past 25 years, the creation of a safety-based culture "has truly been a seminal achievement for the company," wrote EVP of Operations Katie Farmer in an email.
During BNSF's first full year as a combined railroad in 1996, one of the first things established was a safety vision that stressed every accident and injury is preventable, wrote Farmer, who began her rail industry career with the BN in 1992 as a management trainee and rose through the ranks to hold such executive roles as VP of domestic intermodal and group VP of consumer products.
"Since the merger, the number of reportable injuries has decreased about 65 percent. Or, put another way, about 600 additional BNSF employees will go home safely this year versus 1995," Farmer wrote.
Although dedicated safety leaders set the tone, some of the most important advances have come from shared processes, through which employees have focused on ways to identify and eliminate risks, she said.
"Our people have embraced it as a key part of the way we operate our railroad," said Farmer.
By remaining focused on developing and employing technologies, the railroad will be even safer and more efficient, wrote EVP and Chief Financial Officer Julie Piggott in an email. She joined BN's accounting department in 1991 and ascended to become VP of finance and treasurer.
BNSF has built a wayside detector network that has helped transition the railroad from reactive to predictive maintenance. Technologies also provide more awareness about track conditions and help extend the life of components. As a result, the railroad is in the best shape it's ever been, Piggott believes.
The Class I plans to continue finding ways to take the next step with positive train control, developing its information systems, seeking more fuel-saving technologies, and analyzing hydrogen fuel cells and batteries as potential locomotive power sources, says CEO Ice.
Continual investments in technology and infrastructure are key to keeping up with evolving markets. For example, over the past decade BNSF has reached 99 percent in double tracking its 2,200-mile Southern Transcon route between Southern California and Chicago, making it the fastest intermodal route connecting the West and Midwest, wrote Farmer.
Adds EVP Nober: "Supply chains have changed a lot, and we need to adapt and take advantage of supply chain changes."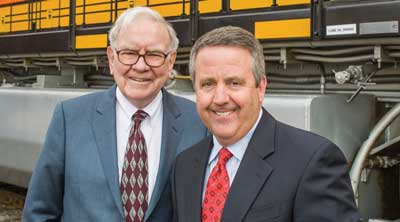 BNSF Railway Co.
As demand continues to decline in some markets — such as coal — BNSF strives to remain agile to adapt. The railroad will keep using its network in different ways to introduce new services that capitalize on underutilized capacity and better use network geography, says Ice.
"We began moving crude oil in unit trains in January 2010 and it became 5 percent of our business, but then fell off. Some business comes and goes," he says.
For example, to better use coal capacity for growing domestic intermodal business, BNSF in late 2016 introduced a five-day-per-week intermodal service for a range of consumer goods moving between the Pacific Northwest (PNW) and Texas that in part runs along a coal corridor.
The intermodal service cut transit time by about two days versus other offerings at the time and became the fastest in the industry, says CMO Bobb.
BNSF later added a carload service, running multimodal trains from the PNW to Texas that enabled lumber shippers to more quickly reach growing markets in Texas, Oklahoma and Louisiana. Before then, such a service wasn't compatible with coal volumes that moved through the corridor, says Bobb.
All about logistics
The Class I also is counting on more logistics parks and centers, and the Certified Sites program to help drive growth. The railroad currently maintains logistics parks — which revolve around intermodal hubs as anchors for nearby distribution centers — in Alliance, Chicago and Kansas City, Missouri. In addition, major intermodal facilities are located in Memphis, Tennessee, and San Bernardino and Stockton, California.
Locating in one of the logistics parks helps shippers lower their transportation and drayage costs, according to BNSF.
"We expect to add other parks in other major locations over time," Bobb says. "We never would have forecasted [at the time of the merger] how domestic intermodal would grow. In the late 1980s into the 1990s, international was the focus."
Meanwhile, logistics centers revolve around direct carload services provided in multi-customer, multi-commodity business parks. BNSF currently operates such centers in Hudson, Colorado (near Denver); Fontana, California; Oklahoma City, Oklahoma; and Sweetwater, Texas. Others will be added in the future, says Bobb.
The Class I aims to locate centers in under-served, strategic and primarily end-user markets. Shippers that locate facilities at the center can save nine months or more in development time because sites are fully permitted and shovel ready, with rail infrastructure and roads already in place, BNSF claims.
In terms of the Certified Sites program, there are 24 shovel-ready sites available throughout the railroad's network. BNSF identifies optimal rail-served sites and conducts in-depth reviews of 10 economic development criteria to determine if they meet stringent readiness standards.
Through the program — which has generated $140 million worth of customer investments since 2016 — more sites will be considered going forward, says Bobb.
As BNSF seeks to continue growing, there are several challenges that need to be addressed to maintain the momentum gained thus far.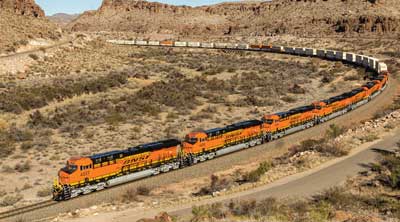 BNSF Railway Co.
For one, permitting processes in various localities can be problematic when trying to develop more facilities because certain parties tend to focus their opposition on permitting when legislative and other means prove ineffective, Ice and Bobb say.
An environmental review then could focus on a facility as national in scope rather than as regional as intended, they say.
To remain an attractive workplace and retain the best talent, BNSF also needs to keep growing and developing its employees, Piggott believes.
Employees are afforded opportunities to grow and achieve their potential, such as through career development programs that focus on apprenticeships, assessments and mentoring.
People who join BNSF tend to stay and develop their careers over time, and are afforded opportunities to grow and achieve their potential, Farmer added.
"We want to ensure that continues to be true for the next 25 years and well into the future," she said.
Overall, the Class I's future is bright, Piggott believes.
"BNSF is a growth company, and if we use our investments to keep our railroad in top condition and maintain a good cost structure so that we remain cost competitive over time, we will see long-term growth," she wrote.
The Class I needs a good economy, and a good economy needs railroads, Ice says. For BNSFers, that's the ultimate growth equation.
"There have been lots of changes over the last 25 years, that's the way the world is. You have to be nimbler," says Ice. "We pay attention to that."
Email questions or comments to jeff.stagl@tradepress.com.
---
Keywords
Browse articles on
BNSF Railway Co.
Berkshire Hathaway Inc.
logistics parks
logistics centers
Certified Sites
Burlington Northern Railroad
Atchison
Topeka and Santa Fe Railway
Contact Progressive Railroading editorial staff.