Newsletter Sign Up
Stay updated on news, articles and information for the rail industry
Rail News Home
High-Speed Rail
3/29/2017
Rail News: High-Speed Rail
Florida bill to regulate high-speed rail dies in committee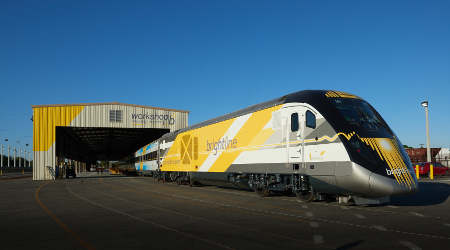 A proposed Florida state law to regulate high-speed rail — which Brightline passenger-rail service officials said targeted their company — died in a legislative committee yesterday.

Dubbed the Florida High-Speed Passenger Rail Safety Act, the legislation was pulled from the Florida House Transportation and Infrastructure Subcommittee yesterday without comment. The committee then adjourned for the remainder of the legislative session, which means the bill will not proceed, according to Florida media reports.

Brightline representatives have said the bill was intended to block their company from building an express passenger-rail service between Miami and Orlando. Now under construction, the line is expected to open for service between West Palm Beach and Fort Lauderdale in July and Fort Lauderdale and Miami in late August. The West Palm Beach and Orlando segment is targeted for launch in 2018.

Introduced by State Sen. Debbie Mayfield (R-Melbourne), the bill called for high-speed rail operators to install safety features such as positive train control (PTC) and fencing along certain areas of the route. The proposed legislation also would require operators to agree to fund signaling and maintaining safety technology at crossings unless contracts with local governments state otherwise.

Earlier this month, the bill was endorsed by the Florida Senate's Committee on Transportation.

Brightline has noted that the federal government already regulates many of the requirements contained in the bill. Company officials also have said that the legislation is targeting one company — theirs — and could threaten Brightline's plans to expand to Orlando.

"The 'Rail Safety' bill … should be viewed for what it is: the latest installment of a strategy of roadblocks designed to delay and drive up the cost of [Brightline] in hopes of breaking the company. Only in this chapter, clever opponents of the project are attempting to deceive legislators into taking a poison pill that will kill the future of passenger rail in Florida," Michael Reininger, an executive with Brightline's parent company, wrote in an op-ed that appeared March 20 in Florida newspapers.

Mayfield denied in news reports that her bill was aimed at stopping Brightline. But Reininger noted in Florida media interviews that longtime opponents of the Brightline project who live in the "Treasure Coast" counties of Martin, Indian River and St. Lucie and are organized under the name Citizens Against Rail Expansion (CARE) are supporters and backers of Mayfield's bill.

After the bill stalled yesterday, Brightline Vice President of Government Affairs Rusty Roberts issued the following statement:

"The fact that the bill was pulled from the committee agenda today means the overwhelming input from groups such as the Florida Chamber and Florida TaxWatch, elected officials from key cities and newspaper editorial boards is making an impact. We have been saying this bill is not about safety but an attack against private property rights and is targeting our company. Legislators are comprehending these facts, and we are appreciative."
Contact Progressive Railroading editorial staff.
More News from 3/29/2017