Newsletter Sign Up
Stay updated on news, articles and information for the rail industry
RAIL EMPLOYMENT
Rail News Home
CSX Transportation
August 2015
Rail News: CSX Transportation
CSX: A railroad in pursuit of optimum performance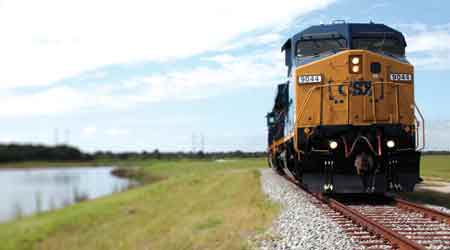 Three quarterly records — for operating income, operating ratio and earnings — colored CSX's second-quarter results. But revenue and volume added touches of red. CSX Corp.
By Jeff Stagl, Managing Editor
Since Chairman and Chief Executive Officer Michael Ward took CSX Corp.'s reins 12 years ago, the company has registered significant financial growth. From 2003 to 2014, revenue shot up from $7.6 billion to a record $12.7 billion, operating income rose from nearly $1 billion to $3.6 billion and net earnings soared from $418 million to $1.9 billion on an annualized basis.
Ward's guidance during the prolonged growth spurt earned him the No. 44 ranking on the Harvard Business Review's list of the "Best Performing CEOs" in the world released late last year. The rankings are based on long-term shareholder return and market capitalization. The publication recognized Ward — the winner of Progressive Railroading's 2015 Railroad Innovator of the Year Award — for shepherding a total shareholder return of 257 percent and a market capitalization change of plus-$32 billion.
CSX's financial gains also have carried over into 2015. In the second quarter, the Class I set quarterly records for operating income at $1 billion (up 2 percent year over year), operating ratio at 66.8 (a 2.5-point improvement) and earnings at 56 cents per share (up 6 percent). But revenue declined 6 percent to $3 billion and volume dipped 1 percent to 1.76 million units after both were essentially flat in the first quarter.
Fostering financial growth is a huge undertaking of late given some significant changes in the business landscape. Global sourcing adjustments, energy market shifts, and raised expectations from customers and shareholders are hindering any momentum CSX might muster. Plus, traditional rail markets have transitioned to an extent they've never before seen, senior executives say.
For example, coal business — a longtime moneymaker — has eroded over the past three-plus years. CSX has lost nearly $1 billion in revenue during that period because declining natural-gas prices are shrinking utility coal usage and a global oversupply is pinching export demand. April marked the first time that natural gas trumped coal as the top electric power-generation fuel in the United States in a given month, with about 31 percent of power generated from natural gas and 30 percent from coal, according to an SNL Energy report issued last month.
In addition, CSX's operations were bogged down during the severe winter of 2013-14, which impacted traffic flows and drove up costs (well north of $100 million), the effects of which the Class I still is trying to recover from and likely will linger into 2016.
In the near term, the senior team is seeking to avoid the swings that have characterized financial results the past few quarters, while longer term, they're aiming to achieve a mid-60s annual operating ratio within the next several years. So, how exactly do they expect to accomplish all that in such a tough environment?
By focusing on the factors they can control. Among a host of ongoing efforts, they aim to:
• capitalize on promising opportunities in the merchandise and intermodal sectors to increase volumes;
• invest capital in infrastructure and resources to pursue growth markets and leverage network reach;
• charge rates that are more in line with the value of the service CSX provides to help drive up yields; and
• boost productivity and efficiency — with some help from technological advances (see sidebar below) — to ramp up service and tamp down operating costs.
"We need to move with the changes and be as nimble as we can," says Ward.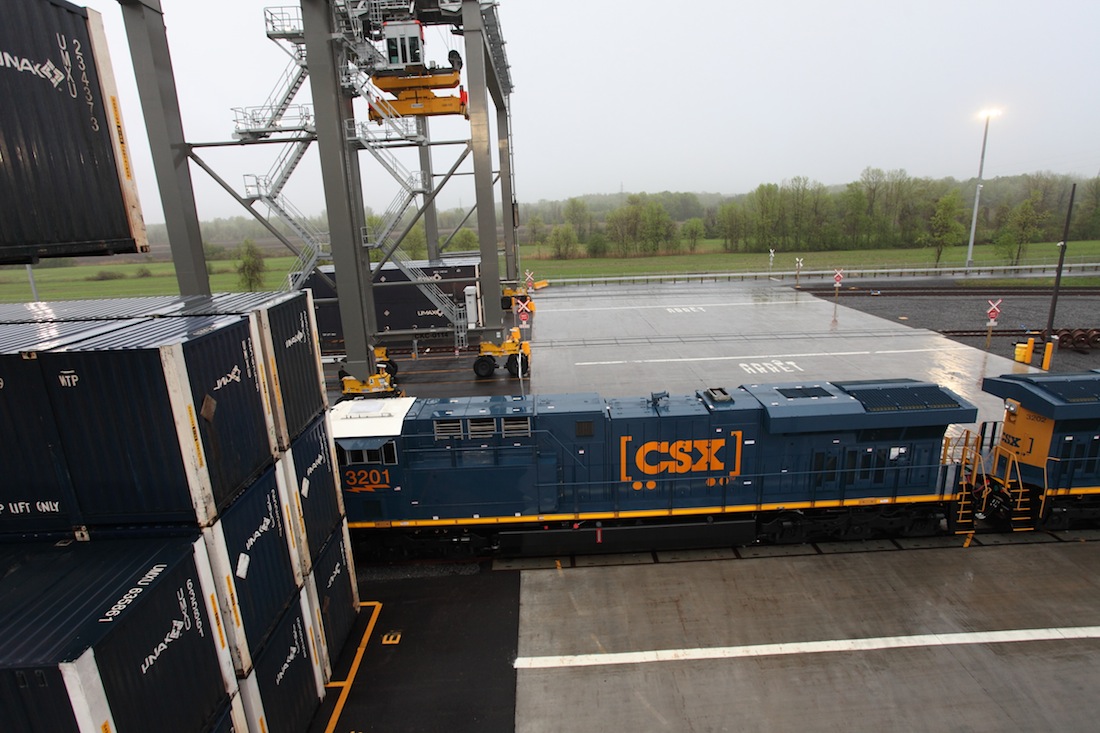 In the second quarter, CSX's intermodal volume rose 5 percent to 723,000 units, but revenue was flat at $450 million. The Class I is counting on intermodal to be a big business driver in the near term.
CSX Corp.
Making steady progress
To that end, the railroad is making progress on various fronts, which likely will continue to be measured by incremental advances rather than giant leaps, senior execs say.
"It's always three yards and a cloud of dust," says Ward.
Yet, the company also needs to get more assertive in posting progress because customers and investors will understand only for so long how the coal decline and weather issues continue to negatively impact financial and operational performance, says Oscar Munoz, who became president in February and retained his chief operating officer duties. [Editor's note: Munoz resigned from CSX on Sept. 8 to become president and CEO of United Airlines.]
Keeping it simple — be it changing practices, elongating trains or tweaking train plans — will help, senior execs believe.
"We don't need to make it more complicated or complex than it is. Getting to goals is the complicated part," says EVP and Chief Financial Officer Fredrik Eliasson. "It's about getting 31,000 people progressing in the same direction. It's all about consistency and reliability."
Ways to generate more traffic are somewhat straightforward, too. In the East, CSX has two things in its favor: two-thirds of the U.S. population and more than 60 percent of the nation's industrial production, says Eliasson. How can that be leveraged?
One way that won't work is to take on traffic that doesn't "fit the machine" — or freight that can't be adequately accommodated by CSX's network — because costs "can creep in" by adding required infrastructure or resources, says Eliasson.
More innovation, improvements
In terms of performance execution, CSX needs to mind what Munoz characterizes as the "Big I and Little I," or innovation and improvements, respectively. Operational and organizational improvements still are important for the railroad to meet its goals, but it's vital that the company continues to evolve, says Munoz.
"We need to expand the percentage of the Big I. Gains come to those who find innovative solutions, so we need to get better at innovation, at fostering new ideas," he says. "We also need to have the tolerance to test something as needed, and if it's going to fail, to fail fast."
CSX has undergone a cultural shift that empowers employees to suggest new ideas, challenges the company to try new programs and initiatives — which might have mixed results — and speeds decision-making and execution, says Munoz.
Innovation can be realized in five key areas: the customer interface, train operations, locomotive and car management, network infrastructure and support functions, he says. For example, the pursuit of new ideas led to a variable train scheduling initiative that recently helped smooth operations.
CSX reconfigured a portion of the manifest train network — involving about 100 merchandise trains — to boost service reliability, improve asset utilization and enhance efficiency. In late March, some trains that previously operated seven days a week with set departure and arrival times began to run six days a week and depart a yard four hours later each day, making train starts 28 hours apart instead of 24 hours.
The idea is to move seven days' worth of freight in six trains over six days to free up the locos and crews for other work on the seventh day. Managers continue to assess results to determine if the initiative should be implemented elsewhere.
"We need to make consists helpful with customers in mind," says Munoz. "It comes down to fast loads and unloads."
Other ways to smooth operations now are under analysis by an executive team through a Productivity Pipeline initiative launched in early 2014. The initiative involves 10 to 12 VP-level executives from operations, labor relations, procurement, finance, the intermodal group and other departments who discuss ways to deliver productivity improvements, which tend to be either process - or technology-oriented.
"We try taking the shortest path and look at the whole operating plan," says VP of Service Design Frank Lonegro. "Is there a better mousetrap?"
Keeping productivity in the pipeline
Driving productivity will help the company approach a 2015 goal of $200 million in cost savings by year's end, he says. Examples of initiatives considered by Productivity Pipeline members include employing one or two workers and remote-controlled locomotives in yards to help increase gross ton-miles per employee, and using driverless vehicles that would be remotely controlled between two points in a yard to more quickly transport employees within a facility.
In addition, inspections could be automated by rolling a train through a portal featuring numerous cameras and sensors, says Lonegro.
"It takes two people two hours to inspect a train. This is an opportunity to have better and faster inspections," he says.
There also are opportunities to boost efficiencies through infrastructure improvements. Earlier this year, CSX completed a connection track with BNSF Railway Co. in Smithboro, Ill., about 80 miles northeast of St Louis. The aim: to avoid interchanges in congested Chicago. About half of CSX's interchange business is conducted with BNSF, with the majority moving through Chicago.
Traffic flows through the Windy City "were in a tough spot" 18 months ago, says Lonegro.
"We looked at maps with BNSF to see where connections used to exist. We put one in Smithboro and shifted freight flows a bit," he says. "The route now is 200 miles longer to avoid Chicago, so it's more route miles, but a shorter transit time."
CSX is working with BNSF on another interchange location around Chicago that could be improved and expanded, perhaps via double track, as well as analyzing other potential sites in St. Louis, New Orleans and Memphis, Tenn., says Lonegro.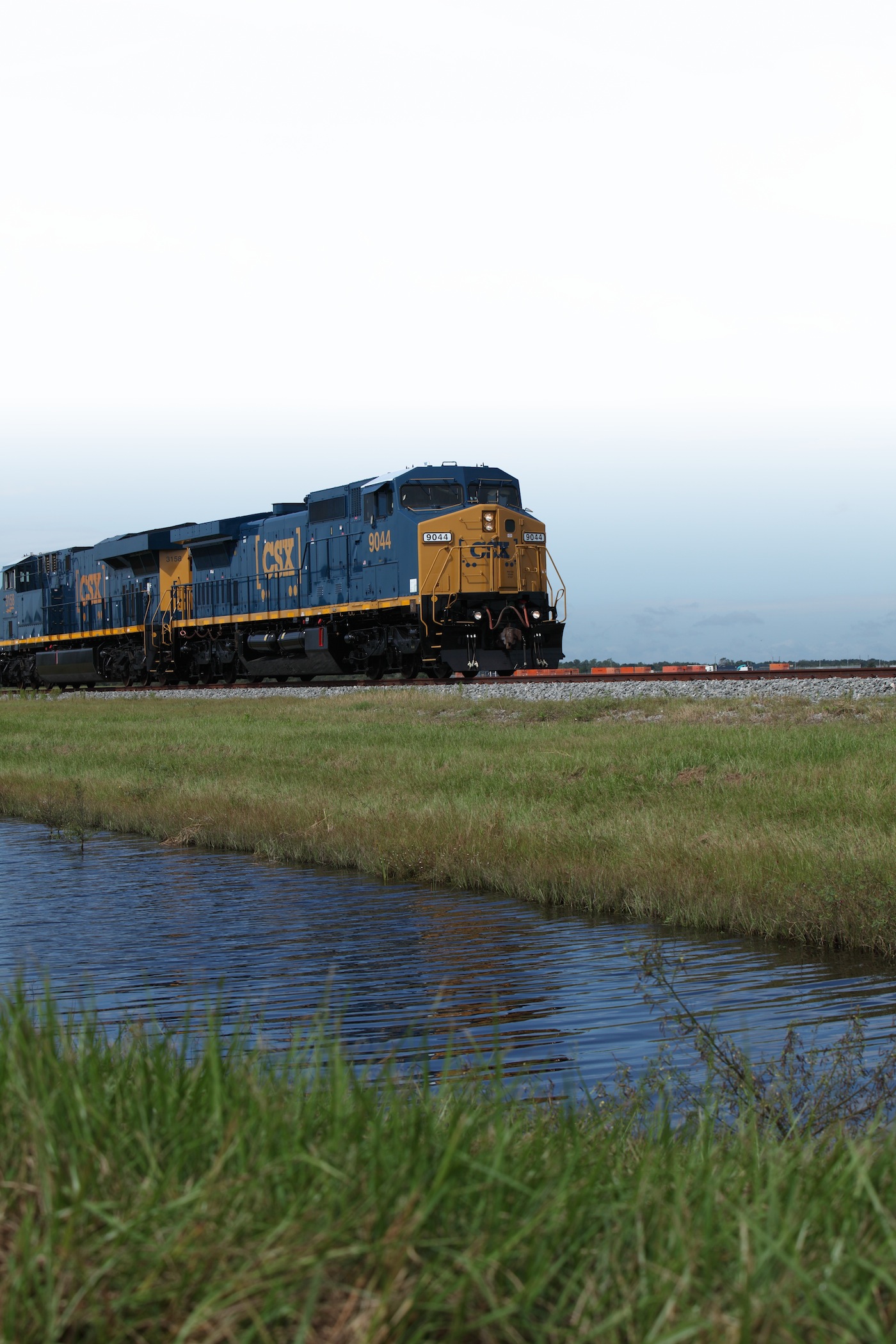 One-third of grain unit trains still carry only 65 cars, so CSX plans to lengthen them to 90 cars.
CSX Corp.
Lengthening trains is on the productivity-boosting agenda, as well. The railroad is striving to maximize the number of cars on trains to reduce the overall number of trains in operation. For example, grain unit trains several years ago were lengthened from 65 to 90 cars, but one-third of the trains still carry 65 cars.
"We will begin to phase those trains out and go to only 90-car unit trains," says Lonegro.
In addition, 30 cars of waste materials that formerly moved in dedicated trains now are added to mixed-freight trains moving between Albany, N.Y., and Petersburg, Va. Plus, 45 cars that previously moved in mixed-freight service between Albany and Fostoria, Ohio, were added to a dedicated waste train, subsequently eliminating the mixed-freight train. The moves enabled CSX to eliminate unused capacity on the trains without exceeding siding length or adding more locomotives.
The various productivity and efficiency measures are driving an effort to forge the most customer-centric railroad in CSX's history, says EVP of Operations Cindy Sanborn. A Total Service Integration (TSI) initiative launched several years ago helped focus employees on the critical parts of carload service, primarily first- and last-mile improvements. Now, a cross-functional Service Excellence initiative that gained steam last year covers all the drivers of customer satisfaction at the local level, says Sanborn.
"We have a plan to solve any issue, at the lowest level of the company, not at the highest," she says. "It can be pushed up if it can't be solved at the lowest level."
CSX also aims to implement TSI beyond carloads to unit trains.
"The trainload asset is so compelling. It will minimize time at a customer," says Sanborn.
The efforts to bolster performance have more deeply embedded service in CSX's culture, she believes.
"Service is almost as important as safety — it's right there," says Sanborn.
Intermodal plays an integral role
Better service also will provide CSX a better chance to attract more intermodal and merchandise business, senior execs believe. In the intermodal sector, domestic volume rose 9 percent in the second quarter, helping to mitigate a 1 percent drop in international volume.
A Highway-to-Rail (H2R) initiative that's now in its third year helped divert more freight from trucks in the quarter. Through the initiative, sales and marketing personnel aim to understand a shipper's unique supply-chain needs and facilitate a more seamless intermodal integration.
"It's taking root. We're building partnerships with truckload carriers and IMCs, and our marketing program is building awareness," says Executive Vice President and Chief Commercial Officer Clarence Gooden.
CSX expects the H2R initiative to generate 40,000 loads this year after logging a similar amount last year, he says.
"We expect to increase that figure in the coming years," says Gooden.
CSX currently handles about 3.7 million containers and there's potential in the East to capture a share of 9 million additional containers moving 550 miles or more, says CEO Ward.
In the merchandise commodity group — which accounted for more than 60 percent of revenue in the second quarter — traffic-generation opportunities appear promising in the near term for beverages, aggregates, some grains, automotive shipments, plastics and liquid petroleum gas.
During the past year, managers analyzed Association of American Railroads carload data to see how CSX stacked up with the other Class Is in terms of traffic mix, says Gooden.
"We found we have the most diversified book of business," he says. "If one area is positive or negative, we don't have to count on one or two other areas to be offsets."
Over the past year, the railroad also has tried to unitize more merchandise trains to boost efficiencies, such as phosphate and fertilizer trains.
Overall, CSX aims to grow its merchandise and intermodal businesses faster than U.S. economic growth.
"Intermodal and merchandise opportunities are exciting. If you extract energy, the rest of the economy is doing OK," says President and COO Munoz.
Overcoming weak coal traffic
CSX so far is doing a bit more than OK, given its coal challenges, said Morgan Stanley analyst William Greene in a report issued July 14. The railroad now expects domestic coal volume to decline about 10 percent for the full year and export coal volume to total 30 million tons, down from 39 million tons in 2014 and 44 million tons in 2013.
The operating ratio record CSX set in the second quarter was "particularly impressive" given the coal crunch, Greene wrote.
"Ultimately, the 2Q results reinforce our belief that CSX can effectively leverage pricing and productivity gains as an effective means of mitigating ongoing coal headwinds," he said.
Service metrics from 2Q back that sentiment. On a year-over-year basis, on-time originations climbed from 56 percent to 66 percent, on-time arrivals rose from 42 percent to 48 percent, train velocity increased from 19.3 mph to 20.3 mph and average terminal dwell time fell from 25.9 hours to 25 hours.
To further reach both operational and financial performance goals, CSX needs to stay the transformation course by more consistently expanding what's become the most diverse business mix in its history and fostering more collaboration with customers, says Ward. If not for the coal crunch, CSX already would have achieved its mid-60s operating ratio objective, so more progress needs to be made, he says.
Yet, the steady march to optimal performance already has left an indelible mark. With so many efforts underway to improve and innovate various aspects of the railroad, more advances are being made than at any other point in his 15-year CSX career, says Lonegro.
"The most exciting part is the pace of change," he says.
Email questions or comments to jeff.stagl@tradepress.com.
Trying to be more tech-savvy
CSX Corp.'s mission to improve both service and financial performance is gaining steam in part because the Class I is trying to adopt numerous emerging technologies.
Becoming more tech-savvy helps boost productivity and efficiency in many ways, says CSX Technology President Kathleen Brandt.
"Technology underpins every business function we have," she says.
For customers, better shipment visibility and transparency can be gained from such technological advances as the ShipCSX suite of online tools that continue to be enhanced, says Brandt. Shippers can obtain notices about bad-order cars or learn estimated times of arrival.
"They also know when a train departs, so they know how to plan their crew and make sure the gate is open at their facility," says Brandt.
For employees, CSX now provides an online work order device that includes a map of a customer's facility and assignment information. It's essentially a switch planning tool that enables an employee to better understand a customer's needs and how to meet them, such as by ensuring a block of five box cars is in inventory as required, says Brandt.
"It seems basic, but it's done on paper now," she says.
CSX also has piloted a "Crew Life" mobile app designed for the railroad's 12,000 train and engine (T&E) workers. The app is designed to provide quality-of-life information for T&E employees when they aren't working, says Brandt. They can use it to learn their upcoming work assignment or sign up for vacations.
Since CSX began to pilot Crew Life in December 2014, 8,500 T&E workers have used it, including 7,500 repeat users, which is very encouraging, says Brandt.
"It's all about personal engagement," she says.
There also are a number of technologies that CSX is analyzing, such as unmanned vehicles or drones that could record video after a bad derailment or perform bridge inspections in environments and conditions deemed unsafe, and fiber optic acoustical detection devices that could identify patterns in acoustical readings to detect bad wheels.
The company's philosophy is to not implement any technology that isn't as safe or safer than a current practice or solution, says Brandt. For example, the railroad doesn't plan to adopt Google Glass because the optical head-mounted devices could distract workers in the field, she says.
In the information technology (IT) department, CSX plans to shift more work from outsourcing to insourcing; currently, about 60 percent of it is outsourced. That means more hiring in IT positions, says Brandt.
"We are preparing for the future," she says. "We want to let candidates know we have a fast-paced environment and that they can learn the business."
— Jeff Stagl
---
Keywords
Browse articles on
CSX
intermodal
Productivity Pipeline
BNSF
Association of American Railroads
BNSF
Contact Progressive Railroading editorial staff.