Newsletter Sign Up
Stay updated on news, articles and information for the rail industry
Rail News Home
Canadian National Railway - CN
May 2018
Rail News: Canadian National Railway - CN
CN expands capacity, ramps up resources to spur service recovery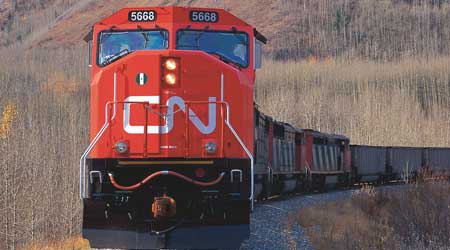 By Jeff Stagl, Managing Editor
Earlier this year, Surface Transportation Board (STB) members were troubled by Class Is' eroding operational performance. They were concerned about widespread rail congestion that festered as carloads continued to climb in 2017 and into 2018. Plus, they were alarmed by some rail shippers' complaints, including car availability and shipment delay criticisms lodged by the National Grain and Feed Association and Alliance of Automobile Manufacturers.
So in mid-March, STB Chair Ann Begeman asked each Class I to provide a service performance outlook for the remainder of 2018. She also requested information on locomotive availability, employee resources, local service performance, volume demand, communication with customers and capacity constraints.
In his April 2 response letter, Norfolk Southern Corp. Chairman, President and Chief Executive Officer James Squires pretty much summed up each Class I leader's sentiments: "We readily admit our service is not where we or our customers need it to be, and restoring our service levels is our top priority."
For CN's braintrust, operational performance is nowhere near acceptable and continues to require their undivided attention to prompt a rebound. From velocity to car-order fulfillments to network fluidity, service has been lacking since fall 2017, and CN senior executives have been issuing mea culpas to shippers to help quell their frustration. Canadian grain shippers, some of whom still are waiting to offload last year's crops by rail while preparing for the 2018 harvest, have been particularly vocal about CN's service problems.
Performance has slipped to such a disheartening point — well below the company's standards — because of things that could have been better controlled over the past 15 months with more fortunate foresight, such as resource levels, senior execs have said publicly of late. A series of miscalculations, such as unforeseen upswings in crude oil and West Coast port traffic, plus several mishaps and extreme weather events became too much to overcome.
CN's traffic unexpectedly surged 11 percent in 2017 versus 2016's total, posting growth in just about every segment. That unprecedented double-digit gain blew past the full-year projection of 3 percent growth and greatly surpassed other Class Is' year-over-year traffic increases, senior execs say.
Ultimately, CN didn't have enough locomotives, crews and other resources to meet the unplanned-for volume surge, given the railroad had flat or declining carloads in six consecutive quarters prior to 2017's start.
In 2016, CN's volume declined 5 percent, which prompted the senior team to cut costs by issuing layoffs, storing locomotives and flattening capital spending, with fewer capacity-boosting investments. But along with the Bank of Canada and many customers, the Class I greatly underestimated the strength of Canada's economy last year, said CN Executive Vice President and Chief Operating Officer Mike Cory during a March 19 Canadian Senate committee hearing on rail service issues.
The mounting traffic glut seriously stretched the railroad, with little operational resiliency in some corridors and bottlenecks at a number of network locations in 2017's latter half, he said.
Photo: CN
Then in late fall, CN experienced operational setbacks caused by several mainline incidents, including a severe windstorm that blew a train off a bridge in Alberta. The mainline was shut down until the bridge was repaired.
Shortly after that, the Class I endured a February 2018 that senior execs categorize as one of the worst months in the railroad's 100-year-plus history. After dealing with harsher-than-usual winter weather since December, the Class I faced extreme cold temperatures in Canada in February.
CN had to shorten trains because of the frigid temps to avoid equipment problems. For example, air brakes can't build enough air through longer trains when temperatures plummet.
Train-length and other operational changes led to a higher demand for crews, caused engineers and conductors to run out of operating hours, and eventually created a shortage of manpower and trainsets.
Through the course of the month, service deteriorated to levels that were "clearly unacceptable" to customers and CN employees, said Cory. Maintaining fluidity — which is the most important thing — continued to be very challenging into March, he said during the Class I's first-quarter earnings conference on April 23.
The tough weather conditions and operating challenges greatly impacted CN's first-quarter financial results. Revenue was flat at CA$3.2 billion while operating income fell 16 percent to CA$1 billion, net income tumbled 16 percent to CA$741 million and operating expenses ballooned 9 percent to CA$2.2 billion compared with first-quarter 2017 results. Plus, revenue ton-miles declined 4 percent to 57.2 million and the operating ratio climbed 6 points to 67.8.
Motivated to make changes
With both operational and financial performance flagging simultaneously, it became abundantly clear to top-level management that moves needed to be made to foster a quick turnaround. Since CN's revenue ton-miles are forecast to increase from 2 percent to 4 percent in 2018 on a year-over-year basis, they knew the railroad needed to be better positioned to take on more traffic in the near term.
Board members carried out move No. 1 in early March: a leadership change. They dismissed President and CEO Luc Jobin and installed EVP and Chief Marketing Officer Jean-Jacques Ruest — a 22-year CN veteran — as interim leader. An international search for a permanent CEO continues.
Ruest then initiated the next step. He first championed, then later helped refine, a multifaceted plan that already was in place to address the operational issues. The plan targets capacity, manpower and rolling stock shortages.
"Moving the Canadian economy is in our DNA. We can and we will do much better, and that starts today — no excuses," Ruest said in a press release issued March 7 to publicize the plan's measures.
The key one calls for spending CA$400 million to build double track, construct and extend sidings, and add yard capacity mostly in western Canada to improve fluidity for several growing traffic segments. The additional track and sidings will enable CN to operate more trains in that part of its network at the same time.
During the April 23 earnings conference, senior execs announced this year's capital spending will increase to a record CA$3.4 billion — up from the previously set 2018 budget of CA$3.2 billion and the CA$2.7 billion allocated in 2017 — primarily to address capacity and resiliency needs in the west. The western corridor runs between and through Prince Rupert and Vancouver, British Columbia; Calgary and Edmonton, Alberta; Regina, Saskatchewan; and Winnipeg, Manitoba.
The Class I initially had allocated CA$250 million for the infrastructure upgrades. The larger capital commitment to the western corridor — where CN needs high resiliency because of growing intermodal, coal, potash and forest products business along the routes and to Chicago — should provide a capacity buffer that will help the railroad avoid similar service problems in the future, senior execs say.
Beefing up resources
Other resources will gain buffers, too. The Class I expects to add 800 more train crew members (mostly qualified conductors) by June 30, have 1,000 new qualified conductors on hand sometime in the second half and hire hundreds of other workers by 2018's end. CN also plans to acquire 200 new locomotives over the next three years, including 60 this year.
Since the service problems have underscored that "capacity is more valuable than ever," Ruest aims to implement the plan by year's end, he said March 14 at J.P. Morgan's 2018 Aviation, Transportation and Industrials Conference in New York City.
If all goes as intended, the railroad will soon have the tools it needs to "operate the way it can and should," Ruest said.
"There is a sense of urgency — we need to get back on track. We need to rebuild capacity, to rebuild for next winter," he said.
Righting the ship is necessary to tap volume-growth opportunities that are apparent in just about every business sector, said Ruest.
"We have to do more to exploit the economy in front of us. All railroads should be in good times [now]," he said.
Ruest & Co. also need to quickly regain the confidence of frustrated shippers, and stop losing disgruntled customers to rival Canadian Pacific and truckers.
According to a Baird Equity Research transportation/logistics report issued March 29, the persistence of poor service by the Class Is likely will help truckers build volume in the near term.
"Facing significant truckload rate increases, shippers' interest in over-the-road conversions to domestic intermodal remains high, but several noted shippers are reluctant to convert in 2018 given ongoing rail service challenges, unwilling to risk inventory stock-outs in front of incremental improvement in demand," the report states.
Baby steps
CN can show shippers that it's made at least a few performance strides of late. By restricting traffic flows in western Canada — particularly crude-oil and frac sand shipments between Edmonton and Winnipeg — the railroad reduced congestion in March and April. CN also established a 24/7 situation room with cross-functional representatives at its network operations center in Edmonton to review customers' critical issues and prioritize their car movements.
Comparing service metrics from January through February with the period from March through April 15, train velocity increased 5 percent to 22.6 mph, while terminal dwell time dropped 16 percent to 18.9 hours and yard productivity rose 13 percent to 51 cars switched per hour on average, according to CN data.
Recent performance improvements also were evident in the grain sector. During the week of April 15, CN delivered more than 6,000 grain cars across western Canada, exceeding its weekly target of 5,500-plus cars. CN supplied about 91 percent of the hopper cars ordered by western Canadian grain shippers on time, up from 84 percent the previous week, according to the Ag Transport Coalition.
Although the operational achievements of late weren't enough to make up for the impacts of the clogged network in January and February, at least the railroad is heading in the right direction, Ruest believes.
Jobin couldn't say the same thing prior to his dismissal, and the lack of a clear direction on how to fix the operational issues likely cost him his job, says Seldon Clarke, a Deutsche Bank AG analyst.
"The upgraded precision railroading at CN starved capacity as they got rid of assets. Then they moved away from crude oil and energy, but those sectors came roaring back," he says. "Multiple markets had tailwinds at once and CN was caught off guard."
The biggest issue that should be addressed right now is the market share losses, says Clarke, who began covering CN late last year. But with Ruest focusing on CEO duties, CN in a sense has lost its CMO for now, so there's less focus on customers, he believes.
"They need to invest their way out of this," says Clarke. "It's a tricky situation because of losing market share and at the same time trying to improve service."
In terms of CN's next leader, Ruest could be a good one, but the Class I would be better off distancing itself from the E. Hunter Harrison regime, Clarke believes. Harrison — who died in late 2017 — led CN from 2003 to 2009 and brought several execs to the senior level who continue to serve on that team, including Ruest.
"CN has a deep bench from Harrison, but that leads to groupthink, which has contributed to the ongoing issues," says Clarke. "They need a fresh set of eyes [and] should extend their CEO search to the fullest of their abilities."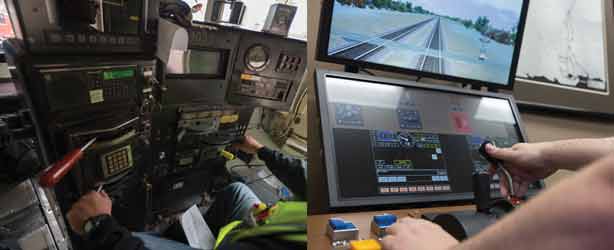 Photos: CN
Independent rail industry analyst Tony Hatch disagrees. Ruest is "the right man for the job," even though the financial community is split as to whether CN — and Class Is in general — should be run by a COO or CMO, he says. Ruest is one of the top marketing executives in the rail industry, a true modern railroader with a creative mind who clearly understands markets, says Hatch, a Progressive Railroading columnist.
"I hope he gets the job," Hatch adds.
Jobin's firing was unprecedented and a surprise, the first time in the analyst's more than 30-year career that a Class I CEO was let go in such a fashion while facing service issues, says Hatch.
In the March 5 press release announcing Ruest as interim leader, board members said they were seeking someone who could take the company forward "with the speed and determination CN is known for." Yet, Jobin seemed to be implementing measures that were addressing service issues with haste, such as redeploying resources, says Hatch.
"Did they run out of patience?" he wonders.
At the ready
Ruest aims to waste no time in getting the infrastructure-improvement aspects of the turnaround plan implemented, weather permitting. Materials are acquired and staged, and crews are ready to begin projects in western Canada as soon as the ground thaws.
For the past several months, a host of employees have worked on the series of double-track and siding projects, enabling the Class I to "get out of the gate," says Jim McLeod, CN's chief engineer-design and construction.
Designed to address key pinch points, build resiliency and expand capacity, the projects include:
• the construction of four new 12,000-foot sidings and extension of three existing sidings to 12,000 feet in the B.C. North Corridor between Prince Rupert and just north of Valemount, British Columbia;
• the construction of 12 miles of double track and extension of one siding to 12,000 feet between Vancouver, British Columbia, and Edmonton;
• the construction of 46 miles of double track in five stretches along the corridor between Edmonton and Winnipeg; and
• the construction of 6 miles of double track and extension of two sidings to 12,000 feet along the busy Winnipeg-to-Chicago corridor, mostly in Minnesota and Wisconsin.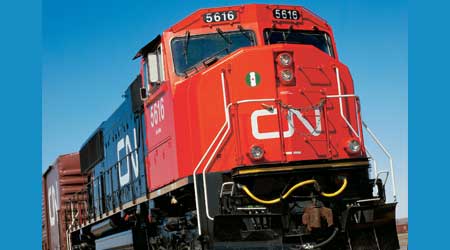 Photo: CN
All the projects are in design, environmental permitting or other pre-construction stages, says McLeod. Only a small portion of double track already is underway between Vancouver and Edmonton because the grade had been established.
CN plans to use its own forces and contractors to complete the projects, and is hiring additional engineering and production team members, says McLeod. All work is slated for completion by year's end, with some projects expected to conclude by mid-Q4.
Yards also in the cards
The railroad soon will begin work on several yard capacity expansion projects, too. CN plans to expand track or build bypass tracks at Symington Yard in Winnipeg, Melville Yard in Saskatchewan, Swan Landing Yard in Alberta, Scotford Yard northeast of Edmonton and Ranier Yard in Minnesota, which is near the U.S.-Canada border. All work also is scheduled for completion by year's end.
One project already is underway: An effort to expand track capacity at Blair Yard in Wisconsin to better accommodate rapidly increasing frac sand business.
CN also is studying Walker Yard in Edmonton to determine the track work and other capital investments that will be necessary in the near future, says McLeod.
In addition to bolstering infrastructure, CN is boosting manpower. The railroad added 400 qualified conductors to its workforce as of March 31 and another 375 to 400 are projected to join train crews by June 30. About 1,250 more qualified train conductors will be in the field before the next winter compared with the number available before last winter, CN estimates.
The Class I is adding new conductors each week; it typically takes six to nine months to hire and train operating personnel.
"There remains at some remote locations a challenge to find new labor," said COO Cory during the March 19 Canadian Senate committee hearing.
Nonetheless, CN continues to recruit, he said. Overall, the Class I hired 3,400 people last year to address attrition and traffic growth. The railroad also recalled hundreds of employees and invited retirees to return to work to help for short periods of time, said Cory. This year, the Class I expects to hire more than 2,000 people company-wide.
Rolling out more rolling stock
More motive power is a key objective, too. CN late last year ordered 200 new locomotives from GE Transportation, including Tier 3- and Tier 4-compliant Evolution™ Series units. The railroad expects to take delivery of the first 60 locomotives in the second half and gradually place the units in service.
The Class I also added 34 new high-horsepower locomotives in the fourth quarter and leased 130 locomotives.
Rail-car acquisitions are in play, as well. Last month, CN announced plans to lease 350 high-capacity box cars to accommodate growing demand from industrial customers. The cars are expected to be delivered between late summer and 2018's end.
Moreover, CN on May 2 announced it will purchase 350 centerbeam cars to better serve mounting lumber demand. Car deliveries are expected to begin in September. The Class I also might buy or lease an additional 300 centerbeams.
All the recent and planned actions, as well as the capital required, show how seriously the senior team takes the service issues, said Cory.
"Our capacity challenges will not go away overnight, but we have acted aggressively to address them," he said. "I am confident that our service will continue to improve for the grain sector and all parts of our business going forward."
CN is doing exactly what it needs to do to distance itself from the service snafus, analyst Hatch believes.
"They are controlling their recovery," he says.
If all goes as planned, CN by late 2018 should be back to the reliable service levels that were apparent 12 to 18 months ago, Ruest believes. Then, the Class I could rebuild business and get financials back in order, and be better positioned to take on what's forecast to be strong volume growth next year.
"We will continue to get sequentially better. By the time we get to the fourth quarter, our network is going to be quite capable," Ruest said during the April 23 earnings conference. "Entering 2019, we're going to be very fit to compete and we will have very excellent service to offer in the marketplace."
Email questions or comments to jeff.stagl@tradepress.com.
---
Keywords
Browse articles on
CN
Surface Transportation Board
National Grain and Feed Association
intermodal
rail infrastructure
locomotives
Tony Hatch
Contact Progressive Railroading editorial staff.