Newsletter Sign Up
Stay updated on news, articles and information for the rail industry
Rail News Home
C&S
January 2020
Rail News: C&S
Technology update: Asset management sofware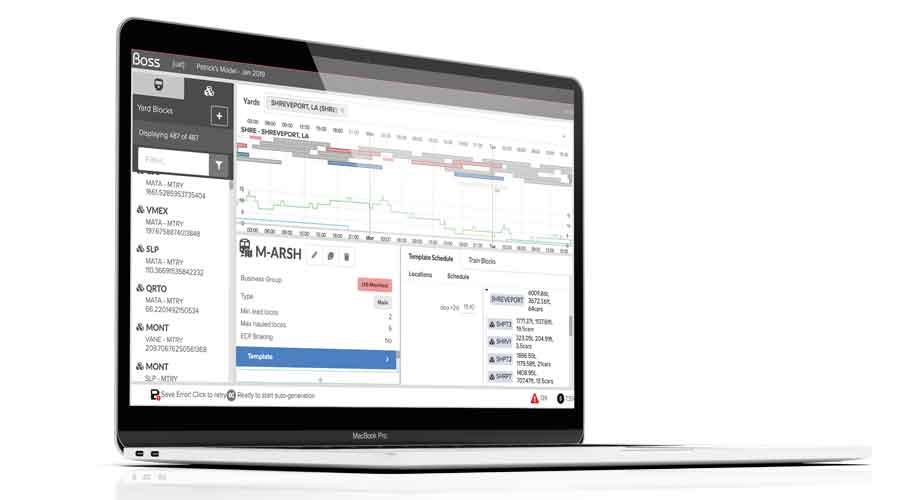 Biarri Rail
Precision scheduled railroading requires the development of operating plans that optimize assets while ensuring reliable customer service. "Superior planning will increase the velocity of rolling stock by reducing yard dwell, caused by the excess handling of train blocks," Biarri Rail officials said in an email.
Blocking is a critical part of an operating plan and is essential to efficiently moving carload traffic, which is the most profitable traffic for North American railroads. Block optimization is the best way to build an operating plan, quantitatively test yard capacities, and make decisions on the size and location of classification yards, Biarri Rail officials said.
In the past, the optimization of block design and traffic allocation has shown mixed results. Legacy systems have had unintuitive user interfaces and the underlying data has been hard to import, export and maintain.
Biarri Rail's Boss system uses specialized algorithms for defining the blocks, optimizing the assignment of traffic to the blocks, creating efficient block swaps to increase car velocity, and reducing train and crew starts, company officials said. Boss is cloud-based, enabling seamless integration with railroad operating systems, and features an intuitive user interface.
"Algorithmic service design software is the most efficient way for rail planners to test multiple options and to quantitatively measure the outcomes," Biarri Rail officials said. "The Boss platform delivers these tools."
CloudMoyo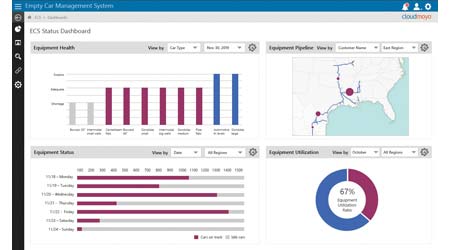 CloudMoyo
CloudMoyo ECS for Railroads is a cloud-based solution designed to manage a critical asset of freight-rail transportation: empty rail cars and other key equipment. ECS enables shippers and customers to request empty cars for loading, keeps track of rail car status and locations, optimizes allocations to balance supply and demand, and manages delivery waybills and tracks estimated times of arrival.
The solution leverages the robust CloudMoyo Transportation Platform and CloudMoyo AI & Advanced Analytics Framework to deliver intelligent, what-if dashboards that help customers track their rail cars, as well as monitor performance KPIs across their network. Key functional capabilities of CloudMoyo ECS include:
• Car request and delivery management. ECS forecasts rail-car requirements and generates equipment allocations plans. It provides a thorough audit of monthly car hires, escalates gaps in demand and supply, and provides seamless integration with the industry-standard AAR Data Exchange via EDI communication and Railinc Car Hire, CloudMoyo officials said in an email.
• Equipment distribution. It maintains a record of equipment for optimal distribution and interfaces with CloudMoyo Rail Ops to generate delivery waybills. This is required to allocate the right rail car to the right locomotive or train while complying with applicable specifications.
• Claims and invoicing. It automates order processing to determine the amount due or claims against the equipment owner(s).
Key benefits of CloudMoyo ECS include enhanced rail-car equipment visibility; shorter car dwell times and better equipment utilization; optimized allocations to balance the demand-supply gap; improved customer experience with more predictable service levels; and intuitive analytics to manage car hire costs, repair costs and maintenance expenses, company officials said.
Railinc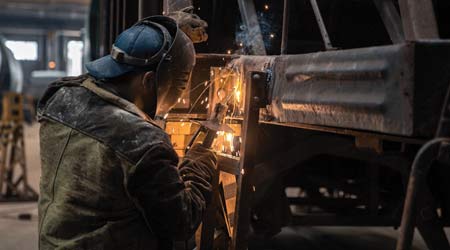 Railinc
Designed for rail car repair shops, Railinc's Car Repair Management Services (CRMS) provides a complete inspection and car repair billing system that is designed to maximize revenue, minimize costs, ensure accurate billing, and save time and IT resources, company officials said in an email.
Available either as a web or turn-key service to support the entire car repair billing process, CRMS also provides quarterly updates for the reference data required to run stand-alone applications.
The system's Car Inspection module enables users to view and print the complete health status for inbound, shopped or outbound cars. When repairs are completed, CRMS will automatically close any open alerts, update UMLER® and associate registered components to the car in the UMLER Component Registry, reducing the risk of exceptions, company officials said. The end-of-month invoice process is completely automated, assuring that monthly Car Repair Billing (CRB) Input files are successfully posted to the CRB Data Exchange. Then, CRMS automatically downloads the posted Car Repair Output file and runs an automated audit to find errors and exceptions.
Railinc's support team has more than 20 years of car repair billing experience and completes a quarterly Circular Letter review to identify any new edits required to comply with AAR Industry rule changes. Railinc says the system enables users to spend more time managing their business instead of their software.
Railroad Software
Railroad Software's TrackAsset is a map-based linear asset management software that is a Federal Railroad Administration-compliant system for electronic recordkeeping, company officials said in an email.
TrackAsset currently manages inspections for thousands of signals, crossings, bridges, track and other maintenance-of-way rail assets.
TrackAsset allows for all right-of-way assets to be maintained in a single system of record, which enables railroads and transit authorities to retain an accurate inventory to manage inspections and work orders, company officials said. The application provides a comprehensive asset inventory to capture important data for obtaining a state of good repair. TrackAsset inspection forms are configurable and can be accessed by inspectors in the field that give administrators and supervisors immediate access to the asset's status and condition. Field-collected data from inspections and work orders ensure asset health and assist in capital planning.
TrackAsset's latest innovation to the software has enhanced the track inspection experience with a "unique approach" that integrates FRA defect codes and real time GPS location for all defects, company officials said, adding the upgrade has "increased productivity for track inspectors and roadmasters." Additionally, track geometry data and 3D track view imagery has helped advance the capabilities of TrackAsset.
VisioStack Inc.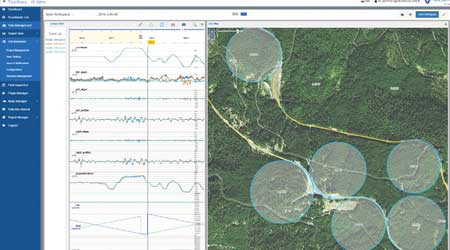 VisioStack Inc.
VisioStack Inc.'s RailLinks® platform "has been designed from the ground up to tackle the challenging world of automated inspection," company officials said in an email. The platform's ability to scale enables organizations to increase inspection system capacity to "new and innovative technologies, providing a solid foundation for predictive analytics," they added.
The RailLinks platform is divided into five modules. For example, through the infrastructure module, it can organize, align, perform analytics and provide visualizations on a variety of railway-related inspection data. Through field inspection, an organization can schedule, execute and track manual inspections while linking actionable items raised from the automated inspection program. With RailLinks® Predict, an embedded plug-in framework, an organization can introduce custom analytics and reporting. Through RailLinks® AI, organizations can create, train and execute models within an automated workflow. And with RailLinks® Mobile, VisioStack is "streamlining access to Big Data to those performing maintenance actions in the field," officials said.
Wabtec Corp.
The ExpressYard Maintenance Management System (MMS) is designed to enable rail-car owners, leasing companies, railroads and rail shippers to leverage real-time data to improve maintenance and repair decisions, reduce repair costs, and drive operational excellence, Wabtec Corp. officials said in an email. The system "serves as a one-stop location" for repair history, mileage, UMLER® information, EHMS® data and invoice exception information, company officials said, adding that the system simplifies rail-car analysis using customizable business intelligence reporting. ExpressYard MMS can utilize component failure and mileage data to predict maintenance repair needs. It audits repairs against AAR/custom rules and pricing.
In addition, ExpressYard MMS has full exception creation, tracking and counter billing capabilities. MMS reduces re-billing and collection time, automates invoicing, prevents payment of incorrect charges and drives predictability in rail-car maintenance, company officials said.
Email comments or questions to pat.foran@tradepress.com.
---
Keywords
Browse articles on
asset management software
Biarri Rail
CloudMoyo
Railinc
Railroad Software
VisioStack
Wabtec
Contact Progressive Railroading editorial staff.