Newsletter Sign Up
Stay updated on news, articles and information for the rail industry
Rail News Home
C&S
September 2019
Rail News: C&S
Rail technology update: Surge protection 2019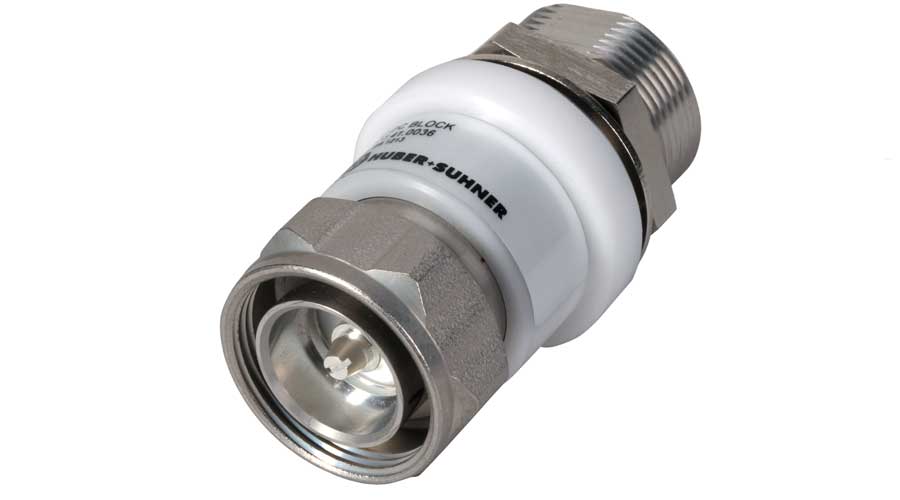 Power surges most often occur in the form of direct lightning strikes or when overhead high-voltage transmission lines are hit by lightning. Surges can cause considerable damage to rail infrastructure and equipment, as well as wreak havoc on rail networks.
"Whether from lightning or transients, given the devastating damage that surges will cause to critical applications and equipment, the value of dependable and non-degrading protection cannot be emphasized enough," said Jeffrey Redding, vice president of Automated Railroad Maintenance Systems (ARMS), in an email.
Fortunately for railroad operators, several companies manufacture and distribute surge protection devices (SPDs) to defend against unpredictable weather and other conditions.
Another useful tool to help railroads keep a closer eye on the skies is the U.S. National Lightning Detection Network® (NLDN). Maintained by Vaisala, a company that develops, manufactures and markets products and services for measuring weather, NLDN continuously monitors total lightning activity across the continental United States. It detects both cloud and cloud-to-ground lightning and differentiates between the two. Many private companies, municipalities and government agencies (including the National Weather Service) rely on it during severe weather.
Progressive Railroading recently reached out to SPD suppliers and asked them to highlight their offerings that help railroads defend against — and recover from — power surges caused by lightning and other incidents. Emailed responses from seven companies follow.
HUBER+SUHNER Inc.
HUBER+SUHNER Inc. offers a DC and DC-DC block portfolio for the railroad market. DC blocks feature a disconnected inner conductor, and DC-DC blocks feature disconnected inner and outer conductors. They are bidirectional coaxial components that block the large voltage rises and high-amplitude/low-frequency surges that occur during regular electric railway operation.
Electric railways generate significant magnetic fields, resulting in interferences that are coupled into metallic conductors that include communications lines. DC and DC-DC blocks are broadband in design and therefore are available across a frequency range of 140 MHz to 2,500 MHz, company officials said.
The waterproof blocks also protect against earth loops and galvanic corrosion due to stray and reverse currents in DC railway systems. They are maintenance-free, can easily be mounted and are grounded by flange connection, HUBER+SUHNER officials added.
Infinite Electronics
The 2019 publication of IEEE 802.3bt standard has "opened the door to higher power over Ethernet (PoE)," Infinite Electronics officials said. It's a technology for wired Ethernet local area networks that allows electrical currents to be carried by data cables rather than power cords. The new standard provides guidance to rail operators looking to use all four copper pairs in an Ethernet cable to deliver up to 100 watts of PoE-fed equipment.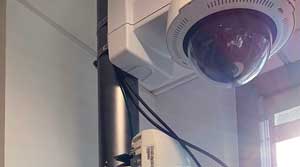 Infinite Electronics
"Railroads may not even realize how they will experience the benefits of high powered PoE fed equipment," company officials said. "Whether its infrared imaging in a camera, or greater signal strength from a radio, the benefits of PoE++ will be felt across the industry."
Transportation Products Sales Co. (TPSC) and Automated Railroad Maintenance Systems Inc. (ARMS) partner Transtector has developed a family of PoE-protection kits to help users experience the features and functions of higher-powered equipment. TPSC and ARMS distribute Infinite Electronics equipment and brands.
These kits are made up of "carefully selected and matched components" that "take the guesswork out of how to surge-protect, shield and ground high-powered PoE infrastructure," Infinite Electronics officials said.
The easy-to-install kits include head-end surge protection, shielded CAT 6A cable, outdoor-rated surge protection, a flex jumper cable and all necessary accessories.
"When running an Ethernet line outdoors to powered equipment, it has always been best practice to properly, surge protect, shield and ground the system," company officials cautioned.
Lightning Protection Corp.
Railroad signaling located near overhead high-voltage transmission lines require additional surge protection, due to an electromagnetic field's "step down," which reaches the rails and can cause damage to the track-signaling sections, Lightning Protection Corp. officials said.
Conditions ripe for causing damage include:
• cloud-to-cloud lightning strikes that occur up to 400,000 amperes, also for direct cloud-to-line strikes:
• normal and abnormal surges caused by local and grid operations;
• accidental line faults, when long continual current swells of 1,000 millisecond durations (about 14 cycles) occur; and
• damaging high currents and overvoltages that are induced into the rails and enter the signaling system.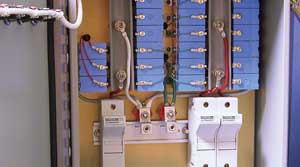 Lightning Protection Corp.
Many other surge conditions exist that affect track signal sections with either battery or AC circuit, insulated rail joints or welded rail, or relay lamp indicators, company officials said.
Surge protective devices from Lightning Protection operate independently of the signaling system. Under surge stress conditions, each device protects the signaling up to 300,000 amperes in three ways: rail to rail, rail 1 to earth ground electrode and rail 2 to earth ground electrode. Operation is automatic and fail-safe, company officials said. Devices are designed for a lifespan of 30 years.
nVent ERICO
Lightning strikes can cause catastrophic damage to critical rail infrastructure and equipment. And unexpected transient events, or momentary bursts of extremely high voltage can occur at any time, which is why comprehensive surge protection is such an important part of safe, reliable rail operations, officials from nVent ERICO said.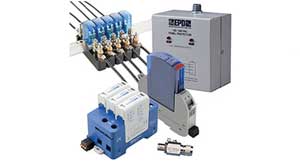 nVent ERICO
The company offers direct-strike lightning protection, grounding and bonding systems, as well as surge-protection devices. They combine to form a comprehensive solution called the nVent ERICO Six Point Plan of Protection.
The plan provides a way to capture the lightning strike; convey the energy to the ground; dissipate the energy into the grounding system; bond all ground points together; protect incoming AC power feeders; and protect low-voltage wayside signaling equipment and data/telecommunication circuits.
"This strategic approach mitigates damage caused during electrical events by protecting mission critical systems, providing general best practice electrical protection for railway assets including wayside equipment, bungalows, classification yards, communication towers and other types of network infrastructure," company officials said.
Phoenix Contact
Phoenix Contact's VAL-MS AR line of surge protective devices combines advanced connection and hybrid surge protection technologies, and provides the "ability to accurately replace SPDs, thus increasing safety and improving revenue time," company officials said.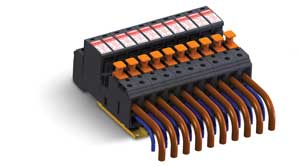 Phoenix Contact
AR devices can be installed in one-fifth the time of traditional ice-cube-style relays and offer toolless maintenance — a "quick connection [that] can result in significant labor and maintenance savings, especially as railways modernize their wayside equipment to meet federal positive train control mandates," company officials said.
An increased level of safety is achieved by indicators that provide both local and remote notice of end-of-life, they said.
Phoenix Contact technologies provide this rapid track-side field connection through screw-clamp terminals and quick-disconnect test points.
Improved protection levels and visual status indication provided on hot-swappable surge-protection plugs reduce equipment damage while providing a fast and safe method for replacement, company officials said.
The AR line also complies with the best practice guidelines set forth in the AREMA C&S manual, company officials said. In addition, the remote monitoring feature provides real-time feedback of protection status to maximize track uptime.
Site-Specific Solutions Inc.
Site-Specific Solutions Inc. offers lightning protection, power supplies and consulting services to the freight-rail and transit industries.
"Our philosophy incorporates a staged protection approach which applies primary, secondary and tertiary levels of protection in our AC and DC power protection designs, as well as our power supplies," company officials said.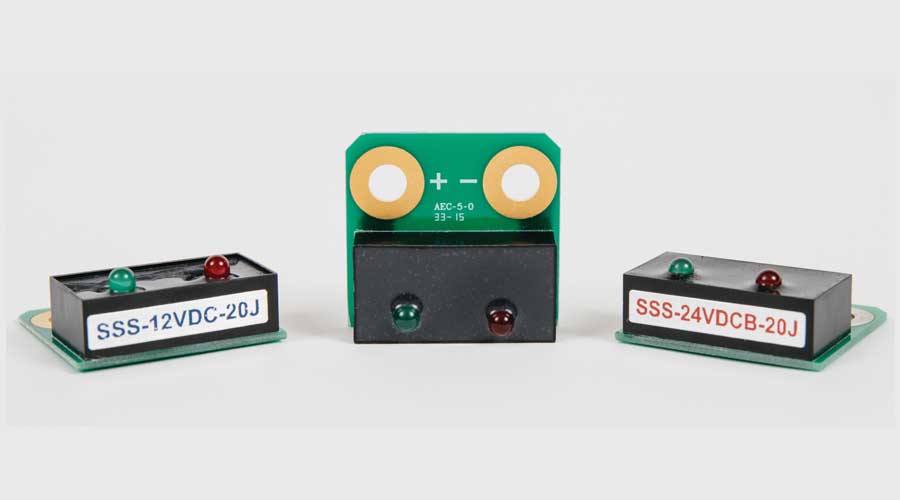 Site-Specific Solutions Inc.
The manufacturer's flagship primary AC-power protector is the Model SSS-120/240VAC-AM, which incorporates a two-stage protection design.
The 12VDC and 24VDC protectors are designed to offer high-speed and high-energy performance along with real-time status indication via LEDs (green means good condition; red indicates replacement).
The company also tracks the performance of its products using GPS and the National Lightning Detection Network in areas prone to high-density/high-energy strike history.
TPSC and ARMS
While helping railroads design power and communications systems, project managers and engineers at ARMS are "committed to incorporating the appropriate amount of surge protection into each project," company officials said.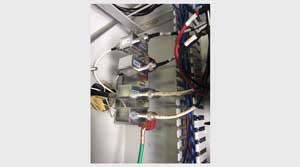 TPSC and ARMS
Surge protection comes in many forms. Over the past decade, railroads have adopted the PolyPhaser GX series of RF lightning arrestors, company officials said. Based on a hybrid circuit, the all-in-one products offer the response time of a diode with the current handling capabilities of a metal oxide varistor (MOV) and gas tube.
The hybrid circuit incorporates coordinating inductors between protection devices, increasing the response time and resulting in a fast-acting RF surge arrestor with an extremely low energy and voltage let-through — plus no degradation, company officials said.
"As railroads shift away from older communications standards to 4G LTE, the new PolyPhaser DGXR+06NMNF-Z will provide the best protection for radios operating from 650MHz to 2700 MHz," said TPSC's Scott Nelson.
Michael Popke is a Madison, Wisconsin-based freelance writer. Email comments or questions to prograil@tradepress.com.
---
Keywords
Browse articles on
surge protection
lightning protection
ARMS
TPSC
HUBER+SUHNER
Infinite Electronics
nVent ERICO
Phoenix Contact
Site-Specific Solutions
Contact Progressive Railroading editorial staff.