Newsletter Sign Up
Stay updated on news, articles and information for the rail industry
RAIL EMPLOYMENT
Rail News Home
BNSF Railway
February 2018
Rail News: BNSF Railway
Class I capex: More increases than decreases in 2018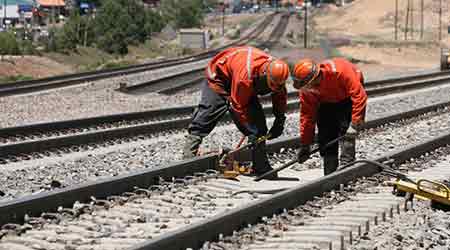 By Jeff Stagl, Managing Editor
The Class Is' fourth-quarter and full-year financial results unveiled last month were mixed. Revenue or income rose for some, but dropped for others.
For example, CSX's revenue in the fourth quarter fell 6 percent to $2.86 billion while CN's increased 2 percent to CA$3.28 billion compared with the same 2016 figures.
The Class Is' planned 2018 capital expenditures — which also were announced last month — follow the same mixed pattern. But the ups outnumber the downs.
On a year-over-year basis, the Class Is' capex budgets show:
• CN's is up CA$500 million to a record CA$3.2 billion;
• Union Pacific Railroad's is up $200 million to $3.3 billion;
• Norfolk Southern Corp.'s is up $100 million to $1.8 billion;
• BNSF Railway Co.'s is flat at $3.3 billion;
• Canadian Pacific's is flat to up CA$150 million, falling between CA$1.35 billion and CA$1.5 billion;
• CSX's is down $400 million to $1.6 billion; and
• Kansas City Southern's is down about $30 million to between $530 million and $550 million.
For the third straight year, CN has allocated CA$1.6 billion for track and other infrastructure, such as to replace 2.1 million ties and more than 600 miles of rail.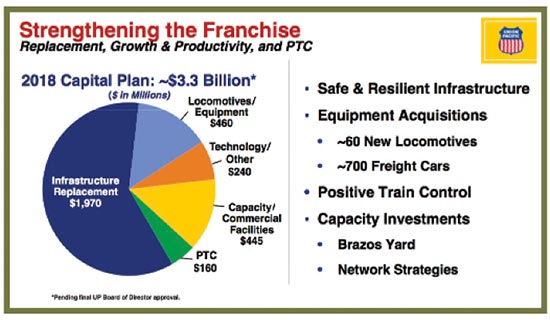 Source: Union Pacific Railroad
Minding motive power
CN also is devoting CA$400 million to equipment acquisitions, including the delivery this year of 60 high-horsepower locomotives as part of a three-year, 200-unit order from GE.
UP's capex addresses motive power, too, as well as freight cars. The Class I plans to acquire 60 locomotives and 700 cars under a $460 million equipment budget. UP also has set aside nearly $2 billion to bolster infrastructure and $445 million to address capacity, including the start of construction last month on a major hump yard near Hearne, Texas.
Meanwhile, the maintenance portion of BNSF's capex is set at $2.4 billion. The funds cover such work as replacing more than 500 miles of rail and about 3 million ties, surfacing 13,000 miles of track and maintaining rolling stock.
For NS, roadway maintenance projects are budgeted at $930 million this year. The Class I also has allocated $345 million for locomotives and $50 million for cars.
"Locomotive capital will be focused on the rebuild and conversion of locomotives from DC to AC power," said NS EVP and COO Cynthia Earhart during a Jan. 24 earnings conference.
However, CSX doesn't expect to acquire any locomotives or cars in 2018 — a big reason its budget is down. The company also has benefitted from productivity gains and technology investments.
"As we become more efficient, we are able to achieve more with each dollar we spend," said CSX President and CEO James Foote during a Jan. 16 presentation.
The rolling stock effect
Locomotive purchases aren't on KCS' agenda, either. That's in part why this year's budget was cut.
"The 2018 plan will mark the fourth year in a row of declining capital spend both on an absolute basis and as a percent of revenue," said KCS EVP and COO Jeff Songer at a Jan. 19 conference.
Rolling stock also is a factor in CP's capex budget. Spending might be up or down about CA$150 million depending on the outcome of Canadian legislation that could require CP to upgrade its grain-car fleet later this year.
"Investing in a modernized grain hopper fleet would have substantial benefits to both [us] and our customers," said CP EVP and CFO Nadeem Velani during a Jan. 18 presentation.
---
Keywords
Browse articles on
CSX
CN
Union Pacific Railroad
Norfolk Southern Railway
BNSF Railway Co.
Canadian Pacific
Kansas City Southern
railroad capital expenditures
Contact Progressive Railroading editorial staff.