Newsletter Sign Up
Stay updated on news, articles and information for the rail industry
RAIL EMPLOYMENT
Rail News Home
Amtrak
October 2019
Rail News: Amtrak
PTC update: Class Is press ahead to meet implementation deadline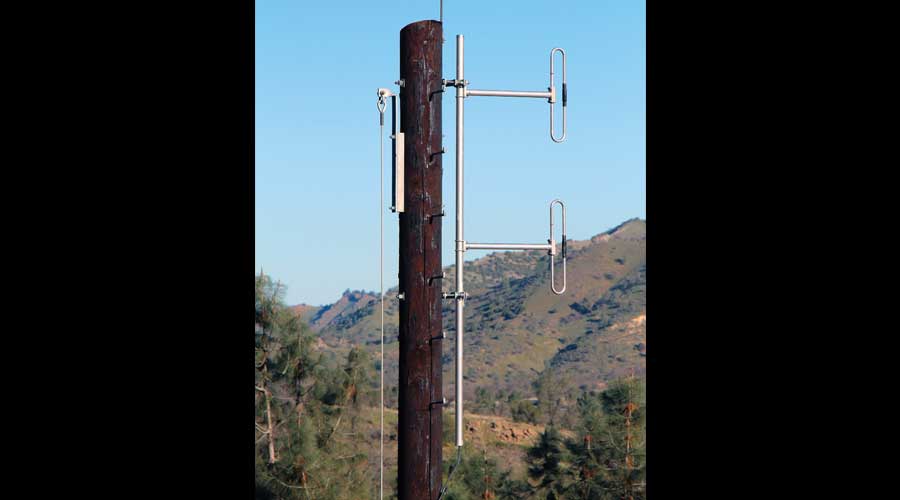 By Jeff Stagl, Managing Editor
With the deadline a little more than a year away, railroads continue to chip away at positive train control (PTC) implementation.
The 42 roads that are subject to the federal mandate — and end-of-2020 deadline — continued to make steady progress with PTC through the second quarter, according to the Federal Railroad Administration (FRA). Progress reports showed that as of June 30, systems were in operation on about 50,300 of the 58,000 impacted route miles, a 4 percent increase since Q1.
FRA officials continue to host meetings and collaboration sessions with railroads, vendors and subject matter experts to monitor implementation developments, share best practices, and jointly identify and resolve common technical problems. The agency is determined to help the railroads meet the deadline for full PTC system installation and initiation on all required lines, said FRA Administrator Ronald Batory in a press release issued Sept. 9.
Yet despite the federal assistance and implementation headway, there's still much the railroads need to accomplish by 2020's end, FRA officials say. Chief among them: activating systems on remaining mainlines and attaining interoperability. Of the 232 host-tenant relationships associated with PTC, only 50 (or 22 percent) of them had attained interoperability through Q2, agency data shows.
The Class Is have made some strides with interoperability — which remains a major challenge because of the coordination required with many partners — but bigger leaps with initiating systems on their lines. As of June 30, PTC systems were in operation on about 91 percent of their required mainlines, a 4 percent increase since Q1.
Class Is are dealing with several other pressing and imposing issues related to the mandate, such as fully integrating PTC into their train operations and related work processes, and ensuring system reliability.
Many of them are impacting BNSF Railway Co. as it implements Wabtec Corp.'s Interoperable Electronic Train Management System (I-ETMS®), which is under adoption by all the large railroads.
PTC is operational on more than 11,500 route miles in 88 BNSF subdivisions — which handle 80 percent of total volume — and on an additional 2,000 route miles in non-mandated subdivisions. Each day, more than 1,000 BNSF trains operate in revenue service in PTC-equipped territories.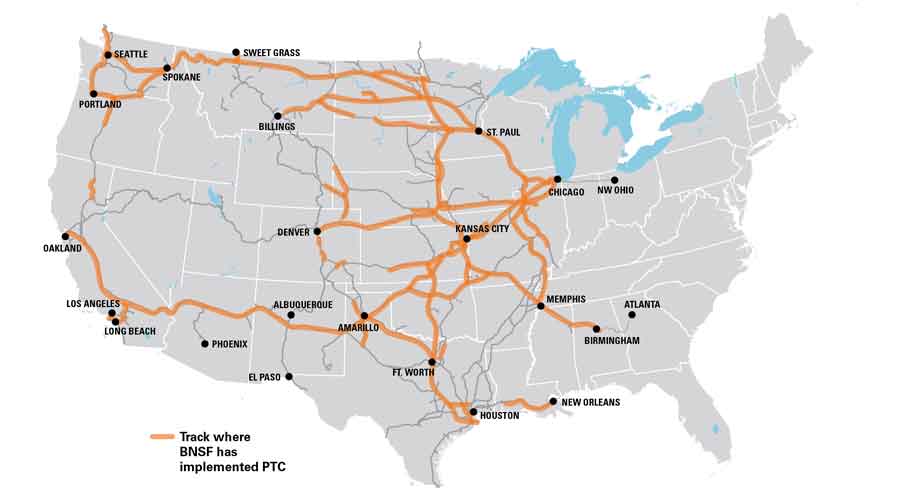 Source: BNSF Railway Co.
The Class I now is working with vendors to address remaining technological and operational challenges to ensure its system is highly reliable, BNSF Assistant Vice President of Network Control Systems Chris Matthews testified July 31 at a Senate Committee on Commerce, Science and Transportation hearing on PTC progress.
The railroad needs sufficient capacity and redundancy in the communication systems, continuous monitoring and maintenance of wayside devices, and enhancements to back office systems, he testified.
"PTC implementation does not just involve technology; it requires changes to the work processes of our various operations team, including transportation, mechanical and engineering, along with a host of other departments," Matthews said.
Partnering up
However, the linchpin of a fully functioning and interconnected PTC system is interoperability, he stated. BNSF is working on it with 30 other railroads, including Class Is, short lines and commuter agencies.
BNSF aims to identify the needs of both parties and offer partners assistance, if necessary, such as back office hosting, crew training and advice on technical, operational and regulatory issues, Matthews said.
The Class I has achieved interoperability with 10 of 23 passenger railroads — including Amtrak, Metra, Metrolink, Northstar and Sound Transit — as well as Montana Rail Link, Otter Tail Valley Railroad, Louisiana & Delta Railroad, and Portland and Western Railroad.
"We have worked closely with these short lines to enable their PTC-equipped locomotives to function with BNSF's PTC back office while operating on our track," Matthews said.
In August, BNSF began operating PTC-enabled trains in revenue service with Union Pacific Railroad. The railroads have more than 200 connection points that needed to be digitally interconnected so trains can be interchanged without interrupting data flow and real-time operational information can be shared.
BNSF expects to fully test interoperability after completing bilateral testing with each of the other Class Is.
"This is an intensive process that involves federation of each railroad's back office servers, commissioning of locomotives, and lab and field testing, followed by revenue service production interoperability," Matthews testified.
UP also has attained interoperability with a number of partners, in addition to BNSF. The Class I needs to be interoperable with the six other Class Is, six commuter railroads and 19 short lines.
Some short-line partners have tied in and interoperability was achieved last year with most of the commuter roads UP deals with, including Metrolink and Metra.
Overall, UP now is interconnected with more than one-third of all partners/tenants, encompassing 85 percent of interoperable PTC operations, says Greg Richardson, the Class I's general director of operating systems.
The railroad continues to work on interoperability with CSX, Canadian Pacific, Kansas City Southern, Norfolk Southern Railway and a handful of short lines, he says.
UP expects to be interconnected with all 31 parties by 2019's end, but interoperability efforts might spill over into 2020.
Some technical issues still need to be sorted out, such as vendor software-related issues, says Richardson. For example, design limits need to be raised for data storage requirements.
To share and share alike
Organizational interoperability — or data flow among partners — also remains a challenge. The issue primarily is being addressed from an industry level, including the way railroads interact and share data.
UP also is dealing with other organizations, and each one has different capabilities, says Richardson.
"We need to have a good general flow of information, such as event analysis data," he says.
As of June 30, UP had 14,678 miles of its 17,000-mile footprint in PTC operation. The entire footprint should be covered by year's end — 12 months faster than what UP stated in its implementation plan, says Richardson.
"We accelerated it based on improved performance and a desire to implement it quicker," he says.
In 2020, UP plans to focus on PTC reliability, safety and functionality. Reliability likely will be more onerous in 2021 due to operating restrictions and other factors, says Richardson.
The various challenges notwithstanding, UP anticipates completing implementation ahead of or by 2020's end.
NS: Wrapping it up early would be ideal
For NS, implementation is anticipated well before the deadline — in second-quarter 2020. Like other Class Is, the railroad is focusing on interoperability and system reliability to reach that finish line.
"We're trying to get it in place as soon as we can do it," says Eric Hullemeyer, NS' director of advanced train control systems and operations.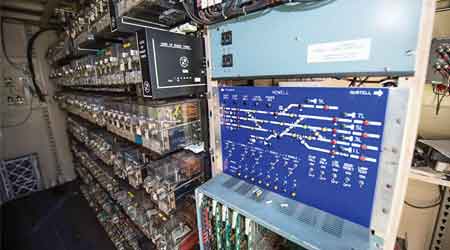 Norfolk Southern Railway
As of mid-September, the Class I had 7,196 route miles of its 8,008-mile footprint under PTC operation and was running about 800 trains per day with the technology. NS expects to activate all route miles by May 2020.
Similar to other Class I's experiences, the "tough nut to crack" with implementation is interoperability, says
Hullemeyer. NS is working with all the other Class Is, six commuter railroads and 30 short lines.
The railroad so far is interoperable with Amtrak, the North Carolina Department of Transportation (NC by Train), Virginia Railway Express and CSX. NS has more than 250 connection points with CSX — its largest interchange partner — so it was logical to work with that Class I first, says Hullemeyer.
"Now, we're putting our attention on the western railroads. The good news is we have much fewer connection points with the others," he says.
NS also is focusing on interoperability efforts in Chicago, which is home to more than a dozen interchanging railroads. The Class I is a member of a deployment team that includes all stakeholders in the Windy City. For the past two years, team members have met bi-weekly.
Currently, much of the work in Chicago is done. Interchange partners now are working on field testing and going live with each partner's PTC system, says Hullemeyer.
"We will use Chicago as a model for best practices and lessons learned," he says.
Another main focus area: the reliability of NS' PTC system. The Class I is working with vendors to optimize operations.
NS has installed a lot of onboard, wayside and back office equipment associated with PTC, but reliability hasn't necessarily been high, says Hullemeyer. There have been points of failure — to be expected with a project of this magnitude — and NS is examining them, he says.
CSX is analyzing certain aspects of PTC, too. The Class I continues to identify software defects during lab and field testing and conditional revenue service operations of I-ETMS related to onboard and back office systems. The railroad is working to ensure higher-priority defects are corrected in near-term software releases.
Data events to quintuple
A lot of data already is being generated by 63,000 controlled devices at CSX, and more data will flow after PTC is implemented, says Kathleen Brandt, the Class I's senior vice president and chief information officer. Plus, the number of devices eventually will increase.
"We estimate we will have 100 million [data] events a day after PTC is implemented," says Brandt, adding that the Class I currently logs about 20 million data events per day.
In Q2, CSX finished activating all 9,670 route miles in its PTC footprint spanning 133 subdivisions. The railroad also initiated revenue service operations in five subdivisions during the quarter.
Like other Class Is, CSX continues to address interoperability. The railroad is working with the six other Class Is, eight commuter railroads and seven short lines.
CSX likely could finish implementation sometime prior to the deadline if not for interoperability, says Brandt.
"We're working now as quickly as we can on PTC, given the compatibility issue," she says.
Interoperability and data messaging/consumption also are the primary implementation hurdles for CN.
"We plan to clear them through effective communication and continuing to build upon an already strong and stable relationship with our vendors and tenant railroads," CN officials said in an email.
In terms of interoperability, CN is working with 14 other Class Is, short lines and passenger railroads, and so far has attained it with two of them.
As of mid-September, 2,658 route miles were in PTC operation, and the Class I continued to work on an additional 449 route miles.
Continual PTC work will be a common thread among Class Is once the technology is adopted. They'll need to keep developing and enhancing their system's reliability and availability well after 2020 due to operational changes and technological advancements.
"It's like the dispatch systems we've had in place a long time and have worked on forever," says NS' Hullemeyer. "It will be the same thing with PTC."
Email question or comments to jeff.stagl@tradepress.com.
---
Keywords
Browse articles on
positive train control
Federal Railroad Administration
BNSF Railway Co.
Wabtec
Union Pacific Railroad
Amtrak
CSX
CN
Kansas City Southern
Norfolk Southern Railway
Contact Progressive Railroading editorial staff.