By Jeff Stagl, managing editor
Several years ago, Florida East Coast Railway L.L.C. (FEC) generated most of its revenue from aggregates, primarily crushed stone used in residential and commercial construction. But since then, the number of ag carloads per day has dropped from a high of 600 to about 120. Now, intermodal — which has steadily grown in volume — accounts for 80 percent of the regional's business.

On May 16 and 17, FEC officials hosted a press train tour to discuss why intermodal will continue to be a big traffic driver for the regional. They also wanted to show media members the sites or progress of several key projects in south Florida that are projected to propel container moves in the next several years, including restored on-dock and other rail infrastructure at the Port of Miami, and an intermodal container transfer facility (ICTF) and on-dock rail infrastructure at Port Everglades in Fort Lauderdale.

Florida is a "truly consuming state," ranked as the nation's fourth-largest state economy based on gross domestic product, said FEC President and Chief Executive Officer James Hertwig during presentations held May 16 while the train made the seven-hour trip from Jacksonville to Miami. The state has about 19 million residents and attracts more than 81 million visitors annually.

FEC is well positioned along the state's East Coast to take advantage of heavier freight flows that will be generated by the Panama Canal expansion, which is slated for completion by early 2015, he said. FEC, which has no other rail competition along its 351-mile route, competes directly with trucks.

Florida is the primary gateway to Latin America, and the ports in Miami and Fort Lauderdale are the closest U.S. ports to the Panama Canal, said Hertwig. FEC officials are counting on the planned port projects to help establish the regional as more of a major conduit of intermodal freight coming from Central and South America, as well as the Caribbean and Asia, and moving from south Florida to various points in the Southeast, such as Atlanta, Charlotte, N.C., and Memphis, Tenn.

Since the state includes several large consumer markets, the vast majority of freight flows southbound to major metropolitan areas while only a trickle flows northbound through and out of Florida.

A year ago, FEC launched a service aimed at increasing the regional's southbound intermodal traffic. A Savannah Relay service offers overnight service from points in South Carolina to south Florida, and second-morning service from points in North Carolina. Freight is trucked to Jacksonville then railed by FEC to Fort Pierce, Fort Lauderdale or Miami.

Targeting time-sensitive retail cargo, the Savannah Relay is highway competitive in the "freight-rich" Savannah, Ga., market, which is home to many distribution centers, said Hertwig.


A 'beeline' to growth
Earlier this year, FEC also launched a service that's designed to boost northbound traffic. The Beeline Express targets import containers moving from south Florida ports to central Florida markets.
Most freight currently arrives at the Port of Savannah and is trucked to central Florida. Through the Beeline Express, containers can arrive at the Port of Miami or Port Everglades, be railed to Cocoa then trucked to central Florida via overnight service, said Hertwig.
"It's a way to make short-haul intermodal work," he said.
New services aside, the majority of Hertwig's presentation and tours that followed on May 17 focused on the major port projects and their future service/traffic implications.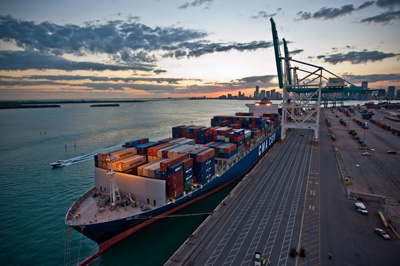 Port of Miami
After a 50-foot dredge is completed in late 2014, the Port of Miami will be able to accommodate much larger ships than this one shown.
Since the Panama Canal expansion will accommodate larger container ships, the Port of Miami is pursuing a dredging project that will deepen the harbor to 50 feet.
When the project is completed in late 2014, the port will become the third on the East Coast with a 50-foot depth, joining Norfolk, Va., and Baltimore, said Hertwig. Port Everglades also is in the early planning stages of deepening its channel to a 50-foot depth, said Seaport Planning Manager J. David Anderton.
After the ports begin receiving larger ships, FEC and its interchange partners
CSX Transportation
and
Norfolk Southern Railway
will be able to move import containers to Southeast, Northeast and Midwest markets — which account for 70 percent of the U.S. population — in one to four days, said Hertwig. FEC plans to focus on the entire Southeast market and Florida, offering one-day service to Orlando, two-day service to Atlanta and Charlotte, and three-day service to Memphis.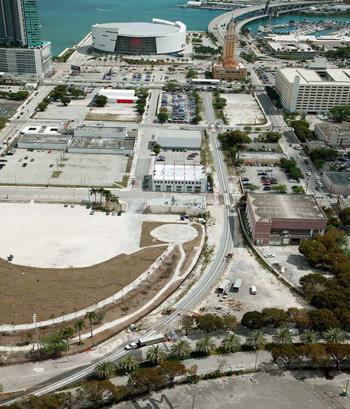 Atlas Railroad Construction L.L.C.
Earlier this year, FEC completed a 4.4-mile lead track to the Port of Miami. The rehabilitated lead ends at American Airlines Arena (round building shown at top of photo), which is home to the Miami Heat professional basketball team.
But before the regional can get to that point, the port projects first need to be completed. To provide media members information on and visuals of the projects, port tours began early on May 17, with the press train traveling along a 4.4-mile Miami port lead that FEC completed earlier this year.
Rail revival in Miami
The next steps in re-establishing rail service to the port — suspended since Hurricane Wilma damaged a connecting bascule bridge in 2005 — include rehabilitating the bridge and building an intermodal yard on Dodge Island.
In addition, the port is building a $1 billion tunnel that will provide trucks and cruise passengers direct access to and from the adjacent interstate highway system.
After the tunnel is completed in 2014, the number of trucks moving through nearby streets each year will drop 80 percent from 1.5 million to about 200,000, said Kevin Lynskey, the Port of Miami's assistant director of seaport business initiatives.
The yard, which will include 15 acres dedicated to intermodal, will enable FEC to build half-mile, double-stack trains. Because ships need to navigate a more than 20-mile waterway from the ocean to Port of Savannah, FEC will be able to move containers from Miami to Savannah faster than a ship could travel between ports in the two cities, said Lynskey.
The press train then traveled from Miami to Fort Lauderdale for a tour of Port Everglades, which plans to soon launch construction on a 42-acre ICTF. To be completed by mid-2014, the $72 million transfer facility will become the first on-port rail yard to process both domestic and international cargoes, said Port Everglades Chief Executive and Director Steven Cernak.
The ICTF also will eliminate highway drayage moves to FEC's nearby yards and enable the regional to build trains at the port without blocking local roadways, he said.
Port Everglades also is building an overpass to separate vehicle traffic on nearby Eller Drive from FEC traffic. In addition, the port plans to spend more than $440 million to extend a turning notch to 42 feet and add five berths, and eventually deepen and widen its intra-coastal waterway to accommodate larger ships.
Although the port projects are key to FEC's intermodal prospects, there is one missing link: a full-service logistics solution for the higher volume of imported and exported goods that will flow through the ports, said Hertwig. To that end, commercial real estate firm Flagler plans to build a multi-use warehouse on 130 acres of undeveloped property adjacent to FEC's Miami intermodal facility at Hialeah Yard, he said. Flagler is owned by
Fortress Investment Group L.L.C.
, which also owns FEC.
The multi-use site will offer up to 1.5 million square feet of warehousing, distribution and transloading space.
Ultimately, all the planned work — toward which FEC is providing about $44 million for the rail-related projects — will help establish the state as a bigger player in the flow of international cargoes, said Hertwig.
"It's all about Florida becoming a trade corridor," he said.
---
Keywords
Browse articles on Florida East Coast Railway on Progressive Railroading
More articles