Intermodal volumes ramped up in second quarter
Domestic and international intermodal volumes posted solid gains in the second quarter of 2011, continuing a growth trend for the year, according to the Intermodal Association of North America's (IANA) "Intermodal Market Trends and Statistics" report, issued last month.
IANA attributed the 7.8 percent increase (to 1.7 million units) in domestic intermodal traffic in part to the steep rise in diesel prices that likely made it less expensive to ship freight via rail.
Year-over-year, domestic container volume grew 9 percent to 1.3 million units. Trailer volume of 424,587 units rose 4.6 percent — a tad slower rate than in the previous quarters, which IANA attributed to an equipment shift toward domestic container use.
Meanwhile, international volume climbed 5.4 percent to 1.9 million units. Although it was the slowest rate of international growth since late 2009, IANA noted previous quarters benefited from weak comparisons. In addition, international shipments likely were impacted by Japan's earthquake and tsunami disasters, which reduced Japanese imports, the report states.
"While the rate of intermodal growth slowed from the first quarter to the second quarter, it still remains in line with many industry analyst estimates of 6 percent to 8 percent year-over-year expansion," IANA officials said in a prepared statement.
Illinois Hosts The Most Rail Supply Firms, RSI Says
Eleven states are home to more than 650 rail supply companies that operate more than 800 facilities, employ 90,000 workers and produce $23 billion in revenue, according to a Railway Supply Institute (RSI) report released last month.
Illinois led the pack with 137 rail supply firms, 166 facilities and 19,600 employees.
Other states with high numbers of rail supply firms are: Pennsylvania, 100 firms supporting a combined total of 27,700 employees; New York, 70 firms, 7,500 employees; Texas, 59 firms, 8,600 employees; Ohio, 56 firms, 7,500 employees; California, 47 firms, 4,600 employees; Florida, 44 firms, 2,400 employees; Missouri, 42 firms, 2,600 employees; Georgia, 39 firms, 3,100 employees; Indiana, 33 firms, 2,000 employees; and Virginia, 27 firms, 2,400 employees.
The report analyzed data from RSI members and other sources to show the supply firms' economic impact.
Coalition: U.S. Infrastructure 'falling apart and behind'
The chorus of voices calling for Congress to start seriously addressing the nation's ailing infrastructure is growing louder by the week. Among the latest to speak out: Building America's Future Educational Fund, a bipartisan national infrastructure coalition that says the United States needs to invest at least $200 billion a year to revitalize transportation, wastewater, dam, electrical and broadband systems.
Last month, the coalition issued a report, "Falling Apart and Falling Behind," that details deteriorating U.S. infrastructure and provides a comparative look at the investments other global economic competitors are making in their infrastructure. The United States is at a competitive disadvantage, coalition officials believe.
"As Congress stands idly by, our competitors around the world are racing ahead, especially when it comes to building modern transportation networks," said New York City Mayor Michael Bloomberg in a prepared statement. A political independent, Bloomberg is co-chair of the coalition, as are former Pennsylvania Gov. Ed Rendell and former California Gov. Arnold Schwarzenegger.
The report concludes with recommendations for investing in projects that would stimulate the economy, such as developing a long-term national infrastructure strategy; passing a six-year transportation bill that would reduce traffic congestion and pollution; establishing a national infrastructure bank and updating the national gas tax; and promoting innovation through competitive grants.
The investment strategy should focus on projects including "high-speed rail in key corridors," freight, public transit and maintenance of the U.S. transportation network, the report stated.
The report's conclusions are consistent with a number of views held by the Coalition for America's Gateways and Trade Corridors (CAGTC).
"The report contributes to the important debate over how our nation should go about providing for our goods movement system demands," CAGTC Chairman Mortimer Downey said in a prepared statement.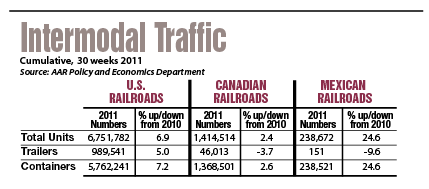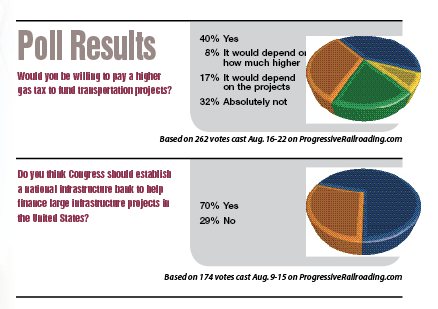 ---
Keywords
Browse articles on intermodal on Progressive Railroading
More articles