Newsletter Sign Up
Stay updated on news, articles and information for the rail industry
Rail News Home
Union Pacific Railroad
5/3/2019
Rail News: Union Pacific Railroad
UP to close Rochelle intermodal ramp as part of Chicago-area simplification plan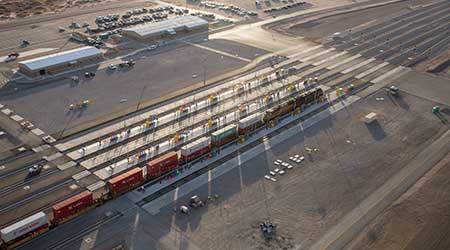 After an end-to-end analysis of the intermodal network through the Unified Plan 2020 initiative, Union Pacific Railroad identified three key changes it plans to implement in the months ahead, Executive Vice President of Marketing and Sales Kenny Rocker wrote in a customer announcement issued yesterday.

The first calls for simplifying the Class I's intermodal complex in Chicago, where the railroad operates six intermodal facilities: five active ramps and an equipment depot.

"Operating six facilities with a variety of equipment at each creates complexity for Union Pacific (equipment issues and additional switching), as well as our customers (complex drayage arrangements and vendor management), creating a greater likelihood of supply chain failure," Rocker wrote.

Therefore, UP plans to idle its Global 3 intermodal ramp in Rochelle, Illinois, in early July and close the Canal Street container depot in Chicago shortly thereafter. The simplification also calls for moving international volume out of the Global 2 ramp in Northlake, Illinois, allowing each facility to focus on a specific business segment, Rocker said. Global 4 in Joliet, Illinois, will handle predominantly international intermodal shipments, Global 2 will process domestic intermodal shipments, and the Yard Center in Dolton, Illinois, will handle auto parts and north/south shipments.

To support increased volumes at Global 2 and Global 4, UP plans to transform the ramps into state-of-the-art facilities with greater capacity, Rocker wrote.

"Assigning Global 4, Global 2 and the Yard Center to specific business segments will allow us to roll out operational changes that yield significant operational improvements," he said. "For instance, we have already begun to make adjustments at Global 4 that have allowed us to strip and reload trains faster. These changes have dramatically reduced car dwell and should make a larger impact as they are rolled out fully at Global 4 and at Global 2 following consolidation."

The second major change brought about by the network analysis is the addition of a block swap yard at the Santa Teresa intermodal ramp in New Mexico. Containers from inland ramps destined to southern California then will launch more frequently to the block swap yard, where they will be consolidated to move toward their specific destination, Rocker wrote. The change will reduce dwell time and congestion, thus improving overall transit time.

"When intermodal containers arrive at our inland ramps, they often wait until sufficient density is available before a train is launched to one of 12 destinations in the Los Angeles basin. This dwell time ultimately adds cycle time to a container," Rocker said.

The third major change calls for extending sidings on the Sunset Corridor to improve network fluidity and complement the Santa Teresa ramp work. The 760-mile Sunset Route runs between Los Angeles and El Paso, Texas.

"Doing so allows us to build longer trains and further leverage our prior investment in this corridor," said Rocker.

Meanwhile, despite expressing disappointment that UP has decided to close the Global 3 ramp after a more than 15-year partnership has led to economic development opportunities, city of Rochelle leaders say they're now focusing on developing a plan to provide local intermodal services. They are exploring the possibility of having the city's short line — City of Rochelle Railroad — provide intermodal services, city leaders said in a press release.

In fall 2018, the short line broke ground on a multi-phased project aimed at expanding its multimodal services. In addition, the City of Rochelle Railroad soon will launch the first phase of a transloading operation and unit-train switching services offering direct access to both UP and BNSF Railway Co.

The services also will include expanded manifest train switching. The short line operates a double-track transload yard designed to load an unload bulk, box, flat and tank cars.
Contact Progressive Railroading editorial staff.
More News from 5/3/2019