Newsletter Sign Up
Stay updated on news, articles and information for the rail industry
RAIL EMPLOYMENT
Rail News Home
Supplier Spotlight
November 2018
Rail News: Supplier Spotlight
Technology update: Rail fasteners 2018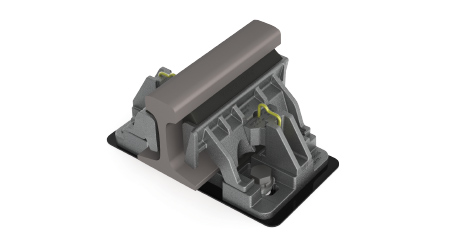 By Jeff Stagl, Managing Editor
Bolts that stay in place. Screw spikes that don't back out. Nuts that self lock and resist effects from vibration. Tie plates that hold a long time.
Railroads want fasteners and fastening systems that keep track components clamped tight for years, as well as require no or minimal maintenance, and are affordable.
Suppliers are trying to meet those demands by enhancing their product lines or developing new options.
Progressive Railroading checked in with 11 fastener and fastening system suppliers to gauge the state of product-improvement efforts. Their emailed responses follow.
Pandrol North America
Pandrol North America continues to notch success with the PANGUARD rail fastening system, which can significantly reduce vibration and secondary noise, company officials said. Called VANGUARD everywhere but in the United States and first installed in 2003 in London, PANGUARD features a low profile that's suitable for new construction projects as well as retrofit installations on bridges, tunnels and viaducts, they said.
More than 370,000 PANGUARD assemblies have been installed worldwide on slab track, and on concrete and wood ties. The system's low vertical stiffness provides high levels of vibration isolation, making it "an ideal solution for the most sensitive locations," Pandrol officials said.
Predictable performance has yielded substantial vibration reductions and a nearly maintenance-free history under axle loads up to 27.5 tons, they said.
The company also continues to offer the VICTOR tie-plate assembly system, which was introduced in 2005. The system combines the durability of an AREMA tie plate with the benefits of resilient fastenings, according to Pandrol. The flat tie plate provides the maximum load bearing area, while the Pandrol fastenings provide all the advantages of resilient fastenings — holding power, rail rollover prevention and reduced maintenance, company officials said.
Offered in an 18-inch plate configuration since introduction, the assembly has been reconfigured for 16-inch plate applications where an 18-inch plate might not be necessary, Pandrol officials said.
Progress Rail
Offering fastening solutions for industrial, light-rail, mass transit and heavy-haul applications is the primary objective for Progress Rail. Its broad range of traditional fastening products include rail anchors, e-clips, the ME Series, Safelok concrete tie systems, MACRO Armor for rail seat abrasion protection and repair, and GageLok screw spikes.
A Caterpillar company, Progress Rail also offers ballast mat and under tie pad (UTP) products, embedded rail systems, embedded block systems (EBS) and direct fixation assemblies that offer improved acoustical and vibration performance, and increased load sharing.
The company continues to develop and offer in drive-on and spring type rail anchors, and continually seeks ways to improve them, company officials said.
In addition, Progress Rail provides many other fastening systems, including Gagelok screw spikes. The screw spikes are available as direct replacements for cut spikes (in 11/16-inch diameter) or as high-strength screw spikes (in 15/16-inch diameter).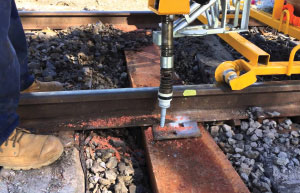 Progress Rail
"Railroads can realize significant maintenance savings with these [spikes], as they exhibit maintenance-free life and resist backing-out and plate cutting," Progress Rail officials said.
The company's ballast mats are designed to protect concrete bridge decks, reduce ballast degradation and ground-borne vibration, and lessen impact loads on bridges to extend structure life. When mats aren't feasible, next-generation UTPs are available to provide resilience under ties, Progress Rail officials said. The company's recent innovations include EBS for heavy-axle loads and integrated replacement block systems for transit applications.
Progress Rail also aims to continue broadening its direct fixation offerings with high-attenuation direct fixation assembly designs, such as the company's patent-pending acoustical direct fixation fastener (ADFF) platform. ADFF products can achieve between 12,000 to 75,000 pound/inch vertical stiffness to suit design needs, with less components and at lower cost than competing designs, Progress Rail officials said.
L.B. Foster Co.
Relying on its product development expertise helps L.B. Foster Co. introduce solutions to the market that meet customers' unique needs, company officials said.
L.B. Foster continues to focus on developing and commercializing fastener technology for North American transit agencies.
For example, a new state-of-the-art high resilient fastener the company introduced earlier this year recently was approved by Sound Transit. The fastening system is typically deployed close to buildings and other structures to minimize ground-borne vibration and noise.
"Over time, we feel that this fastener will fill certain market requirements as transit agencies continue to expand their operating footprint into highly sensitive areas," L.B. Foster officials said.
The company also continues to introduce various designs of resilient tie systems, which incorporate a concrete block, elastomeric boot and pad, insulator and clips. L.B. Foster, which recently received a project award in the northeast U.S. for such efforts, continues to design resilient tie systems for upcoming West Coast projects. The development activity also is supported internally by L.B. Foster subsidiary CXT Inc. which manufactures concrete ties and other precast concrete products.
"These are examples of how [we] expand our product portfolio based on the specific needs of passenger-rail systems throughout North America," company officials said. "Coupled with our strong ongoing relationships with engineering design firms and transit agencies, we are well positioned to take advantage of upcoming transit projects."
voestalpine Nortrak
The voestalpine group has designed and manufactured fully bonded rail fastening systems for transit and high-speed rail properties throughout Europe and Asia for more than two decades. The group has integrated rubber to metal bonding manufacturing capabilities at voestalpine's Brandenburg, Germany, facility with a team of experienced engineers, company officials said.
In collaboration with their colleagues in Germany, voestalpine Nortrak's Rail Fixation team located in Cheyenne, Wyoming, has launched a new fully bonded direct fixation rail fastener for transit applications in North America.
"Nortrak is unique in that we have our own foundry in Decatur, Illinois, that can produce manganese and ductile iron for special trackwork and rail fasteners," company officials said. "Having in-house ductile iron and rubber bonding expertise allows [us] to bring new products to the market with uncommon speed, develop high-performance fasteners with cutting edge material, and design features and reduce costs with our vertically integrated supply chain."
Since Nortrak controls the manufacturing process, the company can meet the most challenging timelines, they added. The company also strives to control product quality throughout the manufacturing process with full traceability down to raw material inputs.
Nortrak recently commissioned a new repeated load test center and developed a new direct fixation fastener targeted at U.S. transit customers. The new fastener is designed to significantly reduce stress on the rubber and minimize impacts on the ductile plates by employing a "unique approach" to ductile plate designs and a custom rubber formulation, voestalpine officials said. The innovations will enhance the durability of the Nortrak DF fastener compared with other products that have known failures such as broken top plates and rubber de-bonding, they said.
Miller Ingenuity
Customers frequently complain that they are spending most of their time tightening up track bolts that come loose from track vehicle vibrations, Miller Ingenuity officials said. The company's ReLok™ fastener system — a vibration-proof, self-locking nut — can increase a customer's hardware lifecycle and reduce maintenance labor costs, they said. Its design features the annulus of the nut being forced into the collar during vibration movement, helping to capture, retain and deliver the energy back to the joint to deflect shock and vibration.
Although the system is a locking fastener, customers can reuse it for multiple installations and remove the fastener using the same amount of force needed to tighten it, Miller Ingenuity officials said.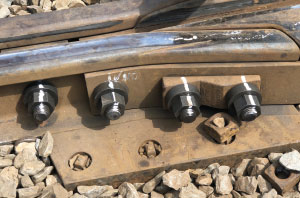 Miller Ingenuity
The two-part ReLok system recently was enhanced to feature a unitized version that minimizes parts for inventory and makes installation easier for maintenance crews. The system has been tested at a Norfolk Southern Railway diamond test location in Bremen, Georgia.
"The enormous lateral forces of trains on this crossing create a very severe condition by itself and the addition of the constant cyclical motion of automobiles running across this intersection have caused all other fasteners to fail quickly," Miller Ingenuity officials said. "ReLok has held strong for two years at a location that was previously under constant monitoring and upkeep."
Vossloh Fastening Systems
Vossloh Fastening Systems' products have become the standard for many Class Is since the company introduced its fasteners in 2006, Vossloh officials said. The company's growth in the rail market can be attributed to some of the benefits built into the fastening system, such as it being completely captive with no need for an insulator and featuring a large bearing surface that can support lateral loads in demanding curves, they said. In addition, the secondary stiffness provided by the angled guide plates and rail tilting protection delivered by the tension clamp add an extra layer of safety to the fastening system.
Those benefits are now being realized in the transit market, as well. Designers and contractors are experiencing reductions in required time and labor during installation, thereby realizing cost savings, which is the driving factor in the change from traditional elastic fasteners, Vossloh officials said. Recent notable projects include the Baltimore Purple Line and Brightline passenger-rail line in Florida, they said.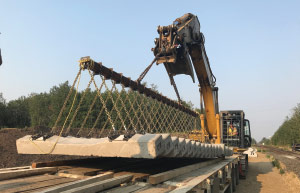 Vossloh Fastening Systems
When de-stressing continuous-welded rail, the tension clamps are simply loosened (allowing the rail to run) and re-tightened, with no need for handling of components or swinging heavy tools, Vossloh officials said. Installing the tension clamp multiple times does not result in a loss of toe load, so clamping force is maintained over the full life of the fastening system.
"Transit lines' unique insulation requirements also lend themselves well to [our] fastening system; the assembly is always fully insulated by the use of nylon in the anchorage, eliminating the need for toe insulators and their typically oft-required replacement," Vossloh officials said.
The company continues to work with its industry partners to ensure that all components arrive at the job site preassembled on a tie so the installation process is faster and minimizes material shortages.
Lewis Bolt & Nut Co.
As has been the case for much of the rail supply industry, 2018 has been a very busy year for Lewis Bolt & Nut Co., officials at the firm say. In past years, a slowdown in orders is typical for late summer and into fall. But this year has been an exception since orders have remained steady throughout 2018, company officials said, adding that all things are pointing to another good year in 2019.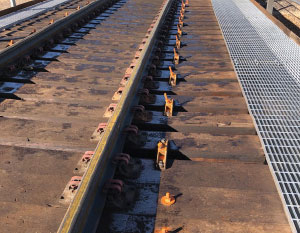 Lewis Bolt & Nut Co.
"The one caveat to this is the Class Is getting the track time required to get their maintenance work done. We'll see," they said.
The company has continued to focus on improving efficiencies, such as by implementing new technologies and providing additional training programs so workers can more easily adapt to the technologies. In addition, Lewis Bolt has increased capacity by adding new equipment.
The company prides itself on communicating and working closely with its customers to meet their needs and expectations, while also helping solve problems via the creation of new fasteners or fastener systems, Lewis Bolt officials said. So, innovation is a key to the company's success, they added.
"One recent example is the new patented Quick-Set® Hook Bolt System, [which] saves considerable time as all installation is done from the top of the deck as opposed to below," Lewis Bolt officials said. "It's extremely safe versus the old system, and it's very easy to inspect and adjust as needed."
The system has been thoroughly tested at the Transportation Technology Center Inc. in Pueblo, Colorado, and has been adopted by Class Is, short lines and transit systems, they said. Lewis Bolt plans to unveil other new products over the next year to 18 months.
Construction Polymers Technologies Inc.
Construction Polymers Technologies Inc.'s (CPT) fastener business primarily involves three roles: the designer and manufacturer of specialty pad/plate fastening systems, primarily for use by MTA New York City Transit; the North American licensee for Sonneville AG to produce its low vibration slab track system (LVT); and the U.S. licensee for Delkor Rail to manufacture its bonded direct fixation fasteners (DFFs).
This year, the company has placed "a great deal of emphasis" on developing its line of rubber bonded DFFs, CPT officials said. Delkor Rail has more than 30 years' experience in the development of DFFs and CPT/Delkor have developed a line of "drop-in" replacements for many of the legacy DFFs used by U.S transit agencies, they said.
The drop-in replacement fasteners feature a Delkor Alt 1 design that's proven effective at noise and vibration attenuation and withstanding high lateral loads, CPT officials said. In addition, the design places less strain on the fastener anchorage positions and helps prevent loose anchor bolts.
Construction Polymers Technologies
CPT also offers high resiliency EGG DFFs, standard and low-profile EGGs for special trackwork, and a new dual-stiffness, low-profile EGG that reduces the rail seat height by about an inch.
"The low-profile feature is ideal for use where structure height is an issue, while the dual-stiffness feature allows for the passage of heavier axle load mixed traffic on the same DFF," CPT officials said. "We are also working with the U.S. freight railroads on the development of a DFF for use on timber structures and in tunnels."
Delkor Rail has extensive experience in developing heavy haul DFFs and has had rubber bonded DFFs in service for 30 years in some of Australia's most extreme track conditions, they said.
Nord-Lock Inc.
Nord-Lock Inc. washers are designed to keep bolted joints secure and eliminate the need for re-tightening, even under severe vibrations. The company's new lifetime warranty provides confidence that bolts will no longer come loose, company officials said.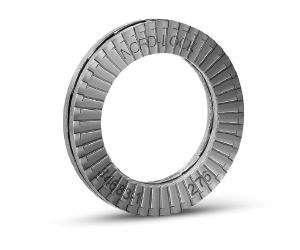 Nord-Lock Inc.
Nord-Lock's wedge-locking technology secures the bolted joint with tension instead of friction. Two washers are used together, with cams facing each other and radial teeth on the opposite sides.
When attempting to loosen, the cams ramp up against each other, creating a wedge underneath the bolt head/nut, while the teeth grip the mating surfaces. The rise of the cams between the two washers is greater than the bolt's thread pitch, so it's impossible to rotate loose by itself, Nord-Lock officials said.
The company's washers maintain clamp load, are easy to install with standard tools, can withstand the same temperatures as the bolt/nut, support heavy loads and are available with an enlarged outer diameter for flanged nuts/bolts, they said.
Rails Co.
For many years, Rails Co. has supplied bridge tie anchors. Several specially designed types are available, including the Rails BC-6555 and Rails HCP bridge tie anchors.
The Rails BC-6555 anchors feature an offsetting mounting hole that provides a way to fasten open deck bridge ties to supporting steel members where anchor bolts can't coincide with the edge of the structure due to interference on top.
The design exerts spring tension that provides a constant friction force between the bottom of the tie and the girder, holding them together and preventing lateral movement. The spring action compensates for shrinkage, seating and stresses caused by flexing of the tie under wheel loads, Rails Co. officials said.
The Rails HCP anchors feature spring steel construction that provides a spring action to absorb variations if pressure caused by flexing of the tie occurs under wheel loads. The bridge tie anchors replace hook bolts that can loosen due to tie deflection and shrinkage. The anchors are designed to prevent skewed tie, split guard rails and other structural defects, Rails Co. officials said.
In addition, the length and contour of the anchors and the slotted shape of the bolt hole allow for variations in cover plate thickness with no loss of holding power, they said. Three anchor models are available: the HCP-15 for cover plate thickness to 1.5 inches; the HCP-25 for cover plate thicknesses to 2.5 inches; and the HCP-45 for cover plate thicknesses to 4.5 inches.
J.Lanfranco Fastener Systems Inc.
J.Lanfranco Fastener Systems Inc. provides all metal locknuts worldwide in both metric and imperial sizes for what the company characterizes as mission-critical installations. Its dual-sotted, all metal locknuts offer a single-piece design without any inserts. The nuts are available in different wrench pads and can be installed with any standard bolt using standard tooling such as impact wrenches.
The locking action is completely independent of bolt tension and will not damage bolt threads, J.Lanfranco officials said. This type of locking action offers consistent performance with ease of use in a variety of service applications and installation conditions, they added. Because of their standard sizing and compatibility with standard bolts, the locknuts are ideal for change outs in the field and in remote areas where smaller crews might be working with difficult access to special tooling, J.Lanfranco officials said.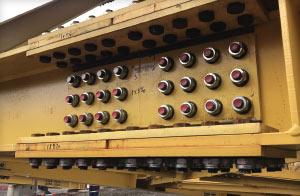 J.Lanfranco Fastener Systems Inc.
The company recently realized two major achievements: Last year, its THU locknuts were installed on one of the busiest diamonds in eastern Canada, while in August its ESL nuts were used exclusively in the reconstruction of the Tolten Bridge in Chile. More than 200,000 nuts were installed during the bridge project.
After one year in service on the busy diamond in Canada, the locknuts have showed no signs of loosening, J.Lanfranco officials said. Those results have been maintained on other properties even when installed in extremely cold temperatures (-25 degrees F) and facing spring thaws afterward, they said.
Email questions or comments to jeff.stagl@tradepress.com.
---
Keywords
Browse articles on
Pandrol North America
Progress Rail
L.B. Foster Co.
voestalpine Nortrak
Miller Ingenuity
Vossloh Fastening Systems
Lewis Bolt & Nut Co.
Construction Polymers Technologies
Nord-Lock Inc.
J.Lanfranco Fastener Systems Inc.
Rails Co.
rail fasteners
Contact Progressive Railroading editorial staff.