Newsletter Sign Up
Stay updated on news, articles and information for the rail industry
Rail News Home
Supplier Spotlight
June 2019
Rail News: Supplier Spotlight
Ballast Management Equipment Update 2019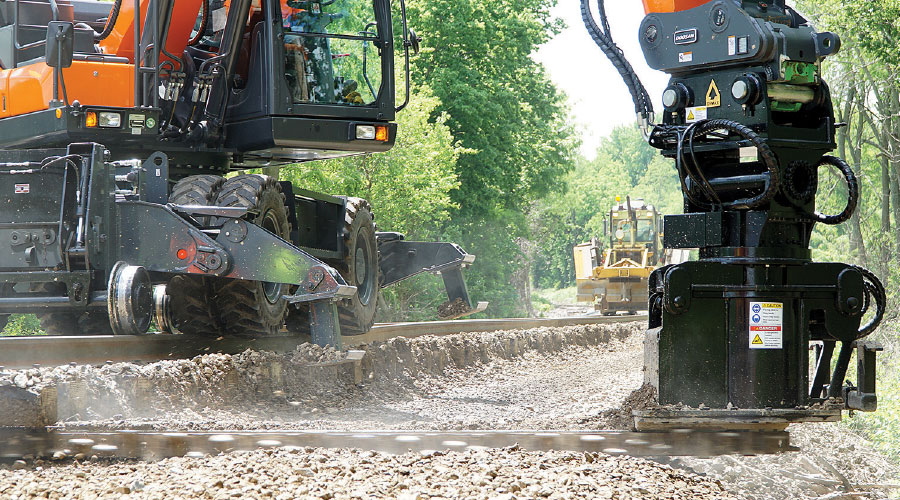 Compiled by Walter Weart
Ballast is a critical component in maintaining track structure by supporting drainage and holding rails and ties in place. Railroads try to manage or replace ballast that's been fouled due to a build up of mud and debris, which can impact drainage.
To that end, there's a lot of those crushed rocks to be placed along track this year, according to ballast figures cited in the 2019 Maintenance of Way Spending Report published in Progressive Railroading's April issue. BNSF Railway Co. expects to install 4.4 million tons; Norfolk Southern Railway, 2.1 million tons; CSX, 2 million tons; Alaska Railroad Corp., 37,500 tons; Red River Valley & Western Railroad Co., 29,000 tons; and Indiana Harbor Belt Railroad Co., 20,000 tons.
To distribute ballast, many railroads use specially equipped cars. Earlier this year, Watco Cos. LLC's Arkansas Southern, Mississippi Southern and Vicksburg Southern railroads jointly purchased 10 ballast cars. The benefit: Each short line can source ballast locally, saving about $23 per ton, according to Watco's May newsletter.
To help railroads better manage ballast, suppliers are striving to keep the equipment enhancements coming. Progressive Railroading contacted nine of them to learn about the latest upgrades and offerings. Their emailed responses follow.
DymaxRail
DymaxRail continues to develop ballast maintenance work tools. The company's Ballast Blaster Undercutter now features a new-and-improved automatic chain tensioning system, more powerful chain drive motors and improved bar rotator designs. The machine's performance has increased across the board, company officials said.
DymaxRail Ballast Blasters work with all brands of excavators, so users are not locked into a single brand or supplier for a machine and tool, they said.
"Customers can buy a machine at [a good] price and work with DymaxRail to get a Blaster to match the machine," said DymaxRail President Scott Balderson.
DymaxRail's single- or twin-motor ballast tamper complements the Ballast Blaster. Featuring a more powerful motor, it offers excellent performance over other excavator or backhoe-mounted tamping units, company officials said. A new vibrating drive system improves service life and helps deliver increased performance.
A recent addition to the DymaxRail ballast maintenance lineup: the Hydraulic Clam Cribbing Bucket for backhoe loaders and excavators.
"It's the multi-tool for the backhoe. Over 20 tons of force allows operators to dig cemented ballast, change ties or lift rail if needed," said Balderson.
Georgetown Rail Equipment Co.
This year, a premium has been placed on ballast delivery, Georgetown Rail Equipment Co. (GREX) officials said. Flooding in the Midwest and Southern Plains has meant that large volumes of rock are needed to help restore damaged right of way. Even armored tracks are subject to washouts, and the rains coupled with snowmelt this year have led to substantial problems for customers, company officials said.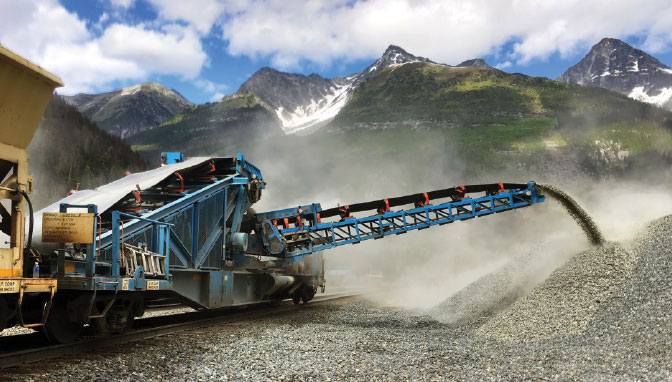 Georgetown Rail Equipment Co.
GREX has been no stranger to these situations, and its "experience and unique equipment offerings" regularly provide an opportunity to assist customers, they said.
The company's DumpTrains have been the stalwarts of GREX's casualty response fleet. From the first units that were introduced in the early 1990s to the company's newest units that allow for unloading of material within curves, the trains and their operators have seen numerous washouts, GREX officials said. The ability of the trains to place material exactly where it's needed is key, they added.
The company's second-generation Solaris/GateSync solution was released last year. So far, the response has been very positive, GREX officials said. The kits enable customers to extend the life of existing assets or buy new cars. Customers can use the kits to safely operate the unloading of their ballast cars via the use of toggles, remote controls or an automated unloading solution.
GREX also released HydraDump, its second-generation side-dump conversion solution. It allows customers to change out the air unloading mechanism on a car for a reliable hydraulic solution that offers enhanced safety features and minimal maintenance costs, company officials said. A new feature of the HydraDump also allows for an optional remote control that allows the operator to stand far away from a car while it's being unloaded.
Herzog Railroad Services Inc.
Recent flooding in the Midwest has taken a toll on rural communities and impacted Class I operations. Since late March, several of Herzog Railroad Services Inc.'s Automated Conveyor Trains (ACT) have been working around the clock to restore operations in areas of heavy washouts, company officials said.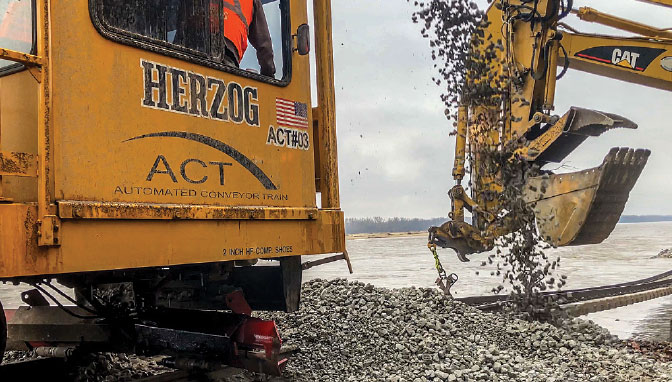 Herzog Railroad Services Inc.
"[We are] experiencing an increased demand for ACT units because of the machine's high distribution rate and flexibility," said Ryan Crawford, manager of ballast operations for Herzog Railroad Services. "We are able to discharge a full 30-car consist without experiencing downtime by switching cars. And because the machine only requires one operator within the cab, we can work safely and efficiently along track beds that are surrounded by floodwaters."
The ACT is designed to discharge a variety of materials in one consist, including yard ballast. An operator specifies which cars to unload through the ACT's automated programming feature and then monitors the distribution. As it moves along the track, the ACT can unload about 2,800 tons of material in two hours, averaging four minutes per car.
Another advantage of the ACT: an ability to distribute rock in curves and S-curves, company officials said. The 35-foot boom can unload material 50 feet from the track center while automated plow strikes move material built up in the center of the track.
Safety has always been Herzog's primary concern, company officials said. Engineers designed the ACT so a single operator can control all distribution operations from a climate-controlled cab. That design eliminates the need for personnel on the ground, where they can be exposed to harmful silica dust or adverse weather conditions, company officials said.
Knox Kershaw Inc.
The KBR925 ballast regulator provided by Knox Kershaw Inc. is designed for ballast work on all types of track. Visibility, especially the wing areas, makes it an ideal machine for final profiling, company officials said.
The regulator's plow and wing work together to transfer ballast from shoulder to shoulder in one pass while leaving one shoulder profiled. The insulated broom box has a long service life, and the standard reversing valve allows ballast to be swept away from switches and grade crossings, company officials said.
The cab tilt feature and clean roof design promote safety and ease of maintenance by providing easy access to major machine components without needing to climb under or on top of the cab, they said.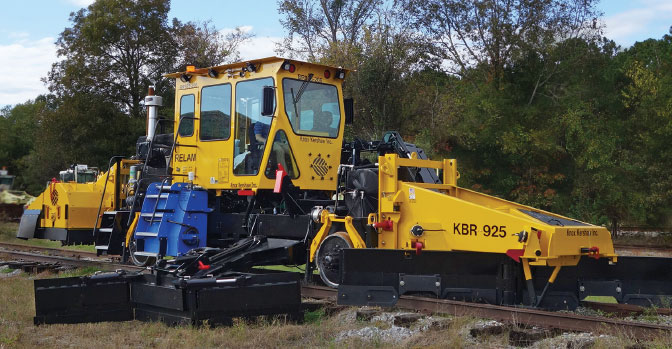 Knox Kershaw Inc.
The regulator's standard features include a hydraulically driven AC with pressurizer, joystick controls on a comfortable operator's seat with easy access to all controls, tinted windows, additional riders seating and a six-speed powershift transmission.
New features for the 2019 KBR925 include a Danfoss Plus One control system, front-mounted Visionaire hydraulically driven AC with high capacity pressurization, and increased fuel and hydraulic fluid capacities.
The Plus One controller will include a 12-inch color touch screen monitor to display all machine functions and diagnostics. The controller will aid operators in processes such as joystick functions, transmission shifting, wing deploy/store and brooming speed control, as well as self-diagnosis of performance issues, company officials said. Clogged filters, inoperable coils or wiring, fluid pressure warnings, engine diagnostics and on-screen trouble shooting guides will enable operators and mechanics to diagnose issues and quickly resolve them, they said.
Loram Maintenance of Way Inc.
While there have been many machines designed to clean shoulder ballast, Loram Maintenance of Way Inc.'s High Performance (HP) shoulder ballast cleaner "sets the standard for production, quality, reliability and overall cost effectiveness," company officials said.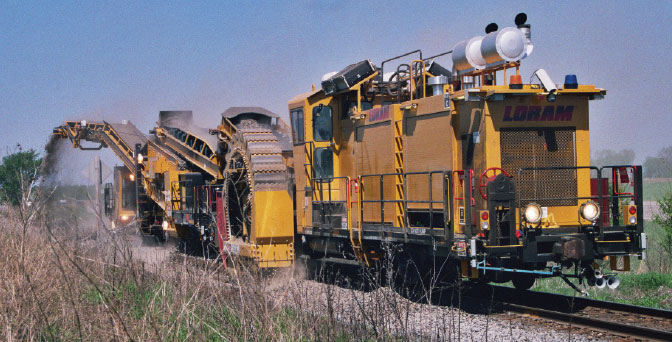 Loram Maintenance of Way Inc.
The self-propelled HP shoulder ballast cleaners use twin 30-inch wide digging buckets to clean ballast from the tie ends outward to the edge of the ballast section, digging as deep as 16 inches below the top of a tie. Scarifier teeth undercut the tie ends to 5 inches, breaking up mud pockets and restoring drainage. A conveyor transfers the fouled ballast to a series of vibrating screens, where fines are separated and discharged up to 29 feet from the centerline of track. The screen is set at an optimum angle for proper separation of fines and ballast. Screen level is adjustable to compensate for super elevation and to transfer ballast from side to side as required.
Loram's HP machine then distributes the cleaned ballast along either or both shoulders and regulates to the shape specified by a railroad. Any ballast that may have come to rest on top of the tie ends is then broomed into the ballast section.
After a job is done, the maintenance performed by the HP extends the tonnage between surfacing and undercutting cycles, extends ballast and tie life, and reduces the occurrences of frost heaves, Loram officials said.
Miner Enterprises Inc.
Miner Enterprises Inc. offers safe, durable and maintenance-free ballast systems that can be applied to new or existing cars. The AggreGate® is designed to effectively distribute ballast inside, outside or on both sides of a rail simultaneously. Its features include large guillotine door openings designed to stop ballast flow with minimum effort, easy to operate toggle-type linkage systems and tapered doors for easy ballast shutoff at switches, crossovers and bridges.
In addition, the remote-control AggreGate enables a user to deposit ballast while remaining a safe distance from the activity, company officials said. AggreGate ballast discharge outlets are available in manual, air-operated, electric and remote-control models to meet many ballast unloading needs. Engineered as a fabricated and completely assembled unit, the AggreGate is easy to apply to new or existing hopper cars, Miner officials said.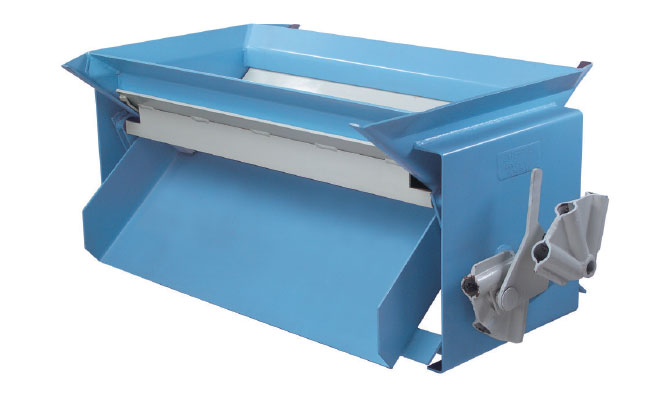 Miner Enterprises Inc.
The electric stand-alone AggreGate enables independent operation of a car from anywhere within a ballast train, eliminating the need for grouping manual and automatic cars. The state-of-the-art electronics promise improved reliability, longevity and performance, company officials said.
Miner works closely with customers to decipher all their ballasting needs, they said. Recently, the company developed a stand-alone lighting system to aid in night ballasting. The system uses solar panels to store energy during the daylight hours for powering LED work lights at night, providing a safer work environment during night operations, Miner officials said.
The AggreGate is available in pry bar manual, push button, or remote-control operations using pneumatic or electric power to operate the gates.
Montana Hydraulics LLC
Montana Hydraulics LLC has a solution for the problem of frozen ballast cars: a self-propelled, sliding tarp system for ballast cars.

Montana Hydraulics LLC
Although tarp coverings for ballast cars aren't a new concept, the products available to rail companies can be dangerous and have a proven record of failure, Montana Hydraulics officials said. Some issues include, but are not limited to, tarp bow damage by front-end loaders, tarps stuck so pits fill ballast on a tarp's top, tarp handles and roll tubes hanging dangerously off the side of the car, and personnel having to climb onto the car to fix or operate the system, they said.
Montana Hydraulics' tarp system is designed to address all the safety, ergonomics and reliability concerns. It consists of a low temperature, top coat, 20-ounce tarp material supported by heavy duty bows and robust anti-lift system to ensure that even the strongest winds and the heaviest snow loads will not damage the tarp, company officials said. The entire system condenses into a 30-inch package at the A end of the car for loading, avoiding smashing bows with a front-end loader at the pit as the bows are slid completely out of the way.
The system's ergonomics enable a worker to walk up to any side of a car, push the open or closed button and walk away, preventing cranking, rolling or back injuries, Montana Hydraulics officials said.
Plasser American Corp.
Plasser American Corp. offers the BDS-100 and BDS-200 ballast distribution system to restore proper ballast so track can be correctly maintained and adequately tamped. The system's shoulder plows are capable of retrieving ballast that conventional ballast regulators can't reach, Plasser officials said. The pickup ballast broom can load excess ballast, which can be unloaded where needed.
The ballast distribution system features two independent units that can work together or individually. The BDS-100 is equipped with a hopper for ballast storage, four conveyors for ballast distribution, and Plasser's shoulder and X-type plows for ballast profiling. The BDS-200 is equipped with two ballast brooms.
The "pick-up" broom sweeps the excess ballast from a track onto a conveyor, which loads the ballast into the BDS‑100 or a Plasser MFS-type conveyor and hopper car, while the "finishing" broom provides the final track dressing.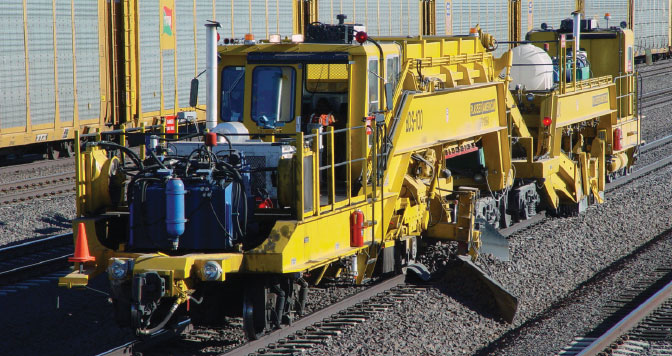 Plasser American Corp.
The system's ballast handling capacity can be increased by coupling Plasser MFS-type conveyor and hopper cars between the two units. All work can be performed in one pass.
The BDS-100 or BDS-200 systems can accompany high-speed 09-3X tampers for final track dressing or work as an independent machine to distribute ballast. When working as an independent machine, it can be used to pick up excess ballast from the track shoulders for distribution as needed at any location, including switches, company officials said.
Progress Rail
Progress Rail offers Kershaw® ballast regulators, which feature updated technology to address two critical areas.
First, the latest changes provide an enhanced operator experience by ensuring machines respond more intuitively with new integrated microprocessor controls, Progress Rail officials said. Operators witness simplified and improved interactions with major systems, while a 12-inch monitor displays the control functions, machine and engine status.
Second, reduced cost of ownership means less downtime by alerting operators and service technicians to potential issues before they occur, company officials said. And with reduced troubleshooting, railroads can take proactive measures to maintain the life of their fleets. Additionally, a full line of carbide wear components are available to extend the life of MOW equipment and reduce consumable costs.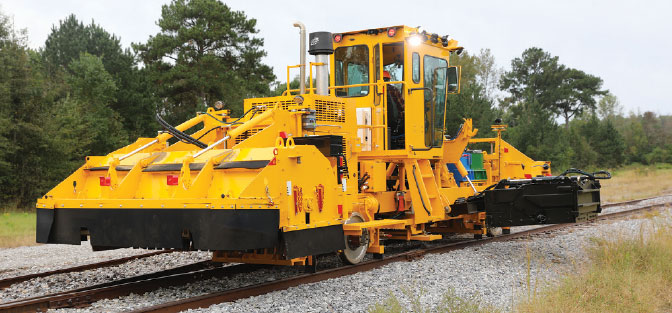 Progress Rail
Progress Rail has released a brushcutter attachment for its Kershaw Model 60 ballast regulator to help control vegetation beyond routine ballast maintenance. The regulator also converts into a snow removal machine with a separate blower or plow attachments for winter service.
Progress Rail also launched a customer-focused website dedicated to all its Kershaw machines, allowing users to search for machine-specific parts, build parts lists and view individual parts for accurate parts ordering.
All related operational and maintenance manuals, parts manuals and service bulletins are available for immediate downloads, Progress Rail officials said.
Walter Weart is a Denver-based freelance writer. Email questions or comments to prograil@tradepress.com.
---
Keywords
Browse articles on
BNSF
CSX
Norfolk Southern Railway
Alaska Railroad
Watco Companies
DymaxRail
Georgetown Rail Equipment Co.
Herzog Railroad Services Inc.
Knox Kershaw Inc.
Loram Maintenance of Way Inc.
Miner Enterprises Inc. Montana Hydraulics LLC
Plasser American Corp.
Progress Rail
Contact Progressive Railroading editorial staff.