Newsletter Sign Up
Stay updated on news, articles and information for the rail industry
SPONSORED
NARSTCO - Branded Feature
Steel Ties Offer Cost, Operational Efficiencies Relative to Other Options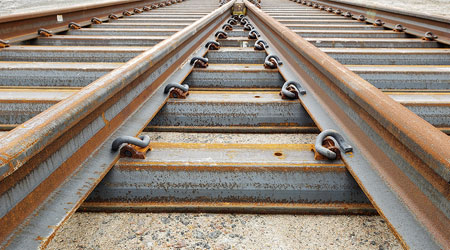 Class Is, short lines and rail-served industrial sites have a variety of tie options from which to choose - wood, concrete, composite and steel.
Historically, wood ties have been the de facto standard in the rail industry. However, rising disposal costs, a tightening of wood tie supply, concerns about product durability and questions about the environmental impact of creosote have prompted operators to look at alternatives. Concrete and composite ties check off some benefits, including the absence of creosote. However, those materials can still be quite expensive.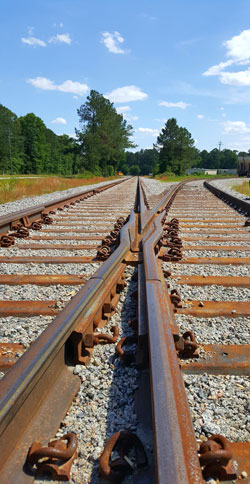 Steel ties address many of the concerns operators are focused on, including lower installation costs, lower lifecycle costs, reduced environmental impact and longer in-service life. Increasingly, NARSTCO sees more Class Is, short line railroads and industrial customers shifting their project specifications to steel.
NARSTCO, North America's leading manufacturer of steel ties and turnout sets, has been supplying its products to the rail industry for many years. Its products have been used in numerous locations and for a variety of operators, from ports, industrial rail yards to mainlines to transit agencies and beyond. NARSTCO, based in Midlothian, Texas, was acquired last year by RailWorks Corp., the leading rail infrastructure solutions provider in the United States and Canada.
"We're seeing a greater uptick in adoption of steel ties in the rail industry," said Bruce Jones, NARSTCO General Manager. "Steel is easier to install, less expensive to install and maintain, and lasts longer than other materials. These are key issues for our customers."
Versatile: Steel ties can be used in a variety of applications and can be customized to meet customer needs.
Extended service life: Based on installed steel ties in service today, steel ties can have a service life of more than 50 years, reducing track maintenance requirements relative to wood ties.
Less expensive: Steel ties are less expensive to handle and transport, last longer and require less ballast, which reduces overall costs.
Quick install: Steel ties are easier and faster to install than wood ties.



Steel ties, NARSTCO says, are less expensive to install and last longer than wood ties. For example, steel ties can be recycled, saving the cost of disposal; in addition, less ballast – up to 40 percent less – is required compared to wood ties. And, unlike wood ties, there are steel ties installed over 50 years ago which are still in service.
"Steel ties have the potential to be a huge disruptor for the rail industry," Jones said. "Railroads have a choice when it comes to their ties and turnouts, and the industry is really turning to steel as the next-generation material for their networks."
Project Profile: Scotland County, N.C.
Scotland County, N.C., located in the south-central part of the state, is of strategic importance for the economic development of the area. Conveniently located two hours from the Port of Wilmington, it's at a transportation crossroads for the region. Seeing this potential, the County's Economic Development department spearheaded the creation of two rail-served industrial parks to help drive even more prosperity to the region.
The first - the Laurinburg Industrial Park - is an 85-acre site located along I-15 in Scotland County. The new lead rail track into the facility was initially conceived with wood ties. However, Mark Ward, Director of Economic Development for the county, and other city officials quickly saw the benefits of switching to steel, particularly the reduced environmental impact of using recycled steel materials.  
In the end, NARSTCO was brought on to supply the steel ties and turnouts. The project, which was completed in 2019, covered over a mile of track and consisted of 2,800 NARSTCO Steel Ties and 4 Steel Turnouts, consisting of both insulated and non-insulated material.  
"Being a good steward of the environment is everyone's job and SCEDC sees the importance of using recycled material. If there is ever damage to a steel ties we can provide to a recycle company instead of placing a wood tie into a landfill," Ward said.
For more information on steel ties, please visit:
https://www.railworks.com/brands/narstco