Newsletter Sign Up
Stay updated on news, articles and information for the rail industry
SPONSORED
Pandrol - Branded Feature
Driving Aluminothermic Welding 4.0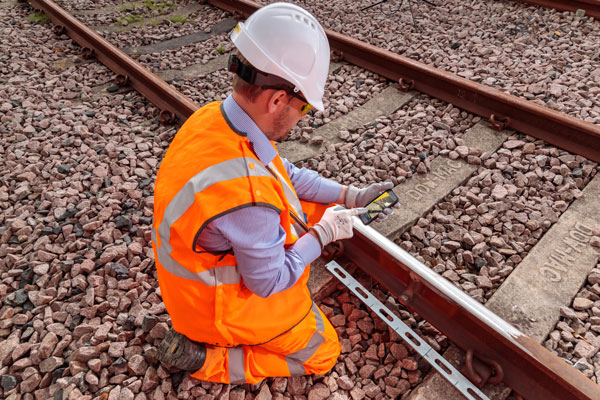 Introduction
New developments in the rail's mechanical proprieties, reduction of track maintenance costs, and safety improvements are all major factors to address when developing dedicated welding products in alignment with railroad requirements.

For many years, Pandrol has invested in technical solutions to improve the mechanical proprieties of aluminothermic welds used in heavy haul applications. Pandrol's welding research and development department has adopted rapid digitization, rapid prototyping and digital simulation solutions. The primary goal of these new technologies is to identify the cause of weld defects in order to reduce their frequency.
Investigation & analysis
The below image shows a defective weld assumed to be caused by preheating and sandmold geometry issues, according to the on-site preliminary findings. Pandrol undertook multiple test welds in order to confirm the assumption. These tests indicated that overheating of the molds in addition to a shrinkage could be the cause of the defect.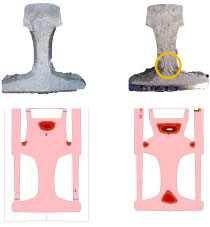 In addition to test welds, digital simulation was undertaken to better understand the aluminothermic weld that caused the defect. This technology helped the R&D department understand the complex physical phenomena that occurred during the weld.

The new Pandrol Preheating Controller allowed for accurate measurements of the preheating parameters during these test welds. Thanks to the use of digital simulation and the precision of the Preheating Controller, the on-site assumptions were proven to be correct, allowing the defects to be accurately replicated throughout the test welds.
Developing the solution
Based on these results, Pandrol's experts concluded that geometrical improvements, a casting slope, and optimization of the weld-cast parameters were required to rectify the problem.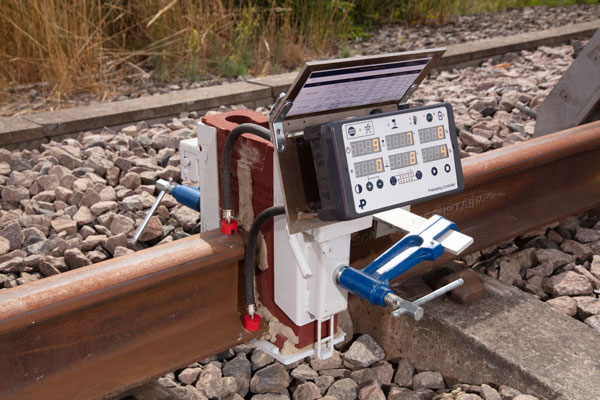 Digital simulation allowed Pandrol to accelerate the prototyping phases whilst reducing development and laboratory time. Moreover, it offered the possibility to optimize various casting parameters including the collar shape, temperature, cooling, and preheating using the Preheating Controller. Unlike other measurement tools, Pandrol's Preheating Controller monitors a variety of environmental influencers live on track including gas quality, temperature, and altitude. These technical innovations allowed for the sandmold geometry and preheating of the weld to be optimized for the best result. All controls - ultrasonic, bending and fatigue tests – confirmed the greatly improved weld performance.
Conclusions
The below graph shows the greatly reduced number of defective welds in track thanks to the adoption of these smart technologies. Thanks to these continuous improvements and innovations, Pandrol remains a world leader in aluminothermic welding with best-in-class product quality and the lowest failure rate.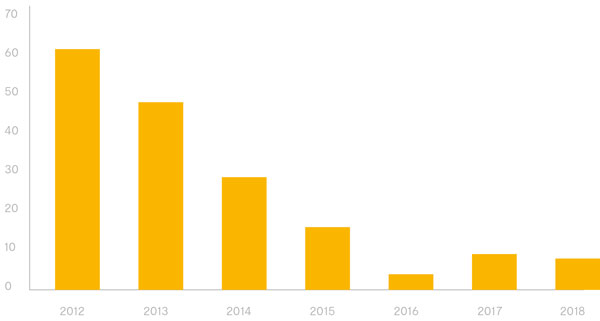 Pandrol's continued investment in new technologies such as digital simulation, the Preheating Controller, and the new High Flow Preheater, is vital for maintaining market leadership and shows Pandrol's commitment to adding value for customers. Furthermore, to ensure ongoing recording of data before, during and after welding, Pandrol has introduced the new Pandrol Connect mobile application to digitalize tracking and traceability of welding parameters.

The app was developed in response to the issues of weld traceability, which can be a major challenge in areas where many different contractors are involved.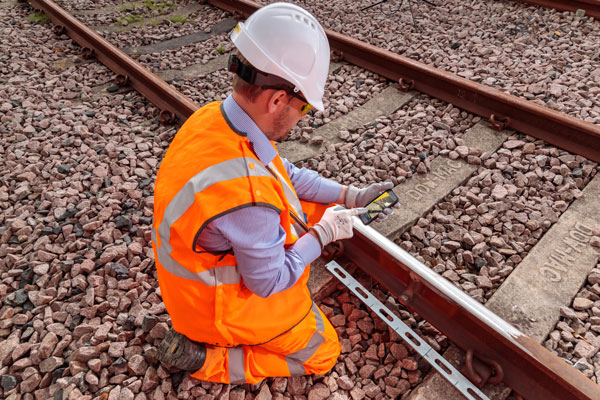 Efficient traceability is essential to gather, trend and spot anomalies in weld performance data, which is also crucial for optimizing costs. The app enables live data capture, a significant time saver for contactor teams.

These technical advancements allow Pandrol to support customers with digitalized approaches to welding, making good on the promise of Industry 4.0.

To see Pandrol's Preheating Controller in action go to:
https://www.youtube.com/watch?v=EQ6ZVSkm2R8