Newsletter Sign Up
Stay updated on news, articles and information for the rail industry
Rail News Home
Short Lines & Regionals
June 2017
Rail News: Short Lines & Regionals
Three-year-old short line nudges up the business-growth needle in Ohio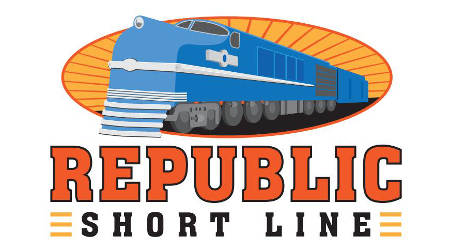 By Jeff Stagl, Managing Editor

Establishing the largest pipe yard in North America. Landing a contract to store and distribute cement. Forging a partnership to transload soybeans in export containers.

Those are some of the deals swung by Republic Short Line Railroad (RSL) over the past few years that either are paying off or soon will result in additional carloads and storage charges. The short line was established three years ago in a Massillon, Ohio, logistics park to provide transloading, storage and warehousing/laydown services. Owned by Massillon Logistics, RSL operates five tracks and interchanges with CSX (via R. J. Corman Cleveland Line) and Norfolk Southern Railway.

In 2004, Massillon Logistics founders Steve and Dave DiPietro acquired more than century-old steel mill properties totaling 465 acres and created the Massillon Energy & Technology Park. It took a number of years to demolish several large buildings and clear the site, then determine the optimal business options for the park — some of which initially didn't involve rail.

Massillon Logistics eventually created RSL and four other subsidiaries to operate at the park: Republic Trucking and Logistics, Ohio Freight Car Services, Tiger Sand & Gravel and Tiger Tarps & Liners. The company since has sought opportunities to exploit its vast amount of rail- and truck-served land, as well as to capitalize on the short line's access to two Class Is.

One major opportunity presented itself in 2014, when Energy Transfer Partners LP was seeking a large area to store pipe, components and equipment for its planned Rover Pipeline in Ohio, Pennsylvania and West Virginia. The 713-mile pipeline will be used to pump natural gas from the Marcellus and Utica shales to U.S. markets in the Great Lakes, Midwest and Gulf Coast regions, as well as to points in Canada. One segment will run from eastern Ohio to southeastern Michigan.

Energy Transfer officials were intrigued not only by the vast land available at the park, but by its central location, highway access and rail connections, says Garret Kloots, the vice president of business development for both RSL and Tiger Sand & Gravel. The park is near U.S. Highways 30 and 62 that run through Columbus and Youngstown, and State Route 21 that heads north to Cleveland. In addition, Interstates 71 and 77 are a short distance away, offering access to Akron and Canton.
Republic Short Line Railroad
In 2015, Energy Transfer opted to lease land and begin staging pipeline materials in Massillon.

"This was the first time they used a yard of this magnitude — they usually use small satellite yards for storage," says Kloots.

Massillon Logistics was in the midst of replacing old, dilapidated track in the park when it struck the Energy Transfer deal.

"The Rover Pipeline project helped to launch us into the rail opportunity right at about the same time that we were looking into potential track layouts and rail-served customers," Kloots said in an email.

From late 2015 through late 2016, about 70,000 pieces of pipe and components were brought to and stored at the short line's yard, making it the largest pipe yard on the continent, RSL officials say. CSX and R. J. Corman Cleveland Line delivered the materials at the rate of two units trains per week.

"Ninety percent of it came in by rail, but 100 percent is going out by truck," says Kloots. "We estimate that 60,000 trucks will take the pipe and components to various locations, including some remote sites."

Trucking the pipes and materials out of the yard began earlier this year, and about 70 percent still is stored there. Deliveries are projected to conclude in late 2017.

"This shows [the fruits of] our efforts to develop the land to handle this type of workload and volume," says Kloots. "We've been approached by other companies about storage and warehousing opportunities."

Count a cement company among them. Argos USA plans to work with RSL and its sister company Republic Trucking and Logistics to store, transload and deliver cement that's railed in from a neighboring state.

Beginning in July, NS will move the cement from Argos USA's Martinsburg, W.Va., plant to RSL's yard, where it will be pumped — via an automatic loading/unloading system — from rail cars into silos. The cement then will be transferred into trucks for delivery to end users.
Republic Short Line Railroad
The short line recently built two 10,000-cubic-foot silos to store the product, and created space for a possible third one. Republic Trucking will have cement tankers available to service customers, but RSL's cement terminal will be open to companies that prefer to use their own tankers, says Kloots. RSL expects to store about 100,000 tons of cement and handle 1,000 cement cars annually.

The park's highway access and proximity to several major cities again were a draw, helping to secure the Argos USA business, says Kloots. The short line worked on the deal for about a year.

The host of nearby highways also played a role in RSL winning business from Deerfield Farms Service Inc., which will translate into a new transloading operation come September. Local farmers will truck soybeans to the short line's yard, where they will be loaded into containers for rail transport to eastern ports. The location of the end user will determine which port and Class I are involved in the export moves.

The railroad and Deerfield Farms reached an agreement with Maersk Line to use its containers for the operation. Earlier this year, RSL began to build a transload facility, which Deerfield Farms will lease after it's completed in August.

The short line expects to handle 1 million bushels of soybeans in the first year of operation, then grow the volume, says Kloots. Over the next couple of years, the transload facility might begin handling such additional products as corn, wheat and fertilizers, he adds.

In the meantime, Massillon Logistics and RSL officials are hoping to build additional rail-related business. They're convinced the park's advantages will help them attract a wide array of customers.
---
Keywords
Browse articles on
Republic Short Line Railroad
CSX
Norfolk Southern Railway
R. J. Corman Cleveland Line
Republic Trucking and Logistics
Ohio Freight Car Services
Tiger Sand & Gravel
Energy Transfer Partners LP
Argos USA
Deerfield Farms Service Inc.
Contact Progressive Railroading editorial staff.