Newsletter Sign Up
Stay updated on news, articles and information for the rail industry
Rail News Home
Short Lines & Regionals
June 2014
Rail News: Short Lines & Regionals
OmniTRAX lands Oklahoma short line, lines up contract to operate Texas railroad
By Jeff Stagl, Managing Editor

Short-line acquisitions and operating pacts long have been key parts of OmniTRAX Inc.'s growth strategy. With a new railroad in the fold as of late May and a major operating contract ironed out in mid-June, the short-line holding company has made progress on both counts.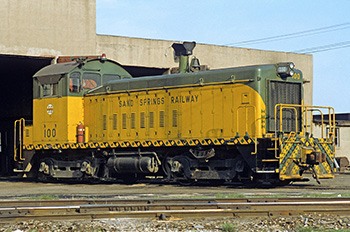 Sand Springs Railway
OmniTRAX Inc.
In late May, OmniTRAX's Sand Springs Holdings L.L.C. affiliate acquired the Sand Springs Railway Co., which operates 32 miles of track between Sand Springs and Tulsa, Okla. Expected to commence operations by July 31, the short line interchanges with BNSF Railway Co., Union Pacific Railroad and the South Kansas Oklahoma Railroad, and moves steel, pulpboard, scrap iron, scrap paper, petroleum products, plastics and lumber.
The Sand Springs Railway is OmniTRAX's 18th short line and the first venture in Oklahoma for the Denver-based company, which also provides transportation management, intermodal, industrial switching and port services.
The acquisition afforded an opportunity to gain a foothold in Oklahoma, where there's a lot of construction and manufacturing activity, including in the aerospace sector, says OmniTRAX Chief Executive Officer Kevin Shuba. In addition, many companies in the area support the crude-oil industry, such as by supplying lubricants and pipes.
"The market shows such great potential for growth. Tulsa is in the Top 10 for manufacturing growth, according to [federal] labor statistics," says Shuba.
As part of the Sand Springs deal, OmniTRAX Logistics Services plans to lease 100,000 square feet of covered warehouse space to serve steel and building products shippers throughout the greater Tulsa area and in other Oklahoma markets. The leased space will enable OmniTRAX to pursue transload opportunities, says Shuba.
Transload pursuits also will be part of the company's approach to operating the
Brownsville & Rio Grande International Railroad
(BRG) after OmniTRAX assumes control of the southern Texas railroad, perhaps in late summer. OmniTRAX recently forged a 30-year lease agreement with the Brownsville Navigation District to operate BRG, which serves the Port of Brownsville.
The district plans to lease its real estate — including BRG's administration building and two warehouses — to OmniTRAX just as it had previously leased to BRG, which provides common-carrier rail transportation services for all facilities located within the Cameron County, Texas, navigation district. BRG has been operating on behalf of, but under separate management and control from, the district.
BRG's network includes 45 miles of track throughout the district and five miles in the city of Brownsville. The short line interchanges with BNSF and UP, and has an intermediate connection via UP to Kansas City Southern de México S.A. de C.V.
OmniTRAX has submitted a filing to the Surface Transportation Board (STB) seeking approval to assume BRG's operations. Taking into account the STB's typical 60-day review period, OmniTRAX expects to gain control in late August or early September pending the board's blessing, says Shuba.
The agreement also calls for OmniTRAX to eventually purchase certain BRG assets — including 11 locomotives — and develop and market an industrial park covering 1,200 acres at the Brownsville port. The port currently has about 40,000 acres of land available for development and OmniTRAX has one year to develop a park master plan.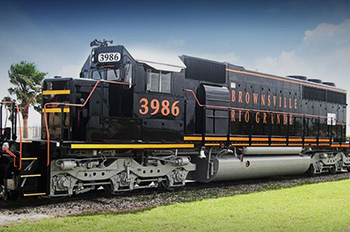 Brownsville & Rio Grande International Railroad
OmniTRAX Inc.
The chance to pursue industrial development opportunities and tap BRG's growth potential — as well as exploit the railroad's proximity to Mexico — made the lease agreement attractive to OmniTRAX, says Shuba. Traffic growth could be realized in the auto parts, energy and manufacturing sectors in both the United States and Mexico, he says. There's also a possibility of developing natural gas business due to energy reform efforts in Mexico and the anticipated development of the Burgos Basin just south of Brownsville.
Moreover, some crude and frac sand traffic might come BRG's way as shippers utilize Brownsville as an alternative Texas port for oil-related shipments.
For the navigation district, the pact was intriguing because of OmniTRAX's experience in managing short lines and developing a 700-acre, rail-served industrial park in Windsor, Colo., for its Great Western Railway of Colorado L.L.C., says Shuba. The company was able to attract name companies to the Windsor area, he adds.
"We think there are more customers we can bring [to the Brownsville park]," says Shuba. "There are things we can offer as a large company: our short-line expertise, our industrial development experience and the scale we do things at."
In addition, OmniTRAX and its parent The Broe Group have operated in Texas for more than 15 years.
After OmniTRAX assumes control of BRG, the company plans to retain all the railroad's personnel, and President and Chief Operating Officer Norma Torres will continue to lead BRG, says Shuba.
"It's a well-run railroad. Our role will be to go there and help them grow," he says.
Among OmniTRAX's immediate goals: making employees "feel at home" during the transition, integrating information technology systems and communicating with BRG customers, says Shuba.
An intermediate to long-range goal is to continue pursuing short-line acquisitions. There still are a lot of opportunities for OmniTRAX — currently the third-largest North American short-line holding company — including the potential for adding Canadian properties, Shuba believes. In Canada, OmniTRAX currently owns the Carlton Trail Railway Co. and Hudson Bay Railway Co., the Port of Churchill and OmniTRAX Canada Freight Services Inc.
"Some acquisitions will be opportunistic, like the Sand Springs Railway," says Shuba. "And there are some family-owned businesses out there that are attractive to us because we are a family-owned business."
---
Keywords
Browse articles on
OmniTRAX
Sand Springs Railway
OmniTRAX Logistics Services
Brownsville & Rio Grande International Railroad
Port of Brownsville
Brownsville Navigation District
Contact Progressive Railroading editorial staff.