Newsletter Sign Up
Stay updated on news, articles and information for the rail industry
Rail News Home
Short Lines & Regionals
April 2019
Rail News: Short Lines & Regionals
ASLRRA annual meeting: A time to address industry issues, honor award winners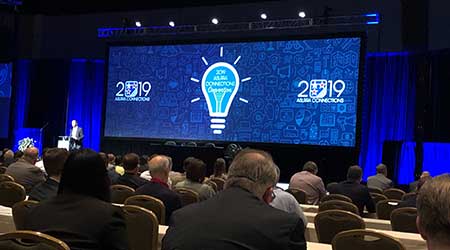 By Jeff Stagl, Managing Editor
American Short Line and Regional Railroad Association (ASLRRA) leaders and staff hoped to pull off the organization's 106th annual meeting without a hitch when they gathered April 6-9 in Orlando, Florida.

But an unexpected hiccup occurred: Chuck Baker, who became ASLRRA's new president Feb. 4 and was helming his first annual meeting, was battling laryngitis at the worst possible time. And a similar condition appeared to affect ASLRRA Chair Judy Petry — Farmrail System Inc.'s president and general manager — by the latter stages of the event.

Nonetheless, Baker and Petry were able to gut it out and execute their numerous speaking commitments during various portions of the 2019 Connections Convention. On the morning of April 8, Petry referred to the conference as "a time to connect" for attending members and hoped the event would help make 2019 "the most significant year to date" for their respective companies.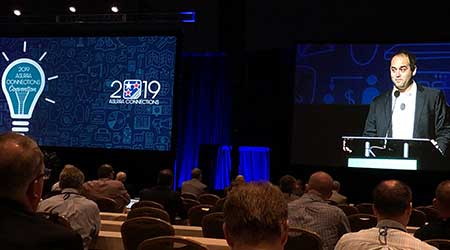 Photo: Jeff Stagl
With that in mind, the conference pretty much rolled out as planned, ASLRRA organizers say. The event attracted more than 1,700 attendees, offered nearly 200 exhibits presented by 194 rail industry suppliers and service providers, and provided 36 educational sessions that addressed such topics as accounting policy changes, performance evaluation best practices, lessons learned with positive train control, hosting congressional visits and cybersecurity.

"The Connections Convention continues to be the premier short-line railroad industry event and it exceeded our goals for the year," ASLRRA officials said in an email.

The formal conference presentations included two general sessions that drew hundreds to the main ballroom on two successive mornings. The sessions were anchored by keynote addresses from Surface Transportation Board (STB) Vice Chairman Patrick Fuchs on April 8 and Association of American Railroads (AAR) Senior Economist Luisa Fernandez-Willey on April 9.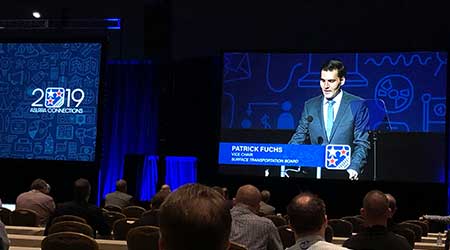 Photo: Jeff Stagl
Fuchs started out by describing the STB, which recently expanded to five members but currently has two vacancies, a Rebublican and Democratic seat. President Trump has nominated Michelle Schultz, the associate general counsel for the Southeastern Pennsylvania Transportation Authority, to fill the Rebublican slot, but there currently is no candidate chosen for the Democratic seat, said Fuchs. The STB is chaired by Ann Begeman, while Martin Oberman serves as the third member.

Fuchs then described several rail industry issues under consideration by the board. The STB is examining railroad demurrage and accessorial charges, and monitoring Class Is' efforts to implement precision scheduled railroading (PSR), he said.

Since fourth-quarter 2018, the STB has been closely analyzing Class Is' changes to demurrage and accessorial charges in their tariffs. The board has asked each Class I to provide information on quarterly revenue from such charges for 2018 and 2019, and will hold a hearing on the topic May 22, said Fuchs. Board members want to learn the current processes by which shippers, receivers and other parties can dispute demurrage and accessorial charges, and what systems or practices are in place concerning credits or debits that have been issued in connection with the assessment of demurrage or accessorial changes since Jan. 1, 2016.

As for PSR, every Class I except BNSF Railway Co. is employing or implementing the operational strategy. The STB wants to ensure the operational changes instituted because of PSR don't negatively impact service for shippers.

"We are closely watching PSR in the field," said Fuchs.

During her April 9 address, Fernandez-Willey stressed two things that bear careful scrutiny: the economy and the weather. Both have had big impacts on rail traffic of late.

Significant gains in 2018 had AAR officials and railroad leaders feeling pretty good about how traffic was trending, given the top 10 all-time weeks in volume all occurred last year and intermodal loads posted the highest annual gain — 5.5 percent — since 2010, said Fernandez-Willey. But then 2019 rolled around, and with it came frigid temperatures from a polar vortex, heavy snow and flooding rains from late January through March, she said.

"Intermodal had its first two-month decline since 2016," said Fernandez-Willey. "By March, carloads were just terrible."

The good news is intermodal volume's weekly average in March still was the second best in history and there currently are no signs of the "R" word, she said, referring to a recession. There are mixed signals from various macroeconomic indicators and many prognosticators expect slow economic growth in 2019, Fernandez-Willey added.

Trade concerns add a layer of uncertainty to economic growth in both 2019 and 2020 given China's retaliatory tariffs that are impacting U.S. soybean and sorghum crops, and 25 percent tariffs on foreign autos that are adding $2,400 to $4,400 to the price of such vehicles in the United States, she said. Trade generates about 35 percent of railroads' annual revenue. The movement of consumer goods is vital in the United States because consumption accounts for 70 percent of the nation's gross domestic product, Fernandez-Willey said.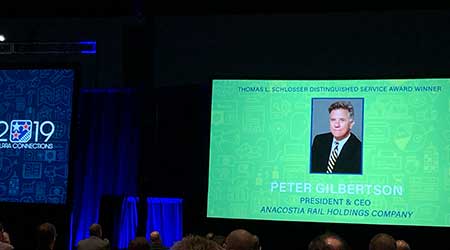 Photo: Jeff Stagl
In addition to the keynotes, annual award presentations dotted the agenda at the general sessions. On April 8, ASLRRA leaders presented the 2019 Thomas L. Schlosser Distinguished Service Award to Anacostia Rail Holdings Co. President and Chief Executive Officer Peter Gilbertson. Named after the late Thomas Schlosser — a former ASLRRA chairman and major association contributor — the award recognizes an individual for his or her long-term and significant service to the association and short-line industry.

Gilbertson "literally wrote the book" on how to start a short line by co-authoring a handbook more than 30 years ago on such topics as buying short lines and negotiating regulatory hurdles, ASLRRA officials said during the award presentation. He helped form Anacostia & Pacific Co. and Anacostia Rail Holdings, and was a driving force behind the merger of two associations that created the ASLRRA.

ASLRRA leaders also presented the 2019 Safety Professional of the Year Award to Pan Am Railways Executive Director of Safety and Security David Nagy, and the 2019 Safety Person of the Year Award to Mississippi Export Railroad Maintenance of Way Foreman Cleo Johnson Jr. The safety professional honor recognizes a railroad management employee who demonstrates an exceptional work ethic and dedication to safety, while the safety person award recognizes an employee who exhibits a high degree of safety awareness and contributes off-duty time to activities promoting safety awareness and initiatives in the community.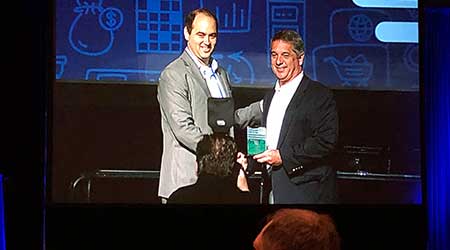 Photo: Jeff Stagl
On April 9, ASLRRA leaders honored the Buckingham Branch Railroad Co. with the 2019 Veterans Recruitment Award, which recognizes an ASLRRA member railroad that demonstrates a commitment to hiring military veterans. The honor is officially known as the Lt. Gen. Richard Timmons Award, named after the former U.S. Army lieutenant general who served as ASLRRA's president from 2002 to 2014.

Association leaders also bestowed 2019 Business Development Awards to the Delaware-Lackawanna Railroad (DL), Texas & New Mexico Railway (TXN) and Lake State Railway Co. Formerly called the Marketing Awards, the Business Development Awards recognize regionals' and short lines' efforts to build traffic through innovative service solutions, business relationships and marketing approaches.

The association honored DL for employing an enterprising approach that helped prompt a 510 percent boost in annual carloads from 1993 to 2018. Owned by Genesee Valley Transportation, DL achieved the carload growth in part by working with Norfolk Southern Railway and the Pennsylvania Northeast Regional Railroad Authority.

TXN achieved the honor by developing a new business opportunity using Wink Terminal in the Permian Basin oil fields of Texas to move stranded crude and distribute diesel in the area. Owned by Watco Cos. LLC, TXN ultimately shifted its frac sand business away from being railed in from the Midwest and toward trucked regionally and built more crude-moving traffic with Union Pacific Railroad.
Lake State Railway won the award for launching a new movement of logs from Michigan to West Virginia to support a customer, an effort that helped retain jobs in West Virginia after a hurricane caused a market disruption. By working with CSX, CN and others, the short line was able to move 40,000 logs in first-quarter 2019.

The ASLRRA plans to announce the winners of its Jake Awards and Jake With Distinction Awards — which recognize regionals' and short line's safety efforts — later this year.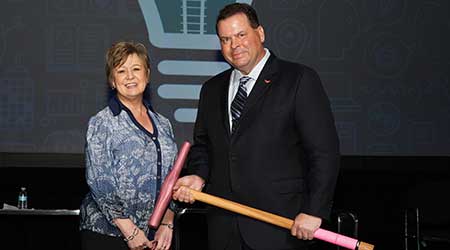 ASLRRA
Association leaders concluded the April 9 session by holding a membership meeting, during which they announced Gulf and Ohio Railways Inc. Vice Chairman Doc Claussen was elected chairman to succeed Petry. In addition, Watco Executive Vice President and Chief Marketing Officer Stefan Loeb was elected vice chairman.

For the past three years, Claussen has served as ASLRRA's vice chairman and the Short Line Safety Institute's chairman. Loeb has previously served on ASLRRA's board representing the Central Region, and is a member of the BNSF Short Line Caucus and Rail Industry Working Group. In 2015, Progressive Railroading named Loeb a "Rising Star" in the railroad industry.
---
Keywords
Browse articles on
American Short Line and Regional Railroad Association
Chuck Baker
2019 Connections Convention
Association of American Railroads
Surface Transportation Board
precision scheduled railroading
Anacostia Rail Holdings
Pan Am Railways
Mississippi Export Railroad
Buckingham Branch Railroad
Delaware-Lackawanna Railroad
Texas & New Mexico Railway
Lake State Railway
Contact Progressive Railroading editorial staff.