Newsletter Sign Up
Stay updated on news, articles and information for the rail industry
Rail News Home
Shippers
July 2019
Rail News: Shippers
Midwest rail shipper association's meeting mines the benefits, detriments of PSR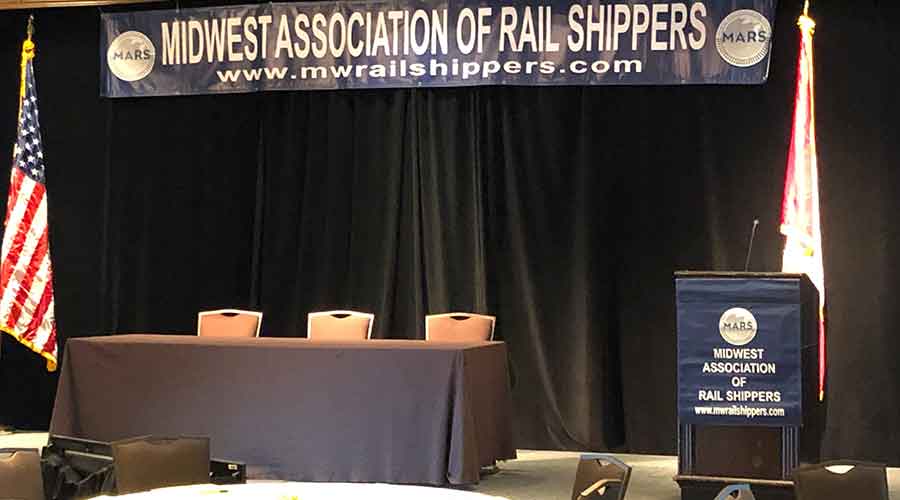 By Jeff Stagl, Managing Editor

Precision scheduled railroading (PSR) is all the rage among the Class Is. Three of the large roads began implementing the operating strategy this year while three others have either recently adopted it or employed it for some time.

PSR calls for shifting the operational focus from moving trains to moving cars. The strategy helps improve asset utilization and spur fluidity by minimizing car handlings, balancing train movements and reducing the volume of rolling stock in a network.

Since many rail industry constituents are impacted by the large-road trend, it was no surprise that PSR was the top discussion topic at the Midwest Association of Rail Shippers' summer meeting July 16 in Lake Geneva, Wisconsin. Among nine presentations and keynote addresses, PSR was either heavily or briefly mentioned in seven of them.

Several hundred attendees packed a ballroom at the Grand Geneva Resort & Spa — where the event was held for the 11th-straight year — to learn more about the operating strategy, as well as other pressing rail industry issues.

Leading off the program was a keynote address by James Squires, chairman, president and chief executive officer of Norfolk Southern Railway, which is in the midst of implementing PSR. The operating strategy will help the Class I improve service consistency and reliability, and create more capacity for business growth, he said.

NS' adoption of PSR involves four ongoing and new initiatives:
• "clean sheeting," or a re-engineering of local service at terminals and facilities, that's been underway since October 2017;
• a new TOP21 operating plan that launched on July 1 in the general merchandise network;
• a recently employed strategy to modernize motive power by converting hundreds of DC locomotives to more reliable AC units by 2021; and
• a Cars On Line Team that for the past year has been charged with continually finding ways to reduce the number of rail cars in NS' network.

"We want to look at the underlying causes of cars on line, and rightsize and rejuvenate the locomotive fleet," said Squires.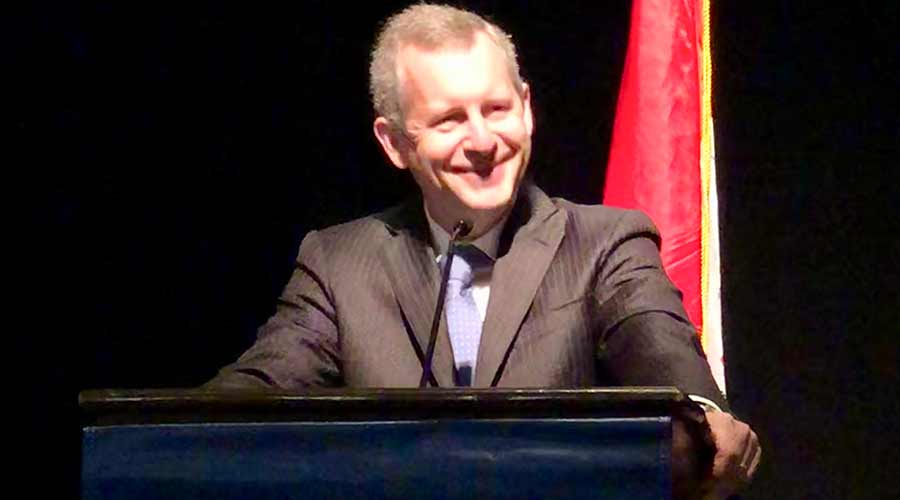 MARS
NS benefited by observing PSR from the sidelines before starting to implement it, which prompted a different approach: make sure operational changes are executable, customers collaborate on new processes and schedules, and service is improved before resources are taken out, he said.

"For NS, PSR is something we do with our customers and not to our customers," said Squires. "It's a platform for growth."

By design, the TOP21 operating plan is being rolled out cautiously and methodically.

"We're not doing the 'chainsaw method,' to have at it and just make it work. That can be disruptive for customers," said Squires. "We are taking time to improve service."

The PSR push already is reaping rewards in terms of operating metrics. As of July 1, cars on line were down 18 percent, shipment consistency (a trip plan compliance measure) was up 71 percent and average terminal dwell time was down 39 percent on a year-over-year basis.

"Dwell for first time ever was under 20 hours," said Squires, noting that the railroad has 30,000 fewer cars on its network than a year ago and has stored more than 600 locomotives.

PSR's rolling stock effects also were addressed by GATX Corp. Vice President of Structured Finance Matthew Wallin during his presentation on the rail equipment market. The adoption of the operating strategy could affect car ownership percentages in the industry, lowering railroads' share and raising the percentage for rail-car lessors, he said.

PSR also could negatively impact the number of high-mileage cars in fleets, such as centerbeams, intermodal cars and box cars. Moreover, those impacts could bleed into other car types, said Wallin.

PSR and other factors are making it challenging for GATX to maintain the diversity of its fleet across car types and commodities, he said. The company currently owns 148,000 cars worldwide, including 122,000 in North America.

"There's a lot to keep an eye on in this market," said Wallin.

For the Surface Transportation Board (STB), the embrace of PSR at every Class I except BNSF Railway Co. bears watching, said Vice Chairman Patrick Fuchs during his presentation on key issues before the board.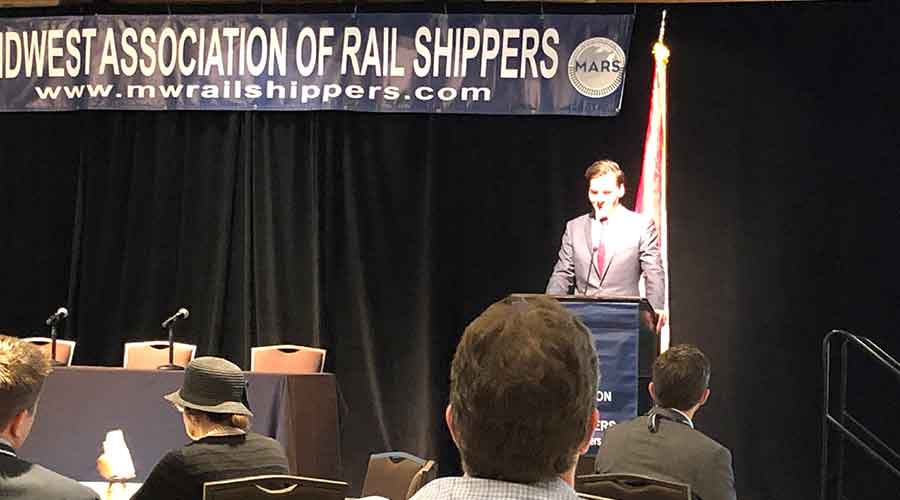 Jeff Stagl
The STB is engaged with all the railroads that employ PSR, including weekly calls between board members and Class I officials, and efforts to receive operational metric updates, said Fuchs.

"We aren't making any sweeping statements about PSR. We're in oversight mode now, closely monitoring it and looking for feedback from shippers," he said, adding that service variability is a major concern among shippers.

Executives from three major rail shippers concurred with that sentiment and shared other concerns about the operating strategy during a presentation entitled "PSR's Impact on Rail Customers." They summarized what it's meant to them so far in two words: chaos and understanding.

PSR isn't very precise when it comes to the first and last mile at an origin and destination, causing inconsistent transit times, while box-car management is challenging at best, said Bruce Ridley, senior vice president of environmental health and safety and operational services for Packaging Corp. of America. The third-largest containerboard provider in North America, Packaging Corp. uses all the Class Is as part of its rail/truck/intermodal transportation strategy and owns a short line, the Minnesota, Dakota and Western Railway.

"Railroads need to make the first and last mile a priority, but they aren't measuring it, so it's not a priority," said Ridley.

In addition, there are fewer customer service representatives at the railroads, and not all of them are familiar with new processes and changes brought on by PSR, he said.

Similar to other rail shippers, Bunge North America Inc. is acquiring more cars to cover transit time variations, said Rob Cook, the company's senior manager of rail operations. The agricultural commodity supplier has 100 facilities in North America, uses all Class Is and some short lines, and owns about 9,000 cars.

"Railroads want to run a tight pipeline, but they don't know what that looks like. It's all unknowns," said Cook. "What's the new normal with a fleet? We're trying to stay consistent in the new normal."

However, railroads are getting better at PSR, which is an opportunity to reduce car fleets and improve transit times, he added.

For Nutrien, the world's largest crop nutrient producer, assessorial charges are an issue, said Gail Wernette, the company's manager of rail rates. The charges cover such services as diversions, reconsignments and car storage. Nutrien uses vessels, barges and rail, owns 15,000 rail cars and manages 400 warehouses.

"Railroads are not so good at paying or tracking assessorial charges. That causes friction," said Wernette.

Moreover, unit trains are not considered favorably by PSR — shippers can get 65-car trains but if they want 120-car trains, "not many will listen to you," he said.

"We're not against PSR. Railroads are integrating customers into the process," said Wernette. "We want to give feedback as it's implemented."

So do short lines, said Eric Jakubowski, the vice president and chief operating officer of Anacostia Rail Holdings, which owns six short lines.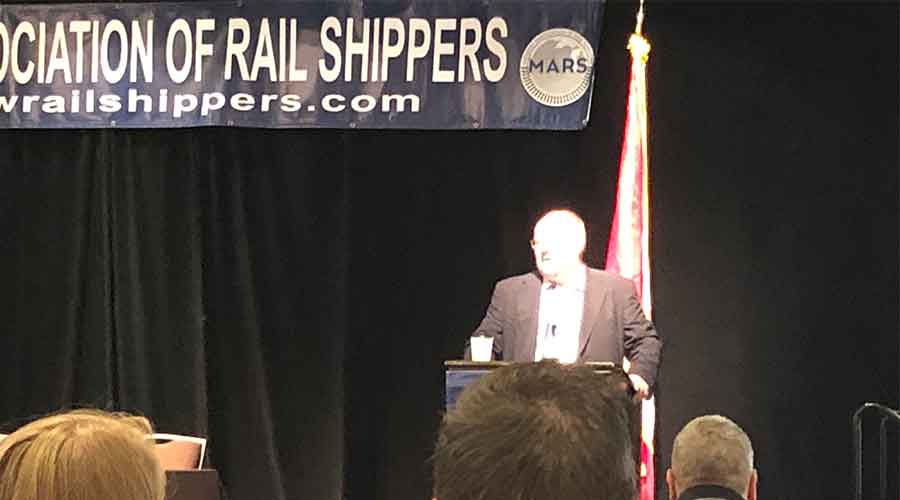 Jeff Stagl
"Class Is have internalized with PSR. They need to do more collaboration," he said during a "Short Line Perspective on PSR" presentation.

An example of large and small railroads working in concert: Short lines could hold equipment that Class Is don't want on their networks, Jakubowski said.

While PSR is the art of simplification, keeping operations simple, reliable and predictable, some Class Is have not yet created door-to-door trip plans, he said.

"Some touch points are not under discussion," said Jakubowski.

Although he doesn't believe PSR will necessarily create traffic growth for short lines, he's convinced it will prompt real-time decision making at the local level.

"PSR is foundational, and I do think it will create capacity," said Jakubowski.
---
Keywords
Browse articles on
Midwest Association of Rail Shippers
precision scheduled railroading
Norfolk Southern Railway
James Squires
GATX Corp.
Matthew Wallin
Surface Transportation Board
Patrick Fuchs
Packaging Corp. of America
Bunge NA Inc.
Nutrien
Anacostia Rail Holdings
Eric Jakubowski
short lines
Contact Progressive Railroading editorial staff.