Newsletter Sign Up
Stay updated on news, articles and information for the rail industry
Rail News Home
Safety
December 2016
Rail News: Safety
NTSB issues two-year 'Most Wanted' list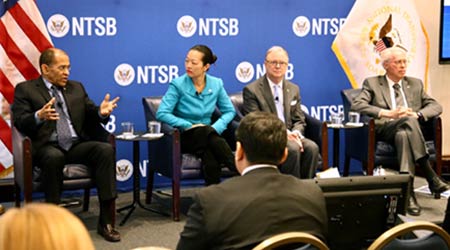 — By Daniel Niepow, Associate Editor
The National Transportation Safety Board (NTSB) last month unveiled its 2017-18 "Most Wanted" list of safety improvements, which includes a call to ensure the safe shipment of hazardous materials.
Unlike the board's previous lists, which were released annually, the latest line-up covers a two-year period. The move is aimed at providing the transportation industry more time to make the necessary changes, according to an NTSB press release.
Board members also hope the two-year cycle will bring more attention to the issues on the list and the safety recommendations that drive them.
On the 2017-18 list, the board highlighted the hazmat issue as a separate recommendation instead of including it as part of broader safety concerns. Tank-car replacement, improved railroad operating practices and "robust" emergency responses are some ways to tackle the issue, NTSB officials say.
"Regulators, industry [constituents] and emergency responders must aggressively work together to improve flammable liquids transportation safety," according to an NTSB factsheet. "Using the same tank cars that carry food products to carry flammable liquids endangers the public and the environment."
Protecting passengers
The latest list also reiterates the need to improve safety oversight of transit-rail agencies — an item that was included on the 2016 list. In particular, the NTSB recommends creating safety standards for all agencies that operate transit-rail systems, as well as giving oversight agencies the power to enforce those standards.
"The biggest problem with the existing safety oversight agencies is they typically have no teeth," says Robert Hall, director of the NTSB's office of railroad, pipeline and hazardous materials investigations. "We've seen some progress, but we have some serious concerns."
For example, the Federal Transit Administration (FTA) hasn't been issuing rules and regulations regarding transit-rail safety, as mandated by the MAP-21 transit funding bill, Hall adds. Without stricter standards, safety issues have gone unaddressed across the United States.
The Washington Metropolitan Area Transit Authority (WMATA), for instance, has experienced several serious safety lapses within the past few years, such as a January 2015 smoke incident that killed one passenger and injured scores more. Creating and enforcing safety standards will force transit agencies to adequately address such safety issues, increase system maintenance and avoid future problems, NTSB officials believe.
The standards also may help bolster transit agencies' organizational safety culture.
Although WMATA's safety lapses have been in the spotlight recently, similar problems are happening elsewhere in the country.
In early November, a Metropolitan Transportation Authority track worker was killed and another worker was injured by an oncoming train in Brooklyn, N.Y. The NTSB has investigated recent safety incidents in Chicago, too, Hall says.
Problems like these are occurring at agencies with "weak safety oversight," Hall says, adding that the board is counting on the FTA to issue safety standards across the board to remedy the issue.
In addition, the 2017-18 list calls for more comprehensive medical fitness exams for "safety-critical" transportation workers. Current Federal Railroad Administration standards require only hearing and vision exams for train engineers and conductors.
"We think there needs to be a much more robust medical program, specifically one looking at sleep apnea because that's been implicated in a number of high-profile incidents," Hall says.
The NTSB also called for preventing alcohol and drug-related incidents in transportation; the board has observed an uptick in those incidents, Hall says.
Other recommendations for 2017-18 include eliminating distractions, reducing fatigue-related accidents, expanding recorder use and strengthening occupant protection.
---
Keywords
Browse articles on
NTSB
National Transportation Safety Board
NTSB Most Wanted List
Robert Hall
rail safety
transportation safety
WMATA
WMATA safety issues
MTA
MTA safety issues
transit-rail safety oversight
passenger-rail safety oversight
Contact Progressive Railroading editorial staff.